The Asia Interviews is a series of guest posts where fellow family travel bloggers talk about their best destination in Asia for family travel. TraveLynn Family hasn't been everywhere, and we love hearing about the adventures of other families in Asia and being able to share them with you.
Political situations can change since this interview took place. Please check the GOV.UK Foreign travel advice before venturing to a country.
Dawn from 5 Lost Together about their favourite holiday destination in Asia for family travel – Ubud, Indonesia. Have you considered visiting Ubud with kids?
These guys used to live in Malaysia with kids and are still frequently returning to Southeast Asia since they moved to Melbourne. Consequently, they have a fantastic wealth of experience to draw from and share with fellow travelling families about Asia travel.
So when we asked them where their favourite Asia travel destination is, we knew that it was going to be a good one! TraveLynn Family are yet to visit Bali. I think Dawn has given us a very good reason to go and check the flights.
1. Tell us a bit about yourselves. Where are you from and how often do you travel as a family? How old are your children?
We are a Canadian family of 5 currently living in Australia. Although currently living in Melbourne, we travel as often as possible with our kids and have no problem taking them out of school for extended trips. We just got back from an 8 week trip home to Canada and Japan.
My husband and I were bitten with the travel bug early and never thought about stopping travel once we had kids. We believe that there is no one right way to travel with your kids and have backpacked, lived on a sailboat for 5 months, as well as taking traditional trips to places like Disney World. Our kids are 6, 7 and 9 years old and have been to over 15 countries each.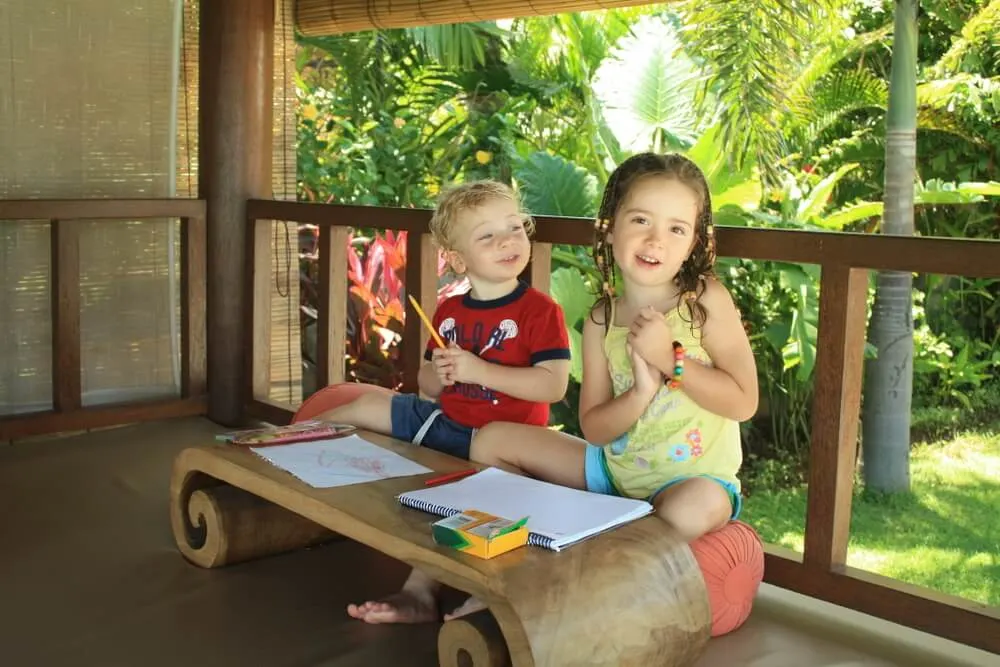 2. How many times have you travelled to Asia and why do you love travelling there?
We first visited Asia as backpackers in our twenties before kids. After having kids, we had the amazing opportunity to live in Malaysia for a couple of years, which gave us the ability to travel Asia extensively.
There are so many things we love about Asia: the lower cost of travel, delicious foods, friendly people and varied geography. We loved experiencing new cultures and each country in Asia offers a completely unique experience.
3. Why is Ubud your favourite destination?
We absolutely love the island of Bali and in particular the cultural centre of Bali, Ubud. Ubud is certainly not an off the beaten path destination anymore, but is still feels authentic and culturally rich. The natural beauty of the area combined with the rich culture and gentle nature of the people, create a place impossible not to like.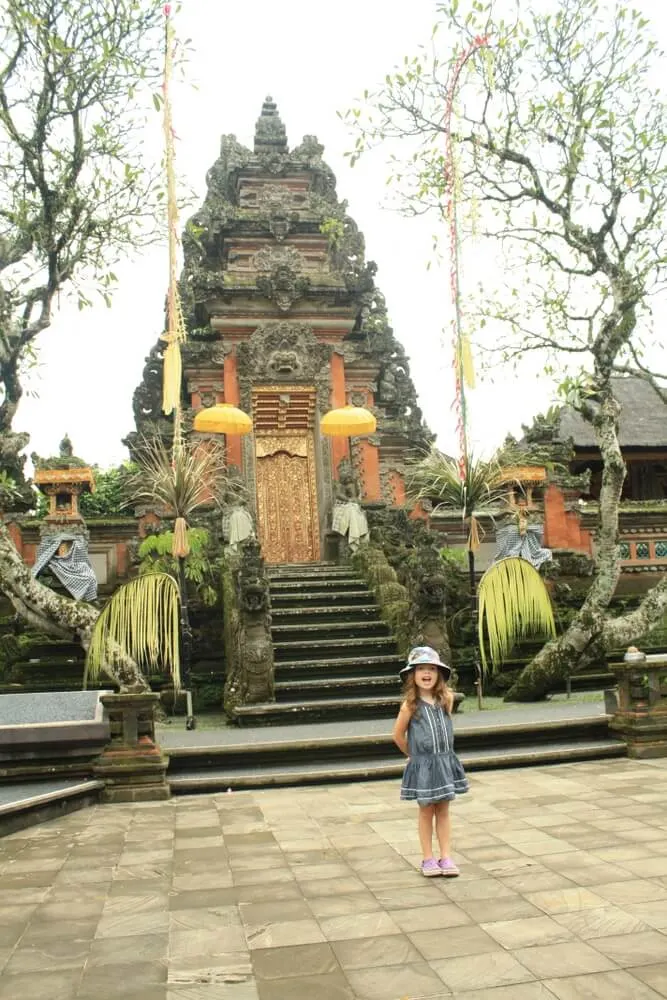 4. What were your top 3 activities for kids in Ubud?
One of the top things to do with kids is visit the Sacred Monkey Forest Sanctuary where you will see lots and lots of monkeys in a lush ravine. In fact, to get to the centre of Bali, we had to walk from our hotel through the Monkey Forest each day. You definitely want to make sure you aren't carrying any food with you as the monkeys can be quite aggressive. I would keep children close to you as well when walking through the Forest.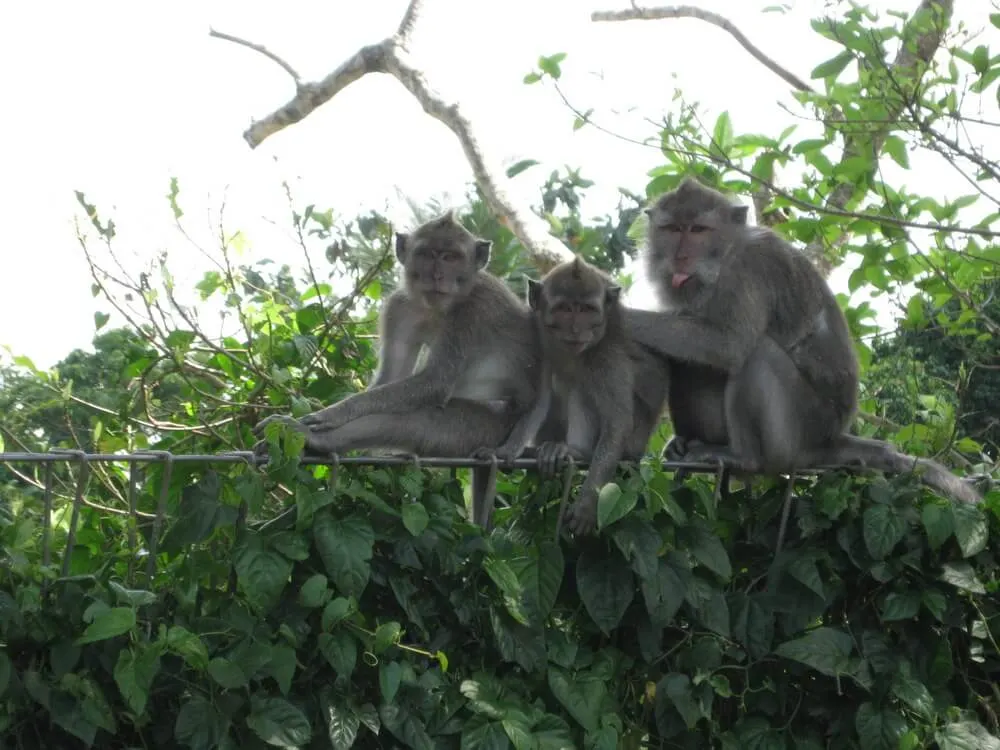 Another great thing to do with kids in Ubud is to attend a traditional Balinese dance performance. They will love the elaborate costumes, different musical instruments and the difference dances. A great place to see a performance is the Agung Rai Museum of Art (ARMA).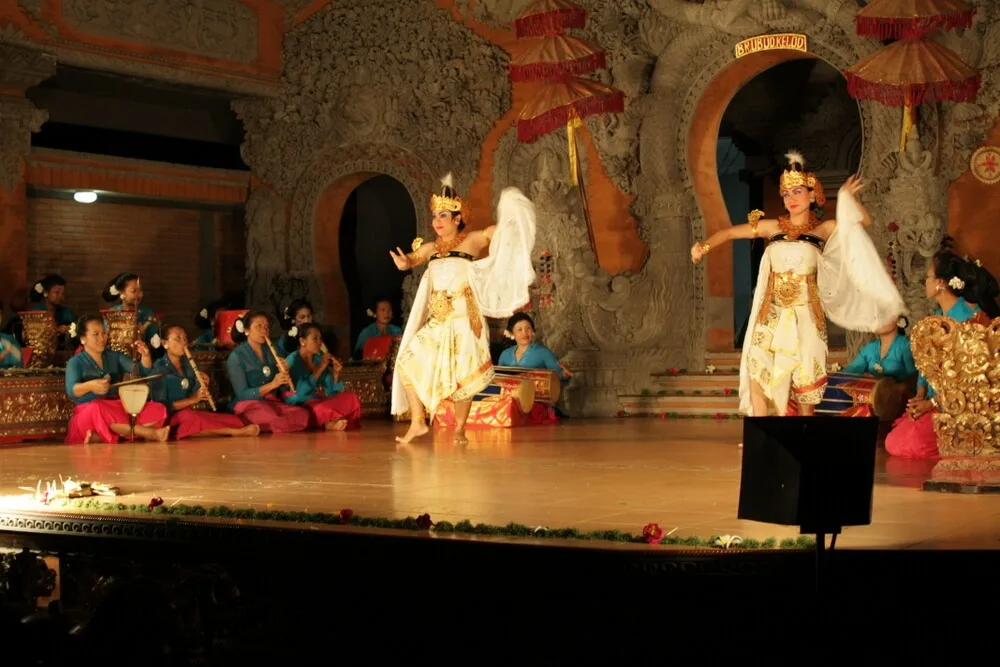 Another great thing for families to do in Ubud is join a bike tour into the countryside. There are numerous companies that offer these tours and most can accommodate young children. You will get an opportunity to see authentic country villages, learn how rice is farmed, visit craftsmen, see nearby temples and views of the volcano Mt Batur.
5. Where did you stay and do you recommend it?
We have stayed twice now at this little independent hotel that we love, Saren Indah. It is located in Nyuh Kuning village, just a short walk through the Monkey Forest to the centre of Ubud.
When our kids were younger we could all fit in one room and they even had cribs for little ones. We have such good memories of relaxing in the pool amongst the rice fields and eating breakfast in the open air restaurant watching the cheeky monkeys try to steal some food.
The pool was also a big hit with the kids after a day out sightseeing.
Check out more recommended hotels in Ubud.
6. What did the kids eat?
While there is lots of opportunity in Ubud to eat traditional Balinese food, there are also lots of western and health food options due to the amount of expats living there. Our kids enjoyed foods like fruit pancakes, fried chicken and rice, fresh fruit shakes, and satay with peanut sauce.
7. How did you get around Ubud with kids?
Ubud is compact enough that you can walk around the town on your own, even with young kids. I wouldn't recommend a stroller because the streets and paths are not even or always paved; a carrier works much better.
We did use taxis to get to and from Ubud and they were reasonably priced. The roads in Bali are small and you cannot travel anywhere very quickly.
8. What is your top tip for visiting Ubud with kids?
Bali is an incredibly spiritual place and you can often catch a glimpse of a ceremony, wedding or funeral in the streets.
If you can try to time your visit to Ubud with a festival or holiday, you will get to experience the rich culture of Bali in a more intimate way.
We were lucky enough to visit once during Galungan, which is one of the most important religious holidays in Bali. The homes and road side are decorated with elaborate bamboo poles creating an even more exotic site. Our kids were fascinated by the roaming parades of costumed children playing drums in the streets.
9. What item could you not have done without in Ubud?
We have travelled in Ubud when we had three kids under 5 years old and having a carrier is a must. Another item that we loved when traveling with 3 kids under 5 is a portable toddler cot which allowed us to stay in a standard sized room.
10. Where are you off to next?
After our fantastic cruise to Papua New Guinea in October, I am off to Singapore with just one of the kids. A couple of years ago when we were traveling in Nicaragua, we met a Mom and her teenage son that were traveling together. Every year she took one of her three kids on a special holiday together and I immediately fell in love with the idea of having special 1 on 1 trips. Last year I took my eldest to western Canada and this year I am taking my 8 year old to Singapore.
Why Singapore? Really it all came down to getting cheap flights from Australia there. I haven't been to Singapore in over 10 years and so I am excited to see all the new things there like Marina Bay Sands and Gardens by the Bay.
My son is super excited to visit some of the theme parks and kid attractions that Singapore is so well known for. I think I am most excited about the glorious hawker food and of course the chance to spend a week together just us.
---
Read more about 5 Lost Together and their travels at 5losttogether.com. You can also follow them on Facebook and Instagram.
You may also like to read:
Packing list for Southeast Asia
Borneo with kids travel guide
Thailand with kids travel guide