The Asia Interviews is a series of guest posts where fellow family travel bloggers talk about their best destination in Asia for family travel. TraveLynn Family hasn't been everywhere, and I love hearing about the adventures of other families in Asia and being able to share them with you.
Lindsay from Carpe Diem Our Way chats about visiting Pamukkale with kids (Turkey).
And yes – this side of Turkey counts as Asia! Plus it's super easy to fly here from the UK. Lindsay's interview certainly makes me question why we haven't visited here yet with the boys; sunshine, natural wading pools, and Roman history – what's not to like?
1. Tell us a bit about yourselves. Where are you from and how often do you travel as a family? How old are your children?
My name is Lindsay and I travel with my two boys, Mattias and Markus (aged 6 and 4). We have a home base in Vancouver and by travelling with my boys, I aim to inspire other families to get out and explore the world with their children, not put off their dreams of visiting far-flung destinations, just because they have kids.
2. How many times have you travelled to Asia and why do you love travelling there?
We have travelled to Asia 6 times in the last 2 years, but our destinations may not be what you would first think. We have yet to set foot in South East Asia as a family, but instead have been exploring the Middle East.
3. Why is Pamukkale your favourite destination?
Pamukkale, Turkey is an amazing natural phenomena outside Denizli, about 5 hours inland by bus. It features amazing limestone terraces and natural spring water full of minerals. It looks like a ski hill positioned in the middle of a mountain, with the limestone forming over thousands of years thanks to the hot springs in the area.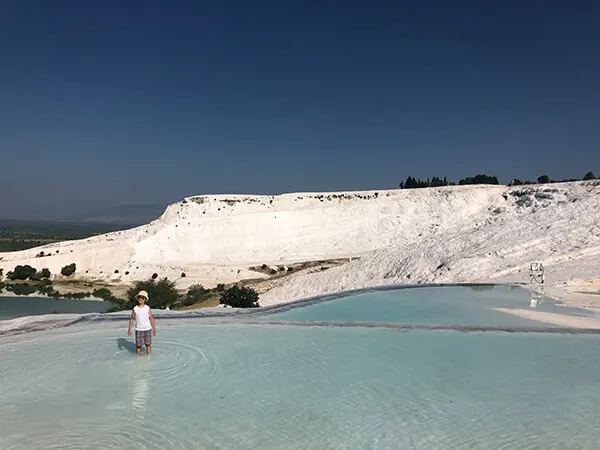 Pamukkale is somewhere that you can visit in a day, or stay for 2 if you do not want to be rushed. We arrived in the afternoon and wandered the small town and then got up early and visited the site in the morning before the crowds arrived.
4. What were your top 3 things to do in Pamukkale with kids?
Below the white limestone terraces, lies a beautiful pool with birds and small peddle boats. The kids enjoyed running around and watching the birds. But the real star of the show is the site itself; walking barefoot on the limestone the kids could wade into the pools of hot spring water. There are several pools of varying sizes and the kids enjoyed that the pools were small and shallow.
One of the things that I think you should not miss is climbing up the hill to Hieropolis and checking out the ancient Roman theatre. It was amazing to imagine what it would be like to watch a performance there.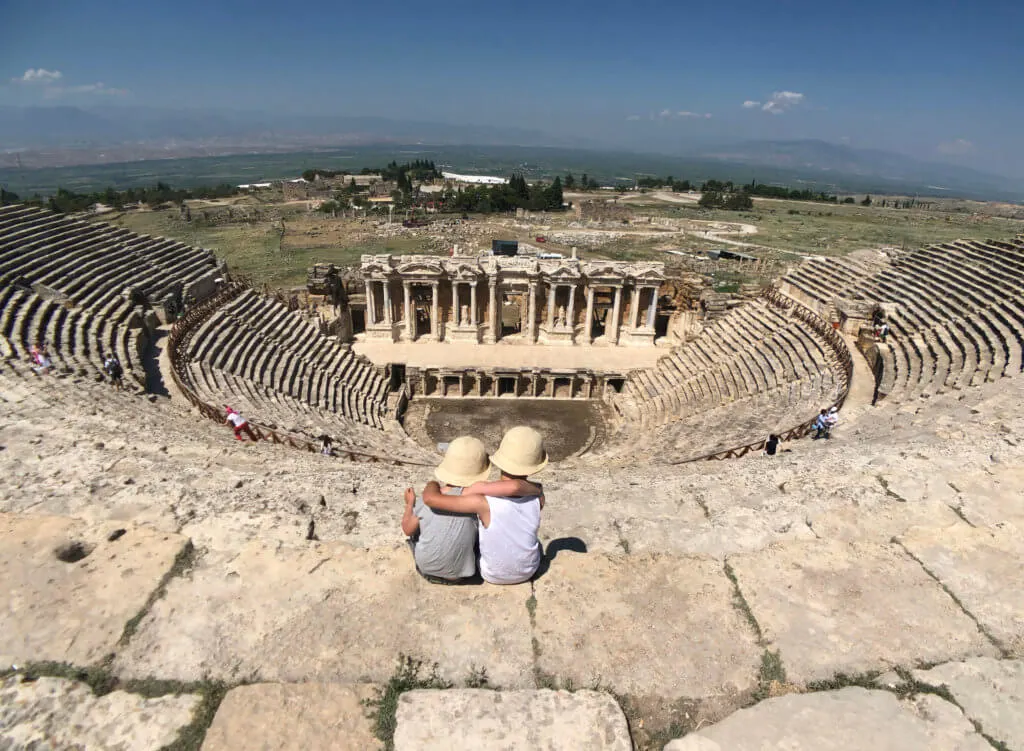 Another popular attraction is to visit the Ancient pool and swim. An earthquake sent much of the structure around it into the pool itself and you can swim among columns that are hundreds of years old. The pool was given to Cleopatra by Marc Anthony as she enjoyed visiting this are for its spa like features.
5. Where did you stay and do you recommend it?
We stayed in a small local hotel (Kervanseray Hotel and Pension) which was just a few hundred meters from the bottom entrance to the site. It had basic amenities and breakfast. It suited our needs just fine and we would not hesitate to stay again. The owner was helpful and besides bringing in somewhat who specialised in tours of the area by hot air balloon or paragliding, he helped us arrange to take the train to Izmir instead of a more expensive bus ride.
6. What did the kids eat?
Well Turkish food of course. We wandered the town and chose a restaurant with a beautiful view of the town and the travertine terraces. We sat on the floor for our meal which the kids thought was quite fun and ordered a typical Turkish meal. The lentil soup was so good that my 4 year old asked for another one! They tried Ayran, a cold yogurt drink and enjoyed the kofta. We do not have a problem finding great food in Turkey.
7. How did you get around Pamukkale with kids?
We took a bus from Bodrum to Denizli and then a small local transport into the town outside Pamukkale. The town itself is quite small and basically there to support the tourists. We took the local bus back to Denizli and then boarded a train which took us to Izmir.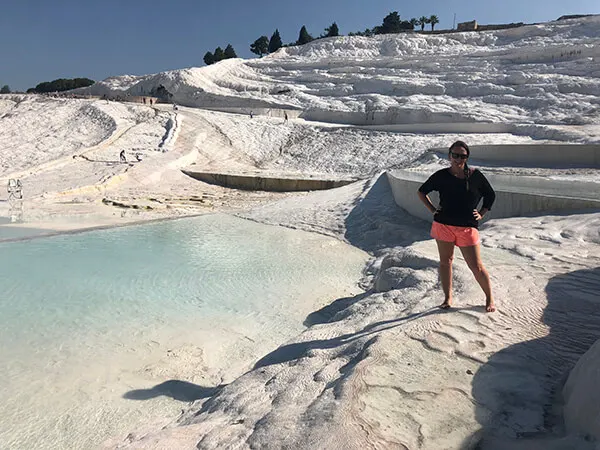 8. What is your top tip for families travelling to Pamukkale ?
Go early in the morning when the site opens and to enter from the bottom (as all of the tour busses drop at the top).
9. What items could you not have done without at Pamukkale?
A bathing suite, sunglasses (the white stone reflects the sun and it is VERY bright) and sunscreen and bring your camera!
10. Where are you off to next?
Next week I am off to Japan (without the kids!!!!) for a week to explore new hiking trails and relax in the onsens!
---
You can find out more about Carpe Diem Our Way and their adventures in Turkey on their website. You can also follow them on Facebook, Instagram and Twitter.
You may also like to read:
Why we swear by Essaouria with kids
Best Châteaux to visit in the Loire with kids
Is Doha worth a stopover with young kids?