A ROARSOMELY INTERACTIVE SHOW, PERFECT FOR ALL BUDDING PALAEONTOLOGISTS
This Dinosaur World Live review is from the Saturday matinee performance at Chesterfield's Winding Wheel Theatre (11th May 2019). TraveLynn Family received complimentary tickets in return for this honest review.
ROOOOOAAAAAAAARRRRRRR!!! Eyes wide open, my boys sat fixated in their seats as the thunderous roar echoed throughout the auditorium. Titus the T-Rex, the most fearsome of all had been released, and he was hungry.
This is probably the point where I should mention that Titus isn't a real T-Rex. Just in case you hadn't remembered from Andy's Dinosaur Adventures that they died out 65 million years ago. Titus is in fact a very large and life-like puppet, who comes with two very skilled puppeteers and lots of very impressive smoke and sound effects.
Aside from travel, my other love is the theatre, and seeing that I have two extremely dino-obsessed boys (aged 3 and 5), I of course had to accept an invite to see this fantastic interactive dino-show at Chesterfield's Winding Wheel Theatre.
The show
Positively perky Miranda introduces us to the dinosaurs that live on her South American island and provides some facts for each, including a baby and adult T-Rex, a baby Triceratops, a Microraptor, a Segnosaurus, and at the end we see a baby Giraffatitan being hatched and bonding with its Mummy. With almost each dinosaur we meet, a child from the audience is invited up on to the stage to help out, whether it be feeding, grooming, or petting.
My boys were totally engrossed, and it was magical to witness their reactions. However, they were rather disappointed that they weren't selected to go on stage, and I had told them they would be able to meet them after the show. Although the post-show 'meet the dino' experience with just the baby triceratops and baby T-Rex was a bit of a free for all, and doesn't allow for any good photo opportunities (although you are able to take photos throughout the show).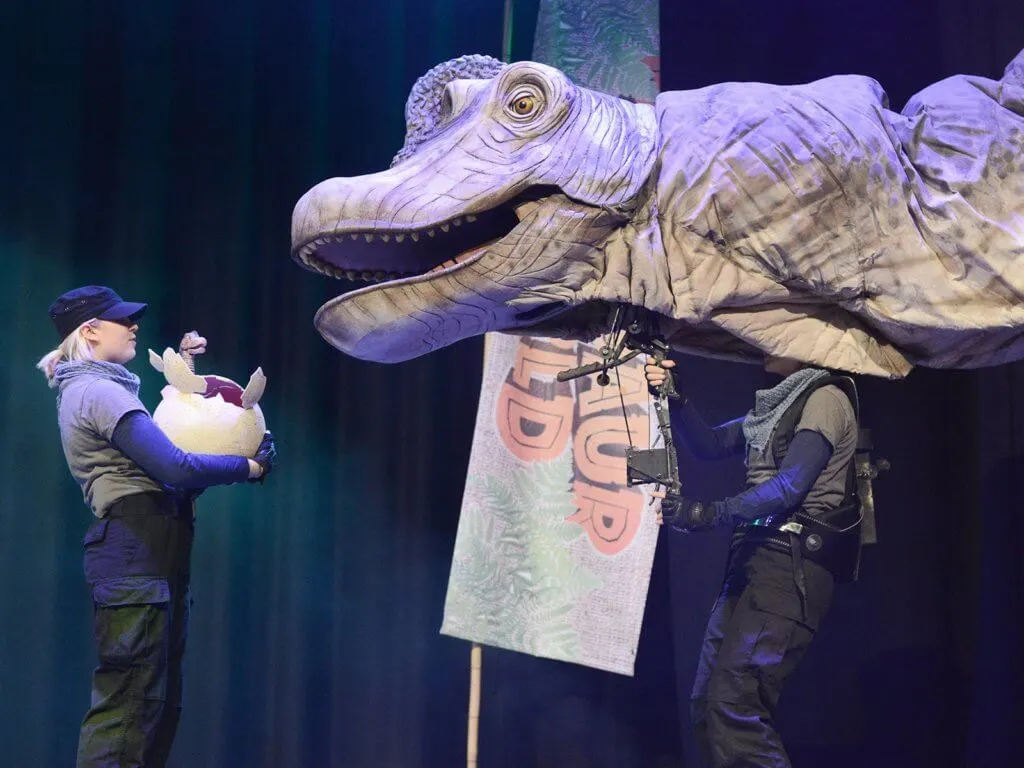 The show is 45 minutes long, which is the perfect length for a kids show. However, my boys could have done with perhaps a little less chat from Miranda and a couple more dinosaurs. There is also the usual merchandise available. I've added in the price-list below for parents needing a little warning.
Dinosaur World Live is a wonderfully engaging show for young kids and the craftsmanship of the dino-puppets is extremely impressive. The appearance of Titus towards the end is certainly the pinnacle, though do be warned that some young children in the auditorium found him a bit too frightening.
Where can you see Dinosaur World Live?
Click here to check dates and ticket prices and check out the trailer here:
---
You may also like to read:
Visiting the Sahara with kids
Tips for a safari with kids under the age of 5
The BEST children's walking boots