The Asia Interviews is a series of guest posts where fellow family travel bloggers talk about their best destination in Asia for family travel. TraveLynn Family hasn't been everywhere, and I love hearing about the adventures of other families in Asia and being able to share them with you.
For all advice on family travel to the Middle East, UAE resident Keri Hedrick is the person to ask. So I was absolutely delighted when Keri agreed to to this 'Dubai with kids' interview. With all it's kid-friendly attractions it's no wonder it's a top holiday destination in Asia for family travel.
1. Tell us a bit about yourselves. Where are you from and how often do you travel as a family? How old are your children?
We are a family of five based in the United Arab Emirates. We are a British/Aussie expat family and have lived in and extensively travelled around the Middle East region since 2012. Our kids are now 5, 7 and 9 years old.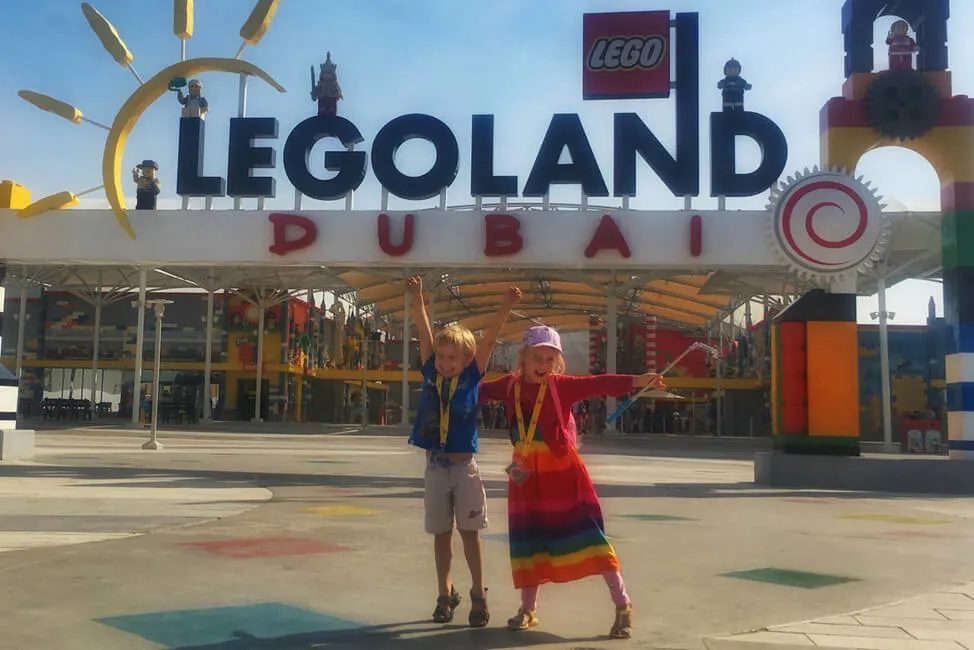 2. Why do you love about travelling and living in Asia?
Every part of Asia holds something special. Whilst we love our beachy vacations in South East Asia, it's exploring closer to home that excites us. I think the Middle East still remains shrouded in a lot of mystery, however. The tourism industry for the most part is less developed and there's still a lot of misconceptions.
We aim to visit one of our neighbouring countries at least once a year, and inevitably end up transiting through other parts of Asia at least 2/3 times a year on our way to Australia.
3. Why is Dubai your favourite destination?
At only an hours drive from our home in Abu Dhabi it makes the perfect weekend escape for us. It really packs a lot into one city with so many influences from the different cultures that make up the city of Dubai.
While yes, it can be glamorous, it's also entertaining for families and full of surprises. The tourism authorities are realising there is as much interest in the country's past, heritage and traditions as there is in the shiny skyscrapers and theme parks. We are also discovering more of the Emirate's natural wonders and outdoor adventures too.
4. What were your top 3 activities for kids in Dubai?
If there's one thing Dubai is not short on, it's kid-friendly activities! It really depends on the age of your kids. Our kids are all school age now, but their favourites through the toddler years until now have been:
Burj Khalifa – they can't get enough of this building every time we drive past and every time we have visitors it's a special treat for them. Lining up for the Observation Deck "At the Top" can be a challenge on your patience, but we've worked out the best times to go to avoid waiting too long (NB – avoid sunset!). There's nothing quite like bragging you've been up the tallest tower in the world!
Dubai Parks & Resorts – there are actually three theme parks and a water park all in one huge complex on the outskirts of Dubai (conveniently half way to Abu Dhabi!). Our kids are slowly leaning away from Legoland being their favourite park to the more action- packed rides and attractions at Motiongate which has a Hollywood movies theme, including all the animated favourites from Dreamworks. Stay tuned, we believe a Legoland Hotel is opening very soon, in addition to a Lego Water Park.
Dubai Desert Safari – First time visitors to Dubai will want to head into the desert for a safari. This is where a 4WD will take you dune bashing, then throw in a camel ride, sandboarding, quad bikes for the big kids and a traditional Bedouin feast over an evening show with traditional ayyalah dancing, even belly dancing (not a Bedouin tradition as such!). A more sedate option is a morning safari through the Dubai Desert Conservation Reserve followed by a falconry show to get a true taste of the other side of Dubai away from the concrete.
5. Where do you recommend families stay in Dubai
We stay somewhere different every time we visit and depending on what exactly we are in town for. There's something iconic about staying on the Five Palm Jumeirah but you'll pay the price for it – but expect superbly luxurious and family-friendly. You may find some more affordable family options that combine city and beach at JBR – Jumeirah Beach Residence or Dubai Marina.
If you are coming just for a short sightseeing stopover, I would recommend Roda Al Murooj which offers family-sized apartment rooms immediately adjacent to the Dubai Mall in the Downtown area. The Grand Hyatt is another popular family resort option with great facilities closer to the airport side of town.
A good midrange option to consider if you only need basic accommodation is Rove Hotels – they are sort of fun, upscale backpackers! Available in Downtown, Dubai Parks & Resorts and Dubai Marina.
6. What do the kids eat in Dubai?
Anything you can imagine! Seriously every cuisine under the sun is possible with the huge range of international influences in the city. From shopping mall food courts that will sell everything from McD's to kebabs, or street foods and markets and becoming such a huge thing in the winter.
My kids are exceptionally boring and fussy so we don't eat out as much as we'd like in Dubai but some fun places to try with plenty of range and great water views are Al Seef Waterfront next to Dubai Creek, La Mer Beach and Souk Madinat Jumeirah (Where you can see the iconic Burj Al Arab hotel).
7. What's the best way to get around Dubai with kids?
As we have our own car we generally get around this way, but for visitors not used to the hectic roads and 8 lane freeways, you will most definitely want to use either taxis or the Metro system is pretty efficient, as long as you avoid peak times with the kids.
There are private hire car systems with Uber & Careem, these can be a convenient option for families. Download the Careem app before you come as in future this will be how you hail all taxi types.
If you are travelling in a group and planning long road trips, renting a large van with a driver is a comfortable option. These can be hired on an hourly basis depending on destinations you plan to visit in a day, and pricing includes the driver, fuel, road tolls, and vehicle hire.
8. What is your top tip for families travelling to Dubai?
Don't come and complain it was all shopping malls and concrete if you didn't get out of the city. There are plenty of great beaches to enjoy and huge parks to explore in the cooler winter months (get Dubai Garden Glow & Dinosaur Park, as well as Dubai Miracle Garden on your list!).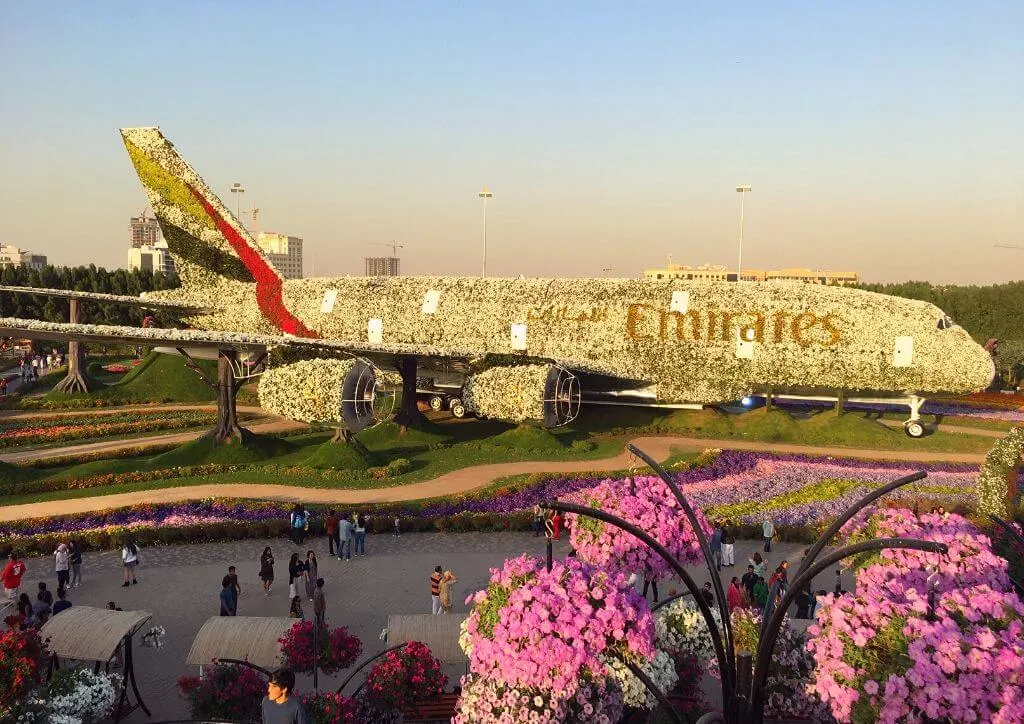 A desert safari is just the tip of the iceberg when it comes to the outdoors. There are plenty more day trips and outings from Dubai to enjoy so do plan at least one day trip, try and get out to places such as Hatta, or head to the northern Emirates and the mountains (yes, it's not all desert!)
And be prepared for the heat. The city does handle the heat well, but you don't fully appreciate just how hot 45c can be until you've walked outside in it! We've got several more tips for travelling to Dubai with toddlers and young children here.
9. What item can families not do without in Dubai?
Sunnies! Whether it's the sunlight or keeping your eyes protected from the dust.
10. Where are you off to next?
Probably Dubai!! We are up there at least once a month for some event or other and we always try to make a complete weekend out of it squeezing in as many activities as possible.
We've also got Sri Lanka on the cards as we have just had family move to Colombo, any excuse, right?
---
You can find Keri in many places across the web! She has blogged for several years on her personal family blog Our Globetrotters about their expat adventures and overseas travel. She is the co-host of the City Travel with Kids Podcast, Editor of regional online travel magazine Family Travel in the Middle East and recently launched Dubai Travel Planner especially for stopover visitors to Dubai.
For any further questions on Dubai or the Middle East, join Keri's Facebook discussion group Family Travel Middle East where there is a great community of local travellers ready to help you plan your trip!
You may also like to read:
A stopover in Abu Dhabi with kids
Is it worth doing a stopover in Doha with kids?
Top holiday destinations in Asia for family travel