Camping in our Mazda Bongo doesn't mean we shy from any luxuries. In fact, far from it! I'm always looking for ways to make our camping experience that little bit cosier and comfortable, although I'm forever balancing this with keeping packing minimal and not taking up too much precious space.
Disclaimer: This is a paid advertisement. As always, these are all my own words and an honest review of this product. We only ever work with brands who align with our outdoor ethos and we truly believe in. Also, this post contains affiliate links; should you click to purchase, it is at no additional cost to you, but I receive a small commission.
Now the nights are closing in, the foldable fire pit has been out, the woolly hats and thermals are at the ready, and I've been looking for some cosier bedding. We have winter sleeping bags, but they are rather bulky, and zip all the way around, meaning your legs feel quite constrained as with any sleeping bag – I'm sure I'm not the only one who like to pop their leg or foot out of the duvet when sleeping?!
And whilst I've been tempted to pack the duvet off our bed for short weekend camping trips, I can't really justify the amount of space it takes up.
So when we heard about the Fine Bedding Nightowl Duvet, we jumped at the chance to try it out!
What's so special about this Night Owl Duvet?
The Night Owl is a duvet and cover in one; a coverless duvet!
This means no changing the sheets, and no wrestling with duvet covers in the limited space. Just unpack and place it over the bed. Simple.
And it's super easy to put back away in it's drawstring bag for storage. Ours packs away to half the size of our double winter sleeping bag.
And the best bit? It's SUPER easy to wash! The filling is 100% Smartfil® Microfibre from Recycled PET Bottles. This means that it can go into a washing machine at 40°C and then quick dries on the washing line in 90 mins, or you can even tumble dry on a cool setting. On washing it completely returns to its plump state. So definitely top marks for ease of washing and drying! Click here to read the care guide.
Oh and I should also mention how super soft the material is; a little bit silky and feels oh so luxurious!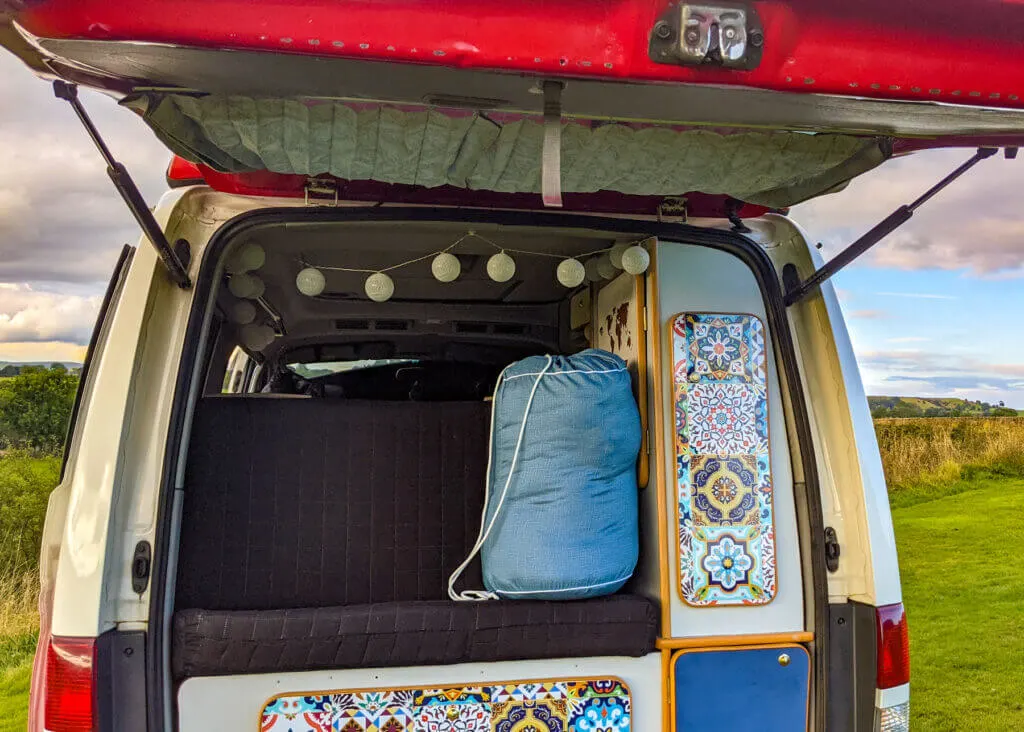 The Night Owl Duvet options
We opted for the 10.5 tog Nightowl King Duvet in Twilight Blue. A heavier duvet for the winter camping months, and a little bigger than what's needed for the rock and roll bed in the Bongo, to make it feel even cosier. I thought the colour choice went best with our Moroccan tiles in the Bongo.
The Fine Bedding Company Night Owl duvet is available in 4.5 tog (for the summer months) and 10.5 tog (for year round comfort).
Colours available include:
Dusk pink
White Seersucker
Aurora green
Twilight blue
Cloud Grey
Our verdict
So what do we think of our Night Owl Duvet from The Fine Bedding Company? We love it! If you're trying to choose the perfect sleeping bag for a camper, this duvet may actually be the better choice. Indeed you may not need a sleeping bag at all!
It's super cosy, I love the soft material, and it was a novelty being able to spread out my legs, rather than being confined to a tapering sleeping bag.
Jay and I first tried it out on a camping weekend to Bank House Farm Campsite in the Peak District, and we had the best night's sleep! Maybe it was down to the fresh Peak District air, maybe it was down to the bottle of red I polished off around the campfire, but I reckon that it was a lot to do with the super cosy duvet.
As we went for the thicker tog, it is a little bulkier than the two summer sleeping bags that we used in France. So I doubt we'll be taking it on our future summer travels, as space is super precious for those long term travels.
But for colder UK camping, especially for weekends away, it's now a vanlife essential for us! It's much more compact than our double winter sleeping bag, and has that home-from-home feel.
And it's not just me who loves it, Otis and Us also wrote this review, and when I shared a photo of our Night Owl Duvet on Instagram Stories, lots of you messaged that you have one too, and many of you use it as normal bedding in the house. What a great idea!
Click here to purchase your Night Owl Duvet.
---
You may also like to read:
Bongo renovations: making our Bongo a little more 'us'
Our Bongo packing checklist
The best family campsites in France