One of the great things about travel is how it can change your perspective on life. We usually mean that in the figurative sense but if you're in the mood for something more literal, check out Kuala Lumpur Upside Down House, a funky and fun activity in Kuala Lumpur, which will flip your world upside down.
This is a fun addition to your itinerary if visiting Kuala Lumpur with kids.
Where is KL's Upside Down House
Handily located next to one of KL's star attractions (Menara Kuala Lumpur), Upside Down House is easy to reach from other parts of the city. A pleasant way to arrive is via the KL Forest Eco Park which makes the walk uphill more interesting; take the metro to Dang Wangi or monorail to Bukit Nanas for easiest access to the Eco Park.
Alternatively, you can take a Grab taxi and be dropped right outside the door. This same drop-off spot is also used for the hop-on hop-off buses which cruise around the tourist areas of KL.
What to expect from your visit
It's quite a small place to visit, the house is actually just a standard sized house with four rooms upstairs and one large space downstairs. It can feel slightly underwhelming when you first arrive because, as silly as it sounds, it just looks like a normal house, albeit with the furniture randomly hanging off the ceiling.
It really comes to life once you've took the first picture, so try and do that straightaway so everyone gets the idea. There are some example photos on the walls as you walk around to give you an idea of what to do.
The space can feel quite crowded, even with a small number of people visiting. Ideally if it's a quiet day, you can take it in turns with other visitors to go into each room separately.
How to take photos at the Upside Down House
This is the key part of the visit as it's one of those rare places which actually seems better through your camera roll afterwards. It'll take a couple of practice shots to get the right idea, we quickly discarded the first few shots as they weren't all convincing.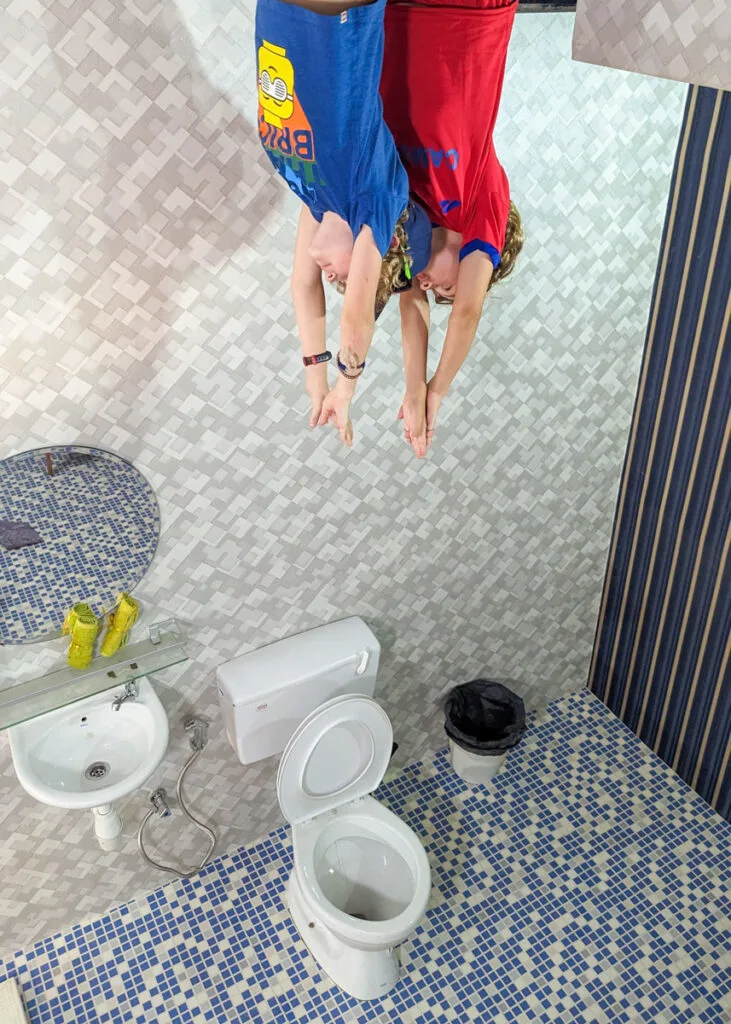 Try to position yourself over interesting objects on the floor/ceiling (e.g. below with the toilet seat making for a diving pool)
Avoid any other items being in the shot as they'll ruin the perspective (water bottles, handbags, other people, etc)
Quickly check your shot by turning your screen around to make sure the photo worked. Let the kids see so they know what they're doing and what to change
If you spot an empty room, jump in before someone else gets in the frame.
But try to limit the amount of time you spend perfecting the shot if others are waiting.
Is the Kuala Lumpur Upside Down House worth visiting
We had a fun time at the Upside Down House but we probably appreciated it more after the event, when we looked at the photos and saw the full effect. It's not the cheapest activity in town and would be a difficult experience if the crowds were bigger; you do rely on having a clear space to take your photo to get the correct perspective.
It's slightly under-maintained in places but the level of detail is still very high and it's interesting to see how everyone is built and pieced together.
The location next to the sky tower is a bonus and most visitors combine both sights in the same visit. The air-conditioning inside the building is very welcome on hot days and is almost worth the admission price on its own!
However, these upside down houses are popping up all over Southeast Asia and if you've been to one before, this one probably won't be that different.
How much is the Kuala Lumpur Upside Down House?
Adults pay RM24 and children RM18.
For Malaysian/MyKad visitors, the cost is slightly lower at RM19/14.
Do you need to pre-book tickets?
On the day we visited, there were only a few other people visiting so there was no need to pre-book. The Upside Down house doesn't have its own website as such, relying on social media accounts to provide information. This means the only pre-booking sites are third-party which will include booking fees etc.
Final thoughts on the Kuala Lumpur Upside Down House
Whilst there are probably better ways to spend your time in KL with kids, the Upside Down House is still an enjoyable activity, particularly on a hot day when you need a break from the heat.
Don't expect a full day's entertainment, you'll most likely be in and out within an hour which does make for quite an expensive visit. It does feel slightly underwhelming at first but it really comes to life once you take the first photos and flip your screen.
The kids will have a fun time, the look of confusion and excitement when they first see themselves hanging upside-down is a real highlight.
---
You may also like to read:
Malaysia with kids travel guide
Borneo with kids travel guide
Visiting Melaka with kids