Floating breakfasts, direct pool access from the bedroom, in-room spa treatments, and the most wonderfully kind staff. Princesa Garden Island was the perfect start to our Palawan adventures in the Philippines. This was a mumcation with Ellie from Outnumbered Holidays; no kids, no dads, just a mums-only holiday where old school friends who are now in their 40s and live on opposite sides of the world could catch up in luxury.
Disclaimer: Princesa Garden Island provided a two night complimentary stay on a bed and breakfast basis in return for this review and social media coverage. As always, these are all my own words and opinions with 100% honesty.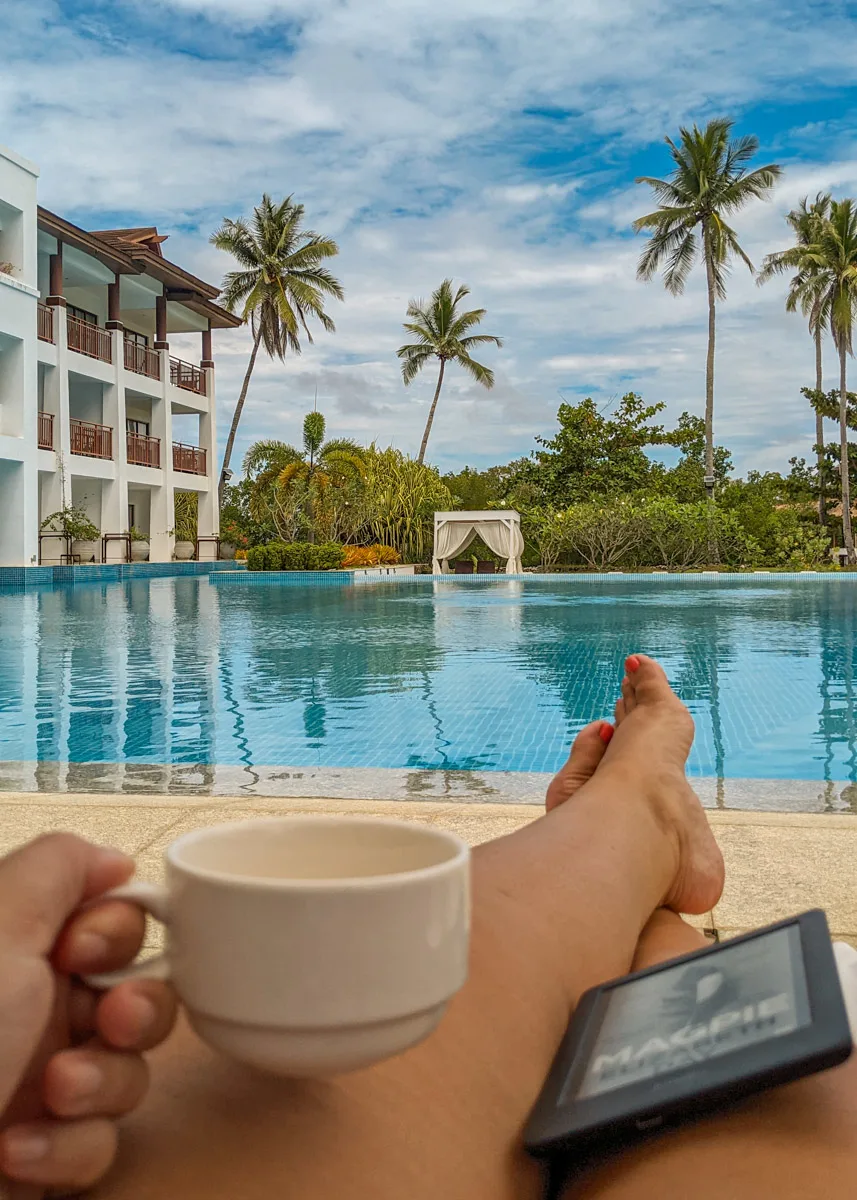 Palawan is the collection of islands in the south-west of the Philippines. With crystal-clear turquoise waters, white beaches fringed by coral reefs, towering limestone cliffs, and swaying palm trees galore, Palawan boasts the dictionary definition of 'tropical paradise' and is easily one of the most beautiful places in the Philippines. And all this at a fraction of the tourist numbers that Thailand's islands experience.
The main gateway to these islands is Puerta Princesa. Whilst many visitors make a bee line for the underground river in Sabang (60km away), it's worth stopping for a couple of days to enjoy the relaxing pace and luxury of Princesa Garden Island just outside Puerto Princesa town, especially if you've endured a long-haul flight to manic Manila.
Arriving to Princesa Garden Island
We flew direct from Manila to Puerto Princesa and used the complimentary shuttle service from the airport to the hotel. We had previously informed the hotel of our flight times, so that a staff member awaited our arrival to the airport with a sign reading 'Miss Jenny and Miss Ellie'. It's a 15 minute drive from the airport to the hotel, and the driver is happy to stop off at an ATM enroute if needed (although cards are accepted at Princesa Garden Island.
It's a wonderfully warm welcome to Princesa Garden Island. On arrival, we were greeted with a shell necklace and refreshing drink from a tiki mug, with live drumming accompaniment.
Our room was not quite ready due to our early arrival time of 10am. But they were happy for us to use another pool access room until our booked room was available.
The Premier Pool Room
Direct access from the hotel room is what makes a stay at Princesa Garden Island special. There are a number of pool access rooms around the main pool, and we were provided with the 'Premier Pool Room', which is slightly larger than the main pool access rooms. Do note however, that not all rooms have pool access, so make sure you check on booking.
Our Premier Pool Room consisted of two double beds, aircon, TV, and an ensuite bathroom (with separate shower and bath). If you're feeling cosy with your room partner, you can even open the doors next to the bath to the bedroom.
Sliding doors from the bedroom open out onto a patio with two sets of steps leading down to the main pool. On the patio is a small table and two chairs, and one sun lounger. We did ask for another sun lounger, but they seem quite strict on allowing only one sun lounger per room, which seems rather strange as the rooms are set up for two adults.
The direct pool access is fantastic for an early morning or late evening swim (or any time really!) Though be warned, the tiles both in the room and on the outdoor patio are extremely slippy when wet.
Dining at Princesa Garden Island
Breakfast was included with our stay. This is a set menu breakfast rather than a buffet, which I personally prefer, as it makes breakfast a more relaxed affair and a nice change to the standard buffet breakfast served at most hotels throughout the Philippines. Plus, they just happened to serve my favourite breakfast meal, Eggs Florentine (well actually it's Eggs Benedict, but I'm vegetarian, so asked for it without the bacon).
For an additional cost, you can have your breakfast served to you on a floating breakfast. Admittedly, eating your breakfast in the pool is trickier than at a dining table. But it's quite the novel treat!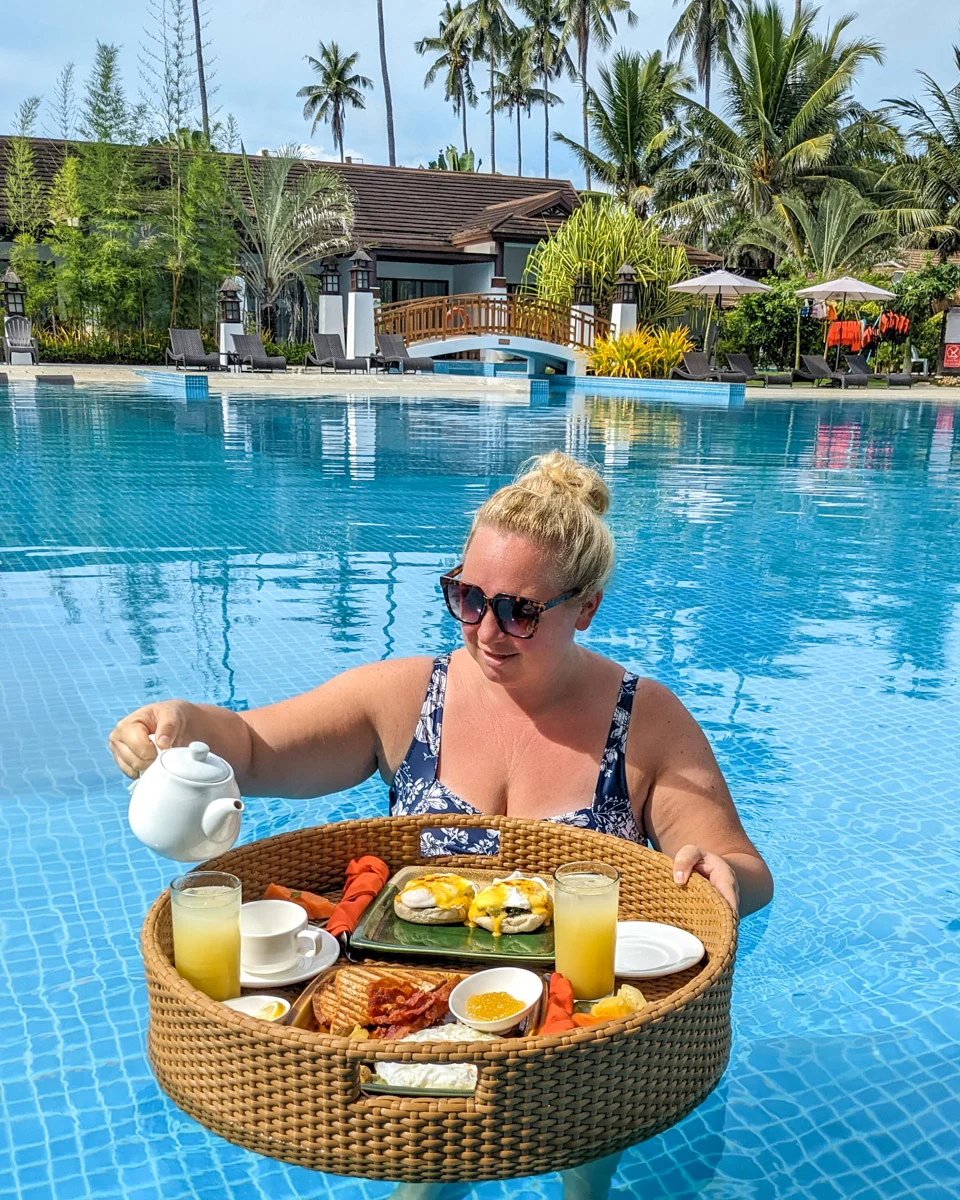 The on site restaurant is a lovely setting for dinner, and the woodfired pizzas get a big recommend for us.
If you want to experience more local (and much cheaper) cuisine, we suggest taking a tricycle into town. Depending on the time of day, staff can suggest to you where best to go.
2022 soft opening
Our visit to Princesa Garden Island in September 2022 coincided with a soft opening. This meant that there was a considerable amount of construction happening around the hotel and not all the rooms (including the over-water villas) were available.
The works in no way affected our enjoyment and relaxation of our stay as they took place away from our room and the main pool area. However, we did ensure the big crane stayed out of our photos!
There are a lot more rooms being built, and it would be interesting to see how busy the resort feels when the work is completed and more guests are visiting. At our time of visit, it felt reasonably quiet.
Final thoughts on Princesa Garden Island
I'm now sat writing this review from my home study in the UK with the autumn leaves turning and rain lashing at the window. It feels very far removed from the tropical paradise of Princesa Garden Island in Palawan.
But my fondest memory of Princesa Garden Island (aside from catching up with my bestie, of course) isn't necessarily the Eggs Florentine served on a floating tray or the night time swim direct from our room, it's the wonderfully warm and kind nature of the staff. Such a high level of customer service really does make all the difference.
---
You may also like to read:
A ten day South Vietnam itinerary
The best destinations in Asia for families
The BEST beaches in Thailand for families