The Asia Interviews is a series of guest posts where fellow family travel bloggers talk about their best destination in Asia for family travel. TraveLynn Family hasn't been everywhere, and I love hearing about the adventures of other families in Asia and being able to share them with you.
Being one of the main airport hubs of South East Asia, thriving Kuala Lumpur is a popular Asian holiday destination for family travel, especially when a trip is combined with visiting Penang and/or Langkawi.
Drawing from her countless visits to this Malaysian capital, Sharon Gourlay from Dive Into Malaysia provides an insight into visiting Kuala Lumpur with kids; including the top things to for families in Kuala Lumpur, what to eat, and the best place for families to stay .
1. Tell us a bit about yourselves. Where are you from and how often do you travel as a family? How old are your children?
We are a family of 5 who live in Melbourne, Australia. We travel every school holidays which ends up being a few months a year. My kids are currently 2, 7 and 8. Before my oldest started school, we spent a year travelling with half the time in Malaysia and we have been to Kuala Lumpur many times. The first time with kids, they were 11 months old and 2 years old.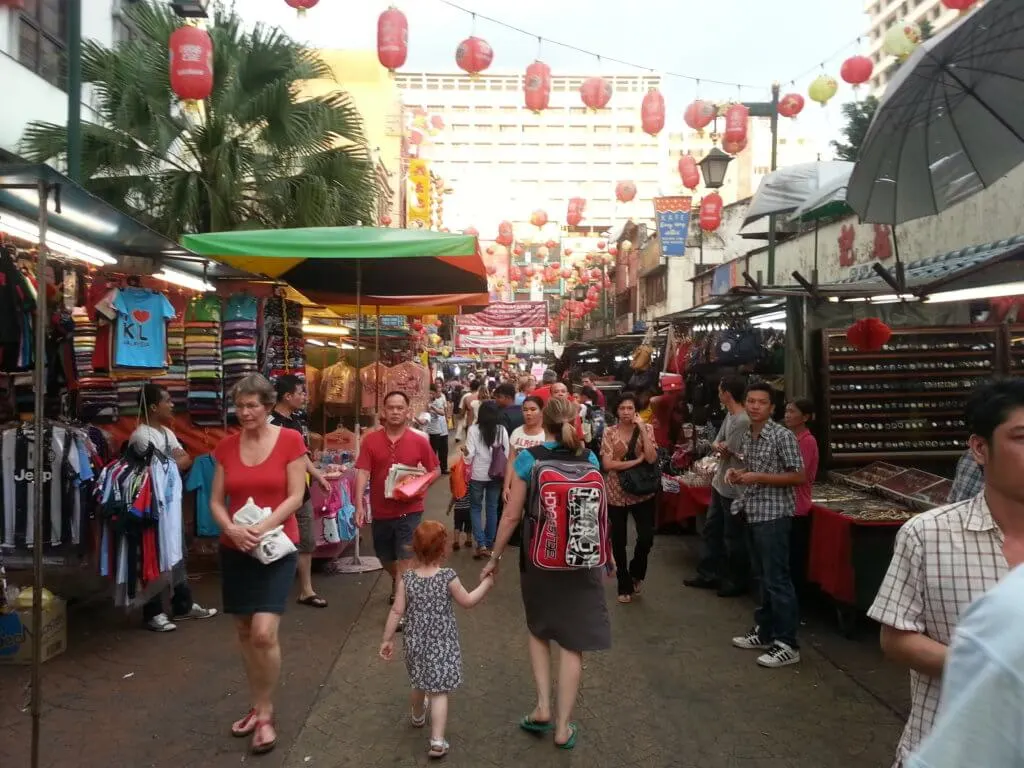 2. How many times have you travelled to Asia and why do you love travelling there?
I have lost count. Usually at least a couple of times a year. It is just so easy and cheap from Melbourne thanks to AirAsia.
Southeast Asia is just perfect with kids. People love them which makes it easier to be out and about with them and the affordability of most of the countries means it is easy to take short cuts when you need to make it easier with the kids. There's also just so many things to do, great food and interesting cultures to discover.
Check out our Southeast Asia packing list for families
3. Why is Kuala Lumpur your favourite destination?
In a big part because it's so easy and affordable. Malaysia has an interesting cultural mix which we enjoy, some of the best food on the planet, some great hotels and a great mix of attractions. It's also super easy with many people speaking English and taxis are cheap.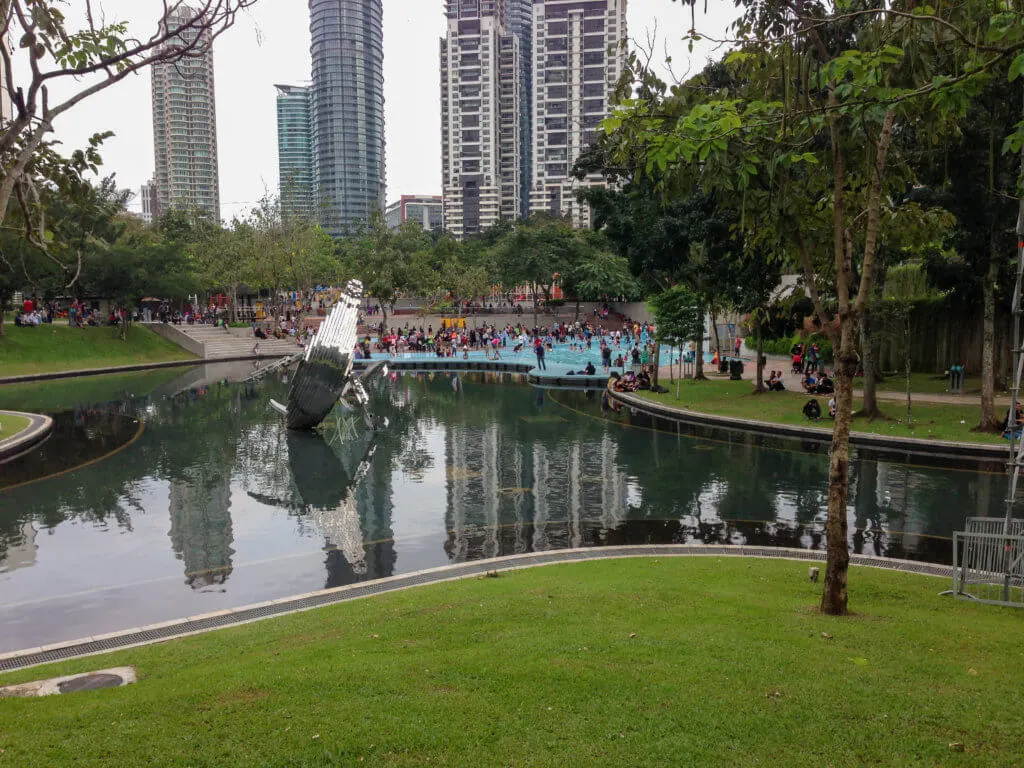 4. What were your top 3 things to do in Kuala Lumpur with kids?
KidZania has to come in top. My kids just love this place! It's a mini world for kids where they can try out different professions.
In second place, I am going to cheat a bit and say KLCC (Kuala Lumpur City Centre). This is the centre of KL at the base of the landmark, Petronas Twin Towers. There is a big park area here with the biggest playground I have ever seen as well as a water playground. It's lots of fun especially late afternoon when many locals come out. Around this park, there is also a fun science museum, Petrosains Discovery Centre, and KL Aquaria, the aquarium.
In third place is KL Bird Park. This is one of the biggest bird parks in the world and we all love it.
5. Where do you recommend families stay in Kuala Lumpur?
We always stay at the Berjaya Times Square Hotel and I can't recommend it enough. The standard room is more like a one bedroom apartment and it's very affordable for families. They have a ton of facilities including the biggest city hotel pool I've seen and a playground.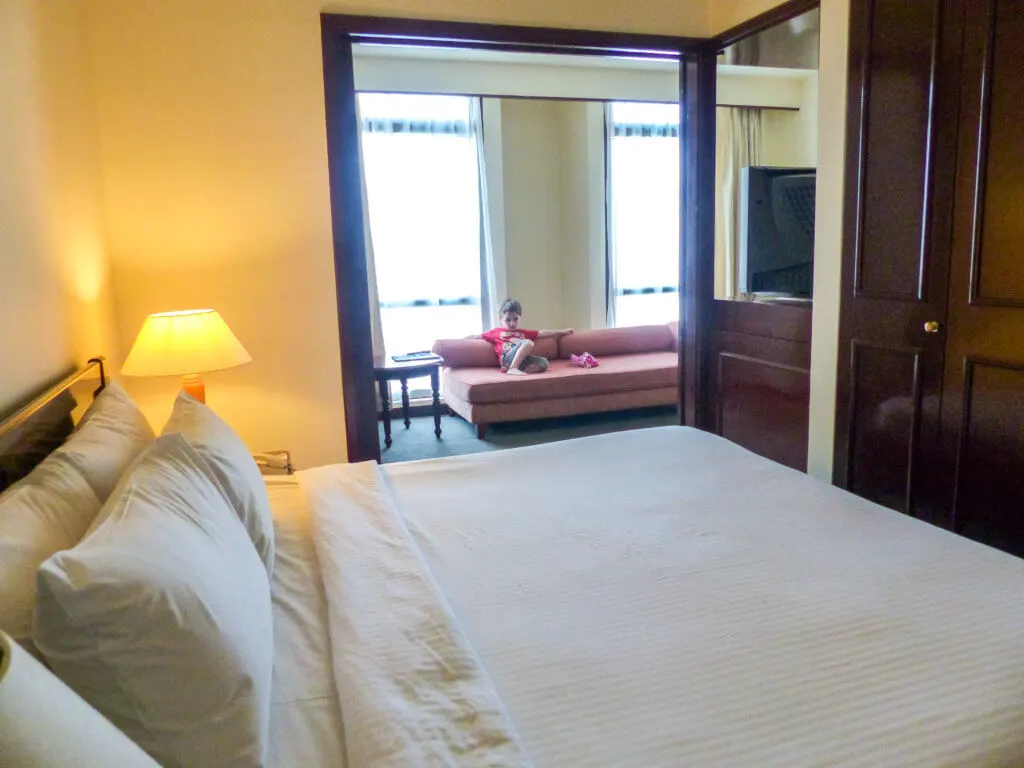 The best part, though, is that it's located on top of Berjaya Times Square, a huge shopping centre. This means there are tons of eating and shopping options just downstairs which makes life so much easier. There is also an amusement park, cinema and many other activities in there.
6. What do your kids enjoy eating in Kuala Lumpur?
Our kids are great eaters and love it all especially some roti and butter chicken or our son absolutely adores the sushi train restaurants which are easy to find and very affordable.
Fussier eaters may prefer some plain fried rice, which is easy to find everywhere, or sate sticks. Kuala Lumpur has food from everywhere though, so you can find what you want.
7. How did you get around?
Taxis are very affordable so we mostly use those although it's getting more complicated for us with the fifth person. There is a good public transport system but I find it rarely seems to go exactly where you want without changing.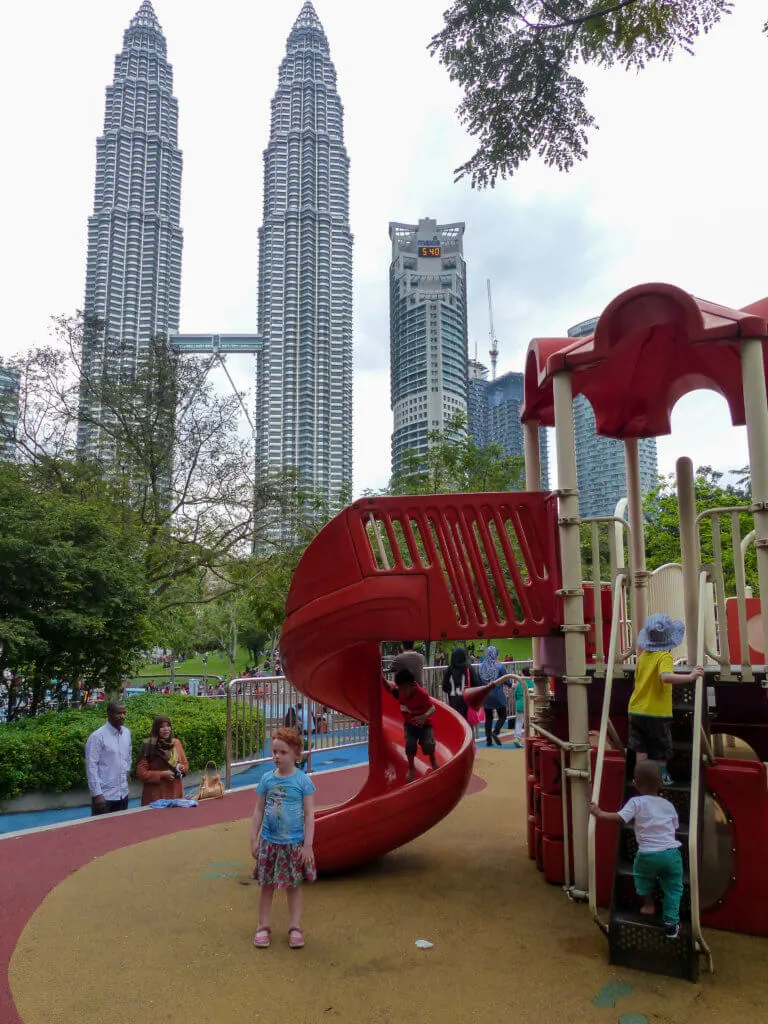 8. What is your top tip for families travelling to Kuala Lumpur?
Eat everything! The food is amazing. And definitely head to KLCC in the late afternoon for a play and dinner.
9. What item could you not have done without in Kuala Lumpur?
An umbrella comes in handy as you are in the tropics.
10. Where are you off to next?
Our next big trip is to Europe to visit the home of Lego – my son's #1 bucket list item.
---
If you are planning a trip to Malaysia, make sure you check out Sharon's website: Dive Into Malaysia. You can also follow on Facebook, Instagram, Twitter and Pinterest.
You may also like to read
Malaysia with kids travel guide
Borneo with kids travel guide
Visiting Penang with kids