The Asia Interviews is a series of guest posts where fellow family travel bloggers talk about their best destination in Asia for family travel. TraveLynn Family hasn't been everywhere, and we love hearing about the adventures of other families in Asia and being able to share them with you.
Political situations can change since this interview took place. Please check the GOV.UK Foreign travel advice before venturing to a country.
Sally from Our3kidsvtheworld chats about visiting Langkawi with kids (Malaysia).
Select your island and then spend your days lounging on powdery white sand with turquoise waters lapping at your toes – Langkawi is the perfect destination for honeymooners and luxury travellers. But as Sally explains, it is also a wonderful destination for young families and there is plenty to keep the little ones entertained…
And if you're looking to travel around Malaysia, make sure you also check out The Asia Interviews for Kuala Lumpur, Melaka, and Penang.
1. Tell us a bit about yourselves. Where are you from and how often do you travel as a family? How old are your children?
Hi, I'm Sally from Our3kidsvtheworld, I travel with my husband Craig and our 3 kids; Alannah now 13 yrs, Keira now 11 yrs and Caelan who is 9 yrs. We have been travelling regularly with the kids for 6 years now. We travel as much as possible although mostly during the school holidays taking a week either side of the school holidays to extend our travels.
2. How many times have you travelled to Asia and why do you love travelling there?
We have travelled extensively in Asia, reason being its very close to Australia and is very cost effective to travel around when you have a family of 5. We have travelled to Hong Kong, Macau, Malaysia, Vietnam, Cambodia, Borneo, Thailand, Singapore and India.
3. Why is Langkawi your favourite destination?
Langkawi is very family friendly and the Malaysian people love kids. There is a surprising amount of cultural and fun activities aimed especially for kids. I was a little surprised as I wasn't expecting there to so much focused on the kids. Langkawi is also a short flight from Kuala Lumpur, only 50 mins which is great, when you have already endured an 8 hour flight from Australia. Air Asia flies pretty much every hour to Langkawi for a very reasonable price, ensuring only a short layover in Kuala Lumpur.
4. What were your top 3 things to do in Langkawi with kids?
We visited the Langkawi Sky Cab and Sky Bridge, this is Langkawi main tourist attraction and requires you to travel in a gondola to the top of the mountain, the views from the top are breathtaking and you can sit and watch the planes arriving at the Langkawi Airport below. At the base where you hop on the gondola, there is a 3D Art studio which you can take photos of you immersed into the images.
Paradise Island 101 is a man made recreation island that only recently opened on Langkawi. A speed boat will take you over to the island where Paradise Island staff greet you and welcome you on to the island with a refreshing juice. Activities on the island include an aqua park for the kids to jump around on about 20m off shore. A short zip line taking you across the end of the island, banana boat rides being towed on a giant banana behind a speed boat in the middle of the ocean. If the kids are old enough and can hang on tight they can even got jet skiing; our kids loved it and had a turn operating the jet ski with one of the brilliant staff sitting behind them. Soon they will offer parasailing which I'm sure my kids would have loved.
Kilim Karst Geoforest National Park where you can take a small boat around the limestone karsts jutting out of the mangrove swamps, the area is a UNESCO and spans 100 sq kilometres. If you're keen you can even kayak around the geoforest, getting up close and even stopping at pristine beaches or through limestone caves. Kilim Geoforest National Park is a place to view some of the local wildlife, from kite eagles, kingfishers, monitor lizards and macaques. It really is a breathtakingly beautiful spot to spend a day, make sure you stop by the floating village for some lunch.
5. Where did you stay in Langkawi with kids and do you recommend it?
We stayed at the Meritus Pelangi Resort & Spa at Cenang Beach, set on a beautiful white sand beach with ldouble story villas set around lovely tropical gardens and the 2 resort pools. Cenang Beach is a short walk along the beach and there are plenty of cheap food options if you would prefer to get away from the resort restaurants. Langkawi is a smallish island, getting a taxi to other parts of the island is no problem from the Meritus Pelangi, it is located about 10 mins from the airport.
I experienced the most amazing pink sunset I have ever seen right outside our villa on this beach. The beach is calm like a lake and prefect for little kids to play. There are also 2 resort pools and both have kids play areas suitable for little kids. There is also a kids club service available however my kids weren't interested in the kids club.
6. What did the kids eat?
My kids love Malaysian food, I've been blessed with kids that will give most foods a go when we are travelling. The restaurant at the resort has extensive choices from all different cuisines to suit every nationality. When all else fails the kids will eat roti bread, rice and fruit but they will generally always find a curry they will try and mostly like. The food in Asia is generally always fresh and tasty and the kids love a buffet so they can try a few different things.
7. How did you get around Langkawi with kids?
We tend to walk as much as possible when travelling, if not we just hope in a taxi; they are plentiful on Langkawi and are very reasonably priced. The concierge at the hotel will call one for you and they arrive in a few minutes.
8. What is your top tip for travelling to Langkawi with kids?
Attend the Malaysian Cultural Show at the Aseania Hotel. I always like to do something cultural so that the kids can learn something about the people and the history of the places we visit. The Cultural Show at Aseania includes an extensive international buffet dinner. My kids loved the cultural show, it told the history of Malaysia through dance and song. My kids were up front and centre, loving every minute of it.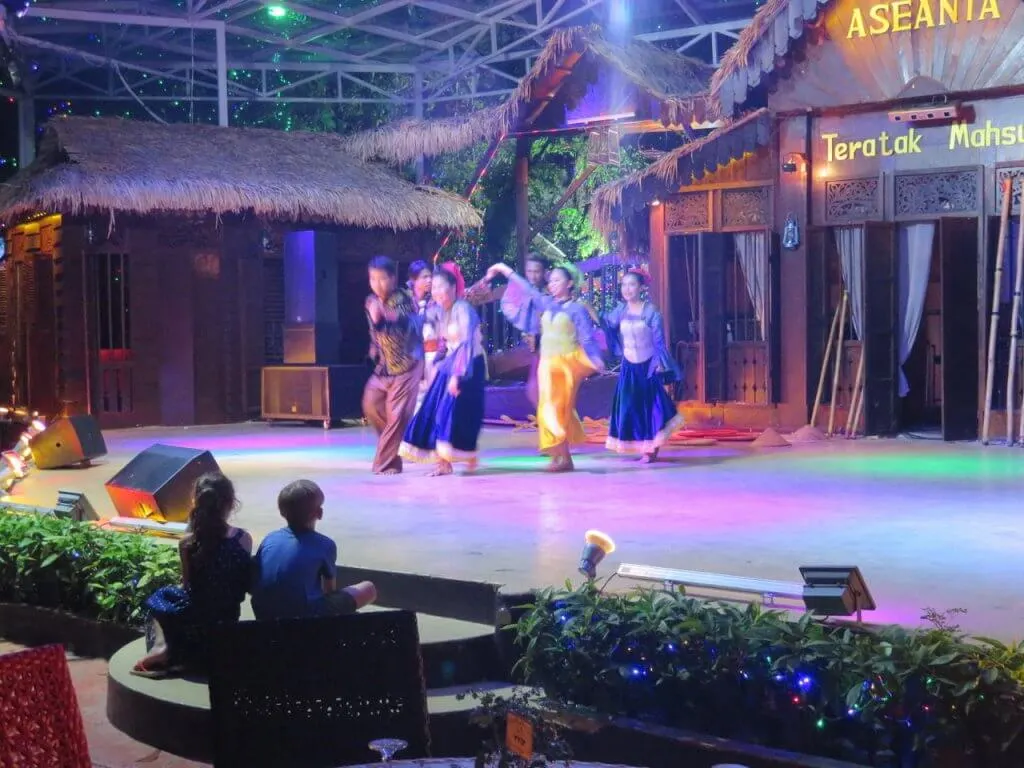 9. Is there anywhere you suggest families avoid in Langkawi?
A visit to the Langkawi Wildlife Park! Many of the animals were in very small cages. The enclosures had concrete floors and the animals looked bored and unstimulated.
10. Where are you off to next?
Next we are off to the Maldives, my husband is having a big birthday and as a special surprise I have organised the trip without him knowing. We requested a trip without the kids so for the first time ever, I am leaving the kids home. Not sure how I will be with that but I'm sure once I arrive, I'll very quickly get into the groove.
In September we will be heading as a family again to Myanmar. We will be spending 2 weeks there and will cover Yangon, Bagan, Mandalay and Inle Lake. I am really looking forward to being back in Asia as our last trip was the USA and Caribbean for a white Christmas. Next year I have my eye on Sri Lanka and Laos but lets get the next 2 out the way first!
---
You can follow Sally and her family's adventures on the Our3kidsvtheworld website as well as Instagram, Facebook, Twitter and Pinterest.
You may also like to read:
Things to do in Penang with kids
Best beaches in Thailand for kids
Best beaches in Goa for kids