This is a sponsored post in partnership with Villa Finder.
Thailand will forever be one of our favourite destinations for family travel. We love the food, the temples, the buzz, the people, the beaches… there are so many thing to love about travelling Thailand with kids. However for some people, especially first time visitors to Asia, Thailand can be an assault on the senses.
If you are looking for an easy family holiday to Thailand with a range of good quality accommodation, lots of Western amenities, lots for the kids to do, and an easy landing to a new experience, Phuket is a good choice.
Please note, you will see A LOT of live animal shows and elephant riding on offer around Phuket. Please avoid at all costs. The treatment of these animals is absolutely appalling and these 'attractions' feed off the tourist dollar. This includes Phuket FantaSea, which has dancing elephants! As such, none of the below suggestions for things to do with kids in Phuket involve animals.
Phuket, Thailand's biggest island, is a fantastic place just to kick back and spend your days lazing from beach to pool and is popular with package holiday makers. But if a packaged resort isn't your thing, there are lots of self catering villa options and lots of super fun things to do in Phuket with kids if you're a family who like to get out and about.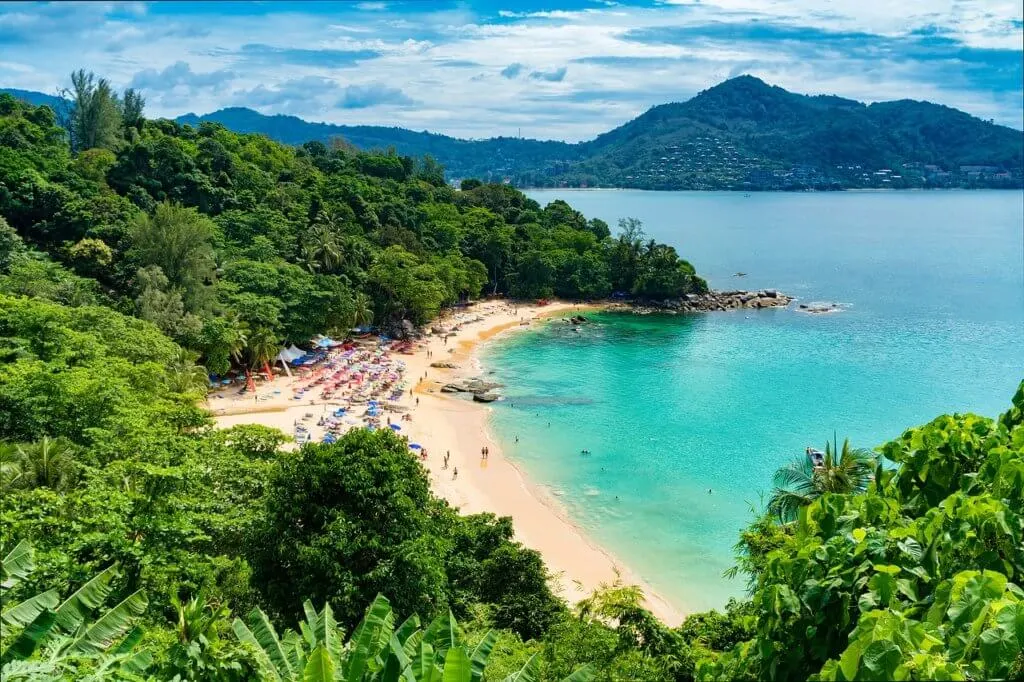 Top things to do in Phuket with kids
From waterparks and kids clubs, to hidden Buddhas and heritage walks, there is something for kids of all ages here.
Splash Jungle Water Park
This is Phuket's wettest and wildest water park, with exciting slides such as Super Bowl and Boomerango, a Wave Pool, 335 meters long Lazy River, kid's Aqua Play Pool and Aqua Park, a 6-lane Whizzard, Family Raft Ride and (much) more. Check the website for ticket pricing and opening times.
Kids Club Phuket
Kids Club Phuket is a children's entertainment centre in the heart of Patong. The indoor playground is a great space for little ones to let off some steam and perfect for a rainy day. It's a great option if parents need a little downtime, as you can leave your child there in the safety of their excellent staff. Check out the Trip Advisor reviews.
Rawai Park
An amazing new kids club in Phuket aimed at children under the age of 6, complete with outdoor playground, water park, and a kids club. There are also gardens, a sandbox and a family restaurant on site. Check the website for pricing, opening time, as well as events taking place.
Phuket Trickeye Museum
Phuket Trickeye Museum is an interactive 3D museum where you interact with giant paintings a create fun photos. Walk a rickety bridge above the clouds, ride a flying carpet, fight Mike Tyson in a TV match or escape a giant crocodile.
Baan Teelanka – The Upside Down House
Another quirky photo opportunity, Baan Teelanka, otherwise known as The Upside Down House, is just that… a house that sits on its roof. This also means that the inside is also upside down, so expect to see furniture on the ceiling as you walk around.
Go snorkelling
From most beaches in Phuket, you can grab a snorkel and swim out to a coral reef. Snorkels can be rented, but are rarely of good quality or have children's sizes available. If you are staying a week or more and plan to do a lot of snorkelling, it's worthwhile purchasing your own.
Snorkelling can be done year-round in Phuket, but the best time of year is November-April when the sea's at its most calm. Check out this post for best places to snorkel in Phuket.
Wander Phuket Old Town
For a dose of history, head to Phuket Old Town and explore the Sino-Portuguese past that once made Phuket the centre of the tin-mining industry in Thailand. Today, Phuket's Old Town is full of hipster cafes, restored colourful shophouses and shrines that are bringing back the glory of days gone by. Check out this guide to Phuket Old Town.
Buddha Cave
Whilst the giant Big Buddha overlooking Phuket is perhaps the island's best known attraction and a regular stop for the island tours, families will probably enjoy the little known Buddha Cave more.
Wat Tham Suwan Khuha, which the Buddha Cave is officially known as, has a network of tunnels and caves to explore with a large reclining Buddha that is hardly explored by visitors. The cave is also surrounded by trails and waterfalls.
KidzSole Flying Trapeze
Watch your little monkeys fly through the air at KidzSole Flying Trapeze, located in the grounds of the Micky Monkey Beach Hotel. A smaller (and easier!) version of what you see at the circus, the trapeze has a horizontal pole, suspended from two lines to allow you to swing back and forth. You only need a few minutes of basic instruction and you are on your way!
KidzSole also has a 40-piece obstacle course, featuring trampolines, vaulting horses, stilts, human hamster balls, tightropes and trapeze stations.
Flying Hanuman Phuket
Get a unique perspective on Phuket and soar through the treetops at Phuket's Flying Hanuman zipline Experience. There are a series of interconnecting ziplines to get your adrenaline pumping, as well as rope courses and abseiling. This is not for the faint hearted and children have to be over the age of 4.
Dino Park Mini Golf
Enjoy a family round of golf amongst dinosaurs at Dino Park Mini Golf. This would keep both my golf-obsessed husband and dino-obsessed boys very happy. The mini-gold course consists of 18 holes and the replica dinosaurs are 'life sized'. There is also a jungle themed restaurant on site.
Where to stay in Phuket with kids
Phuket, and in particular Patong, does have a rather seedy and touristy reputation. Parts of the island have been overdeveloped by tourism, and if you're looking for something laid back that still maintains a Thai charm, you need to consider carefully where you stay. But do not worry, this is still one of the most beautiful islands in Asia.
Nai Yang Beach on the northwest coast and Karon Beach on the southwest coast are good choices. Although these areas are going through changes, and may not stay like this for much longer. If you really want to get away from it all, Nai Harn exudes a tranquil charm and Cape Panwa feels remote. The serenity of east Phuket, combined with its hillside villas with sea views also makes it a popular choice for rest and relaxation.
We always prefer to stay in self catered accommodation. This means that we are not tied down to specific meal times, and we can pick up food from the markets and graze as we like. This also means that we have more space to live and are not confined by the four walls of a hotel room.
We're hoping to try out one of the stunning villas with Villa Finder, who specialise in Phuket villas, in 2020. I'll let you know how we get on. Villa Finder staff are experts in the region of Phuket and can match you up to your perfect villa accommodation. They also have a fantastic initiative whereby they plant a tree in Sumatra for every villa booking! Read more about this and their initiatives for green practices at the villas here.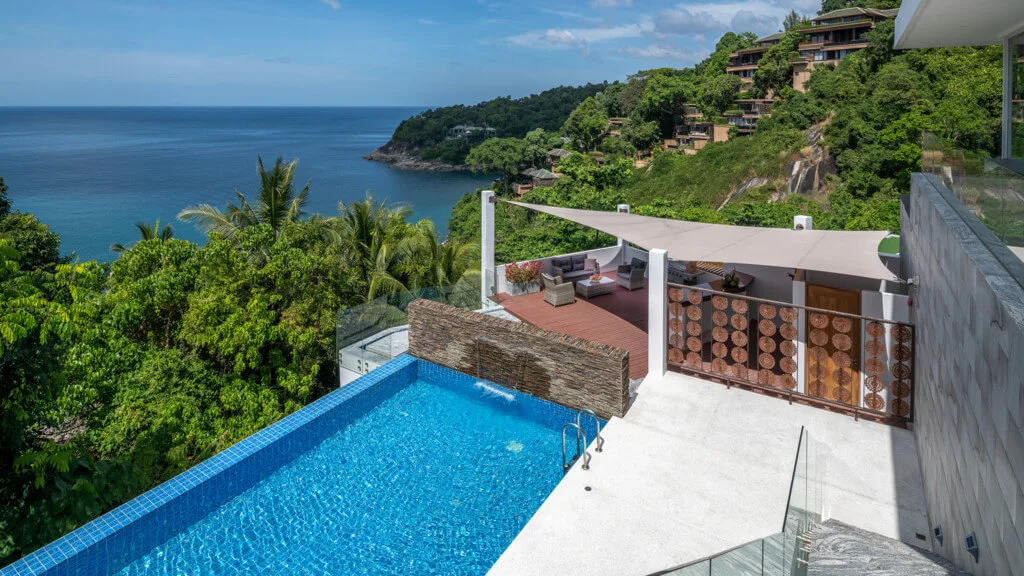 ---
Sale
You may also like to read:
Thailand with kids: an easy family itinerary for Thailand
The BEST beaches in Thailand for families
Top things to do in Bangkok with kids