The Asia Interviews is a series of guest posts where fellow family travel bloggers talk about their best destination in Asia for family travel. TraveLynn Family hasn't been everywhere, and I love hearing about the adventures of other families in Asia and being able to share them with you.
Have you considered visiting Yangon with kids?
Myanmar's capital, Yangon, is rapidly becoming Southeast Asia's next boomtown, but the strong ties to it's history and tradition remain apparent on every corner. Since opening its doors to tourism in 2013, more and more accommodations and local tour agencies have sprung up, particularly in Yangon, a city which bookends all travel in Myanmar as the land borders are still closed and air travel is the only way of entering the country.
In this month's The Asia Interviews, Sally from Our3kidsvstheworld, provides a fascinating insight into travelling to Yangon with kids.
1. Tell us a bit about yourselves. Where are you from and how often do you travel as a family? How old are your children?
Hi I'm Sally, I travel as a family of 5 with my husband Craig and three kids Alannah 15, Keira 12 and Caelan 10. We travel both domestically within Australia and internationally as often as possible. Our favourite part of the world is definitely Asia, nice and close to home and so culturally different to what we are accustomed to at home in Australia.
2. How many times have you travelled to Asia and why do you love travelling there?
We have travelled to Asia at least twice yearly for the last 5 years with the family. We usually use Kuala Lumpur as a base due to flying with Air Asia. We have flown with them countless times and highly recommend them as an affordable reliable airline and booking 12 months in advance gives us great prices and plenty of time to plan.
3. Why is Yangon one of your favourite destinations?
Myanmar is just opening up to the western world and their tourism industry is evolving, they have experienced a lot of political instability over the last 50 yrs while being governed by their military after a political coup, however this is not the forum for politics.
The Burmese are incredibly friendly, they want people to visit their country and welcome people with open arms and huge smiles. They want to talk to you and ask where you are from and hear about your country. They want photos with you and love children and will show a lot of interest in your family. I felt unbelievably safe in Myanmar, at no time did I feel threatened or scared.
4. What were your top 3 things to do in Yangon with kids?
Myanmar probably isn't top of the list when you think about family friendly locations to take kids, having said that after many people told me not to take our kids, I can honestly say my kids loved Myanmar and it rates in the top 5 favourite places they have visited.
My top three places to visit are:
Shwedagon Pagoda
The most sacred Buddhist pagoda in Myanmar and believed to contain relics of four previous Buddhas and built between the 6th and 10th centuries AD. We visited just before dusk and saw the sun setting on the gilded stupa cover in gold, the golden hour was prefect timing for photos and the weather cooled slightly after the sun set.
Yangon Circle Line Train
A 39 station loop system around Yangon is the perfect was to experience life in Yangon. We had a couple of chickens on board our carriage which the kids thought was just hilarious. The circle line costs about 30c and to complete the loop takes about 4hrs. There are open windows, be careful hanging out of! People will come and go but the novelty of westerns on their local train never gets old, you'll hear the vendors coming up and down the aisle flogging their goods and food, its quite the experience.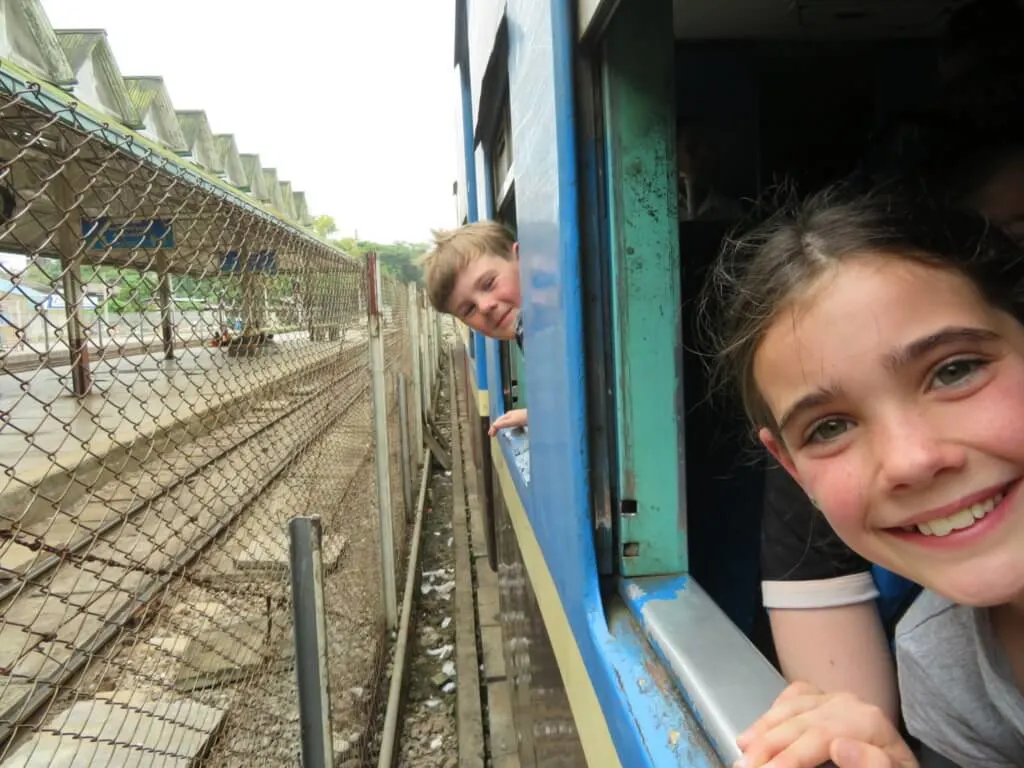 Bogyoke Aung San Market
Located in the middle of bustling Yangon, originally called Scott Market by the English was created in 1926. It was renamed in 1948 when Myanmar/Burma gained its independence. It is also listed on the Yangon City Heritage List. A must visit on the tourist trial you'll find antiques, traditional Burmese handicrafts such as lacquer items, jewellery including jade, rubies, sapphires and other precious stones. The market is also a popular black market location to exchange currency.
Check out more things to do in Yangon for kids here.
5. Where did you stay and do you recommend it?
We had the opportunity to stay at two wonderful 5* hotels, the Sedona Hotel and the Sule Shangri-La Yangon. Both were equally as fantastic but located in completely different areas of Yangon.
The Sule Shangri-La Hotel is located right in the centre of downtown Yangon, if you're lucky like I was you'll get a great view of the Shwedagon Pagoda. The hotel is located near the Bogyoke Aung San Market, the Sule Pagoda and Mahabandoola Gardens is a great place to start a self guided tour of Yangon.
The Sedona Hotel is located across from Inya Lake, you can see the house where President Aung San Suu Kyi was house imprisoned, she still lives there today. The lake is 6kms north of downtown Yangon and is a refreshing change from the hustle and bustle of downtown Yangon. I got to enjoy the most amazing sunsets from our hotel room.
6. What did the kids eat in Yangon?
I'm pretty lucky in that the kids will try most things, I don't have to stress over what they will eat, we always find something. If they are having a particularly fussy day for whatever reason well steamed rice will always get them through.
I've always found if they are hungry enough they will eat what ever if on offer but if they aren't to hungry they may be a bit pickier. No big deal they will eat at the next meal and I just ensure they keep their fluids up.
7. How did you get around Yangon with kids?
The best and most convenient way to get around Yangon is by Grab which is the Asian equivalent to Uber. You order your Grab through the app and you pay cash when you get out. Gone are the days of haggling with taxi driver over price. Best of all, you know how much it will cost as the app will show you when you order.
This does mean you'll need a local SIM. We got ours outside the arrivals hall when we arrived. We told them which plan we wanted, handed over our phones and they were handed back fully operational with SIM and connected to the network.
8. What is your top tip for a family trip to Yangon?
Get out and explore by foot. We did an awesome self guided walking tour around the Colonial era buildings and some where rundown and need of repair as they have been let go and others were fully restored and immaculate. There is a lot of work going on to restore these buildings and along the way you'll see how life is for most of the Burmese in Yangon. Stop for a drink at The Stand Hotel, its different worth having a look at.
9. What item could you not have done without?
Our phone! We used our phones for data while in Yangon, we booked Grab while out and about when the kids got tired and cranky with the heat and we used it for google maps so we could find things.
We walk a lot on holidays and having access to data was a god sent and not something we always have. We do tend to do it in South east Asian countries though as it is so much more affordable there and their coverage is fantastic, so much better than Australia!
10. Where are you off to next?
We are off to Vietnam again in March 2020 for mine and hubby's third visit and the kids second visit. I am super excited and looking forward to getting back to one of my favourite spots. We will be visiting the north on this trip and I've got a few things planned that I haven't seen yet.
I have something extra special coming up next year. I don't like saying anything until trips are booked so watch this space. Hubby and Caelan will be having a boys trip to Los Angeles in September to go to the wrestling and will be watching some baseball and basketball. So a big year of travel planned for the Our3kidsvtheworld team. Bring on 2020 I say!
---
Follow Our3kidsvstheworld on their website, as well as Facebook, Instagram and Twitter.
You may also like to read:
Visiting Inle Lake with kids, Myanmar
Thailand with kids: an easy family itinerary for Thailand
The BEST holiday destinations in Asia for family travel