It was a Friday night, we'd just left McDonalds off the A17, and were continuing our 3.5 hour drive through the grey and drizzle. This was wasn't exactly putting me in the mood for camping. But thank goodness we didn't need to pitch a tent on arrival. Instead we were going to stay in a Mongolian yurt… in Norfolk.
TraveLynn Family were offered a complimentary two night stay at Swallowtails in return for coverage on the blog and social media. As always, there are all my own words and opinions.
Ducking through the small wooden door of Periwinkle (our yurt for the weekend), it felt like we had stepped into the set of The Borrowers. The warm colours of the mismatched fabrics complimented the antique furniture, and the toasty glow from the log burner made us all feel cosy and at home. My mood had miraculously lightened.
I lined up our wellies by the front door and put the kettle over the fire whilst the kids got dressed into their PJs. This was a much easier style of camping! Plus, with actual beds already made up and all light blocked out by shutters and insulated fabric, we were guaranteed a good night's sleep.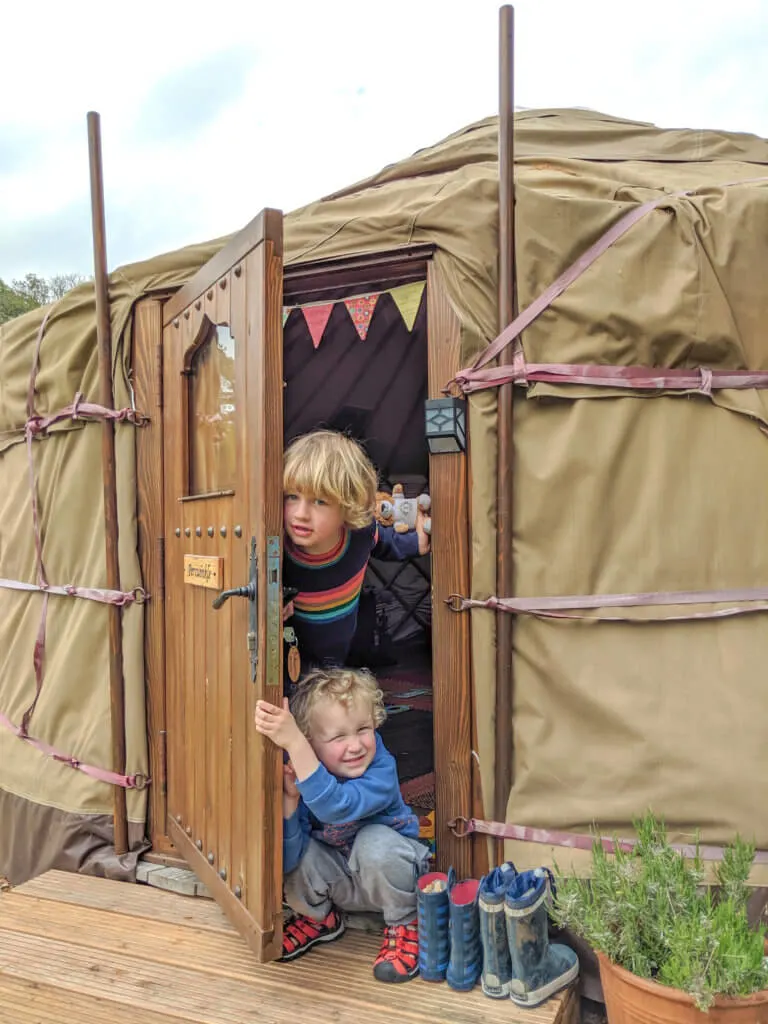 Swallowtails is just a short walk from the old market town of Holt. So even though you're tucked away amongst the woodland, it's not too far to go for a pint and a wander around its charming alleyways. But stepping outside of the yurt that Saturday morning with the skies cleared, I felt hidden away in nature and we were happy to spend much of the day on site. Our boys loved the freedom of the central open meadow, and us parents were happy to let them explore whilst we sat back with a cup of tea.
Inside the yurts at Swallowtails
There are six yurts in total; four luxury 18 ft yurts (sleeps 4), a 22 ft yurt (sleeps 6), and a Lotus Belle tent (sleeps 4). Each yurt is fully insulated, meaning they're cosy warm on cooler nights, although on a hot summer's day you can create a nice through draft by opening the door and roof.
Plus, the yurts nicely block out the light with shutters and thick fabric, so your little ones aren't woken early by the morning sun. Our boys slept in until 8:30 am on the Sunday morning after going to bed at 7:30 pm the previous night. That says a lot for a day playing in the fresh air and the comfort of the yurts!
We slept in Periwinkle, which sleeps four. There's a double bed and and a trundle day bed for the kids, and electricity provided by solar panels. The furniture is in keeping with the yurt and you'll find everything you need, including a pull out dining table, a wash basin with jug, cooking utensils, pots and pans, and even a toy box. Many of these items are packed away in little boxes and cupboards to keep things neat and tidy. Although it would have been handy to have had some shelves to store our clothes, and hooks for our jackets.
To keep food items cool, a cold box is provided and you can get ice packs from the main shop (FOC), which also stocks wood, non-perishable food items, and all important marshmallows to toast over the camp fire.
Outside the yurts
The yurts are evenly spaced around the edge of a meadow. You're not too close to your neighbour, although the layout promotes a sense of community.
Adjacent to each yurt is a wooden gazebo which creates a little cooking area, including a gas BBQ. There's also an outdoor dining table and chairs, two sun loungers, and a fire pit.
Bathroom facilities
Behind the yurts, you'll find a long drop toilet, with instructions for where to wee and poo to maximise composting! There seemed to be only one toilet for the six yurts to share, although there may have been another one hidden away somewhere.
You can use the bowl and jug in the yurt for washing. But if you need a shower or there's a queue for the long drop, you can walk the 100 metres to the main toilet/shower facilities in basic portable cabins. It's a shame these aren't aesthetically in keeping with the main glamping site, but they are more to serve the general camping site.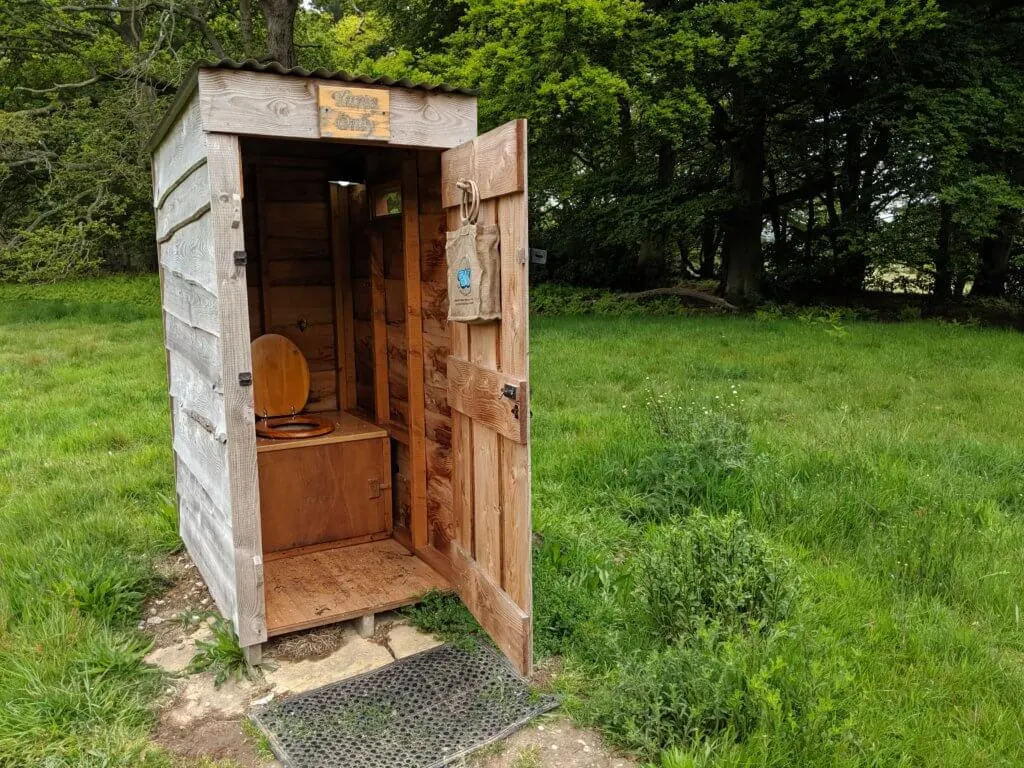 Things to do onsite
Bring the kids bikes. Our boys spent hours cycling around the big grassy area, and if they weren't on their bikes, you'd find them in the playground. You can also hire bikes on site through Huff and Puff Cycles.
In the holidays there are activities laid on for kids aged 6 and over (nature walks, art and crafts), or perhaps try your hand at pond dipping (grab some nets from the shop). There is also Friday pizza nights during busier periods.
Things to bring
Most of what you need for a weekend away camping is provided for you, and really you just need your clothing, wash bag, and food (tea, coffee and olive oil is provided). However, I would suggest packing wellies (the grass around the site is long in places and can be wet in the morning, even if it hasn't been raining), a torch (for walking around outside at night), and slippers to wear inside the yurt.
How to book Swallowtails
If you're looking for a glamping holiday or a yurt in Norfolk, Swallowtails is a fantastic choice to get away from it all. We love camping with the kids, but for a easy weekend away, the glamping option makes life much simpler. The yurts absolutely ooze charm and quirk, and the open space allows the kids so much freedom. Head to their website and book online at https://www.swallowtailholidays.co.uk/bookings.
Things to do in the area
If you're looking for things to do in Norfolk with kids, these posts are a good start:
---
You may also like to read:
Glamping in Lanzarote: A review of our stay at Finca de Arrieta
Short walks in the Peak District with kids
Finding family adventure in the UK