If you've been following us for a while, you will know that we like to push the boundaries of family travel and dispel the myth that adventure needs to wait until the kids are older! Over the past 18 months, with our boys (now aged 3 and 4), we have traversed India on sleeper trains, hiked to Poon Hill (3120m) in the Nepalese Himalayas and driven across Sub-Saharan Africa in a Land Rover to name a few.
Now that we have returned to the UK, we are looking for adventures closer to home. So I reached out to some of my favourite travel bloggers for inspiration. From skiing in Scotland, to open water swimming, to hunting for dinosaur fossils, if you're living in the UK or plan to visit sometime soon, I'm sure you'll too find inspiration here for family adventure in the UK.
Hunt for dinosaur fossils
(Emily, Kids and Compass)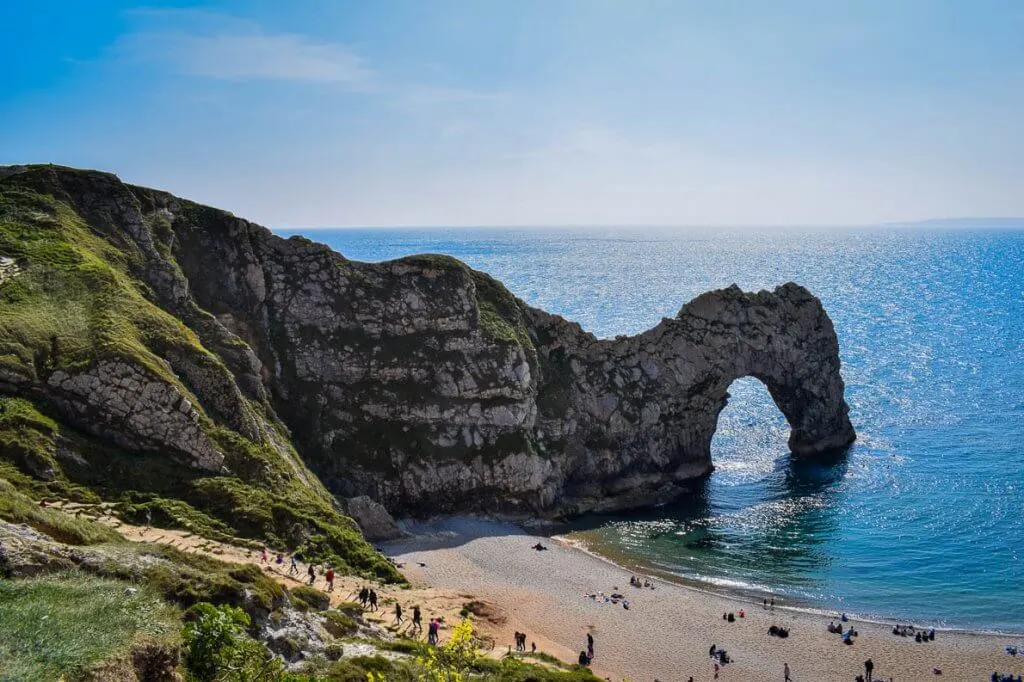 Does anyone know a child who isn't fascinated by dinosaurs? If your child loves dinosaurs as much as mine, then take them to the Jurassic Coast to really spark their imagination. The Jurassic Coast is a dramatic stretch of coastline which runs from Studland Bay in Dorset to Exmouth in Devon, along the southern shores of the UK.
Hundreds of fossils are found in the cliffs and along the beaches here, and in some places they're fairly easy to find. The best and safest place to find fossils is at Charmouth beach. You can look for fossils yourself which is free, but takes practise to find a good one. Although any fossil you find is bound to become a treasured possession!
If you want more chance of finding a fossil then you might want to join a guided fossil hunt. They go from Charmouth Heritage Coast Centre and cost £8 per adult and £4 per child. There's no minimum age limit, and you'll need to book online. There are some safety considerations: don't go near the cliffs or the sea and keep an eye on small children scrambling over the rocks.
Kayaking
(Natalie, Plutomium Sox)
Before having children, my husband and I had a double sea kayak. Living in the Midlands, it didn't often see the sea, but it got a lot of use in the River Severn. After the dog got a bit over excited watching a swan and fell in the river, we bought her a boat of her own and we'd tow her behind us. It was like the elephant in the room. Nobody we passed on the river ever mentioned the fact that there was a dog in a boat behind us.
The success of Soxa's inflatable vessel gave us an idea when the children were ready for kayaking. We bought two inflatable kayaks and now, we take a kayak each and a child each and paddle down the river or around a lake. It's the perfect little adventure for children, and now that we've got the boats it's a free day out. We pack a picnic and head off in search of an idyllic spot to put down the picnic basket. We see the occasional otter and Kingfisher. There are no iPads or televisions and it's a great way to get in touch with nature – and each other.
Crabbing off a pier
(Sarah, ASocialNomad)
Crabbing off a pier in England is a quintessentially English seaside thing to do for all the family. All you really need for this is a weight, a piece of string and some bait, although most seaside towns and villages will have a shop that will sell you a bucket and everything you need for your crabbing adventure. Bait such as chicken or bacon (but just the leftovers) will work. Let your line drop to the bottom and wait until the crabs start pulling on it. If you bring the line back up slowly and hook the crab into the children's fishing nets on a pole you'll land more than you lose. Pop the crabs in the bucket of water while you continue crabbing and then release them all at the end of your session.
This is a free activity, unless you buy the crabbing kits, but they aren't that expensive either. There are no age restrictions, although you will want to keep tiny fingers away from the crab's pincers! You can do this in any seaside town, although its one of our favourite things to do in Brightlingsea – a great seaside town in North Essex.
Hiking the hills
Hiking is an essential part of all our trips. It enables you to reach places you couldn't reach otherwise, often taking you to some of the most beautiful spots in the country. Hiking is one of the cheapest adventures there is – all you need is a pair of hiking boots and some determination and you're away. We have done so many amazing hikes in the UK, there's something for everybody, whether it's a short walk with young kids or a much longer day hike with older kids. It's a chance to chat and be together, with no other distractions, except the wonderful scenery!
Our family loves hikes with a bit of adventure – rocks, water, scrambling, climbing, stunning views – anything to keep up the interest! Recently we've hiked up Snowdon, the highest mountain in Wales and explored much of the Isle of Skye in Scotland. Snowdonia and Skye are like giant outdoor playgrounds. Two beautiful parts of the UK, and well worth visiting.
One of TraveLynn Family's favourite places to go hiking in the UK is the Peak District.
Summer Music Festivals
We have always been believers that life doesn't have to change when you have children, and myself and Mr Otis and Us have always LOVED our music, and spending time outdoors. Our Summer isn't complete without attending a family friendly festival with the kids, and we try to attend a festival every year. There are so many amazing festivals to choose from around the UK. I find there is something special about throwing on a pair of wellies, spending time outdoors whatever the weather and throwing out the routine for a weekend. There is often great programmes on for the kids, whatever their ages and they are always so spoilt for choice. I am always amazed at how much there is for the kids to do… from tribal tournaments, craft tents, circus skills, woodland fairy trails, pillow fights and lantern parades, not to mention the music and shows…..I am really not sure who loves the festivals more – the adults or the kids. We are heading to Timber Festival and the Just so Festival this year and I am so excited for another year of making memories, I just need to remember to pack the face glitter and glow sticks…
Open water swimming
(Natalie, Plutomium Sox)
My husband and I have always been keen swimmers and once got a boat to the Isle of Wight so we could swim back to the mainland. So, it made sense to get the children into it too. We love the Wild Swim UK map, and look for safe water spots where the children can get in and paddle.
I swim in the river once a week, but wouldn't take the girls in anywhere with a current. So, we aim for a calm pool where the focus is on wading in rather than swimming. On the day my eldest learnt to walk, we took her to a local paddling spot where she could have a dip in the water, a picnic and a play on the rope swing that somebody had put in. It's an idyllic way to spend an afternoon.
Check out this Peak District wild swimming spots.
Skiing in Scotland
(Jenny, Monkey and Mouse)
After watching the Winter Olympics my 4 year old decided that he wanted to take up snowboarding. Unfortunately for him he's a bit little to snowboard yet, so we decided to settle on trying skiing instead. I was seriously considering a local dry ski slope, but when a friend told me it was only an hour and a half to Glenshee from Stirling I was convinced on actual snow!
I booked both boys in for a private lesson with an instructor, but it soon became clear that my 6 year old was making great progress, whilst my 4 year old was struggling with stamina. To give his brother more of a chance I took charge of helping littlest practice balancing on his skis on a shallow slope until his brother had finished the lesson. It was a little stressful on my own, so on our second attempt at a lesson I booked in my 6 year old alone and just hired skis for the 4 year old and myself to play on the nursery slope. I also chose to invite my mum to take littlest to the cafe when he was tired, giving me a chance to play and take the 6 year old down a couple of runs after his 2nd lesson.
It was a brilliant experience for both boys, with the 4 year old becoming more confident and probably much more capable next year when he's taller and stronger. But my 6 year old really shined! After just a couple of lessons he had mastered all the tows and chairlift and had made it down his first few runs without falling once on them. Comparing his private lesson to those in group lessons, I was glad we had chosen that route. Those in group lessons were often held back by the less capable and were unlikely to progress so quickly. If you are short of time (or just based in Scotland with a short snow season) and want to get the kids up the slopes quickly book them in for private lessons, although it's a lot better for over 5's. Also, keep an eye on the Scottish weather, it's not normally good snow until February, although this varies from year to year.
Sail the seas
(Cerys, Rainy Day Mum)
We've always loved sailing as a family and wanted to get the kids out on the water – knowing that sailing lessons start when they are 8 with the local sailing school we decided to go for a trial instead. With the kids and us on board a little cat, we had an instructor with us sailing out from the sailing school and onto the river Deben estuary at Felixstowe.
The kids 6 and 7 LOVED it, they even got to pull the sail in and helped to bring the boat up on the dock. Although we are waiting for them to join the sail school when they are both 8 we have off of that experience booked a family sailing holiday this summer and look forward to spending a fortnight sailing for the first time as a family.
If you want to give it a go check out your nearest sailing school, the age your children can start or you can start to learn as a family can vary but you can normally get some experience on a trial out on the river or sea around the UK.
Hunting dragons in castles
Exploring castles with young children might not be everyone's idea of family adventure, but with a little imagination it can be fun for everyone. And there is nowhere better to have some family adventure fun exploring castles than South Wales. From the air raid tunnels in Cardiff Castle, to daring to meet the dragons at Caerphilly Castle, South Wales has many different castles to explore.
During our time living in South Wales we explored no less than eight castles with our young son, turning our visits into dragon hunting adventures to make it more interesting for him. Making a game out of your visit means exploring old or ruined castles becomes more fun for little ones and lets the adults enjoy the historic site at the same time.
Entry costs less than £10 per person or is free if you are a member of Cadw (the Welsh heritage membership), and many have free parking and cafés to ensure a great family day out.
Learn to use a bow and arrow
(Thais, World Trip Diaries)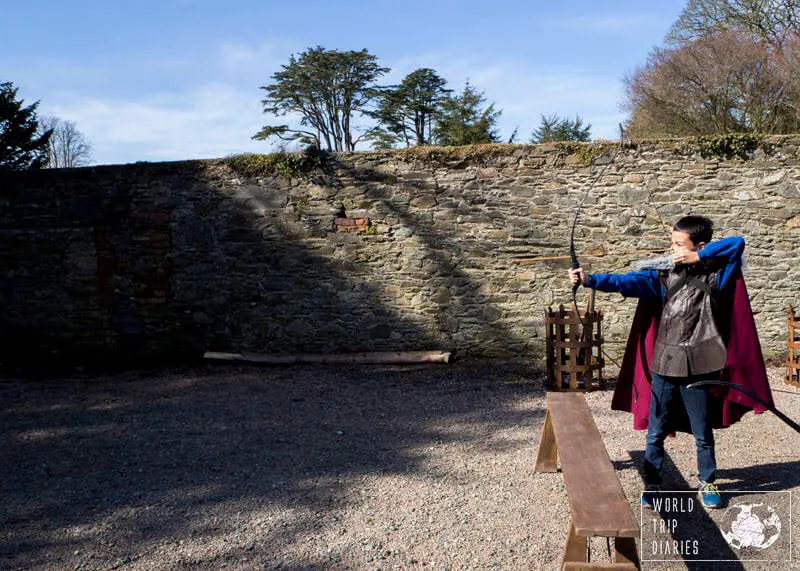 I'm a big fan of Game of Thrones and since Winterfell is in Northern Ireland, I wanted to visit it. It wouldn't be fun for the kids, BUT we found out they offer an archery experience on the set, so that's what we decided to do! There are 2 different packages. The cheapest one is for a group of people, and it only accepts children over 8. We took Ned's Package, which is a private class and takes kids from 6 years and up. My youngest was 5, but they accepted her anyway. It was a great day, all the kids loved trying archery with a longbow and real arrows, but they also had fun walking around in cloaks and carrying (foam) swords through the filming locations.
The instructor was great with the kids, and it was one of our best UK day-outs, for sure!
Climb the rigging
(Suewan, rtwfamilies.com)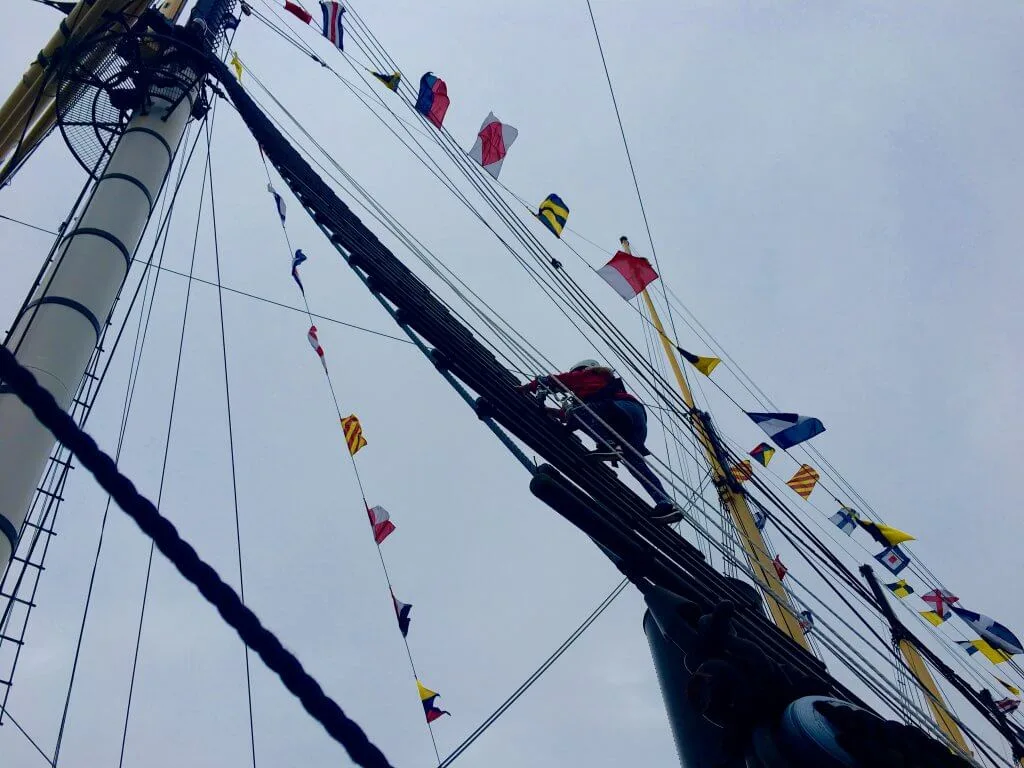 The SS Great Britain makes for a great day out with kids in Bristol. At first you may think it is just a museum on a very old boat, however there is an adventure to be had! When you get to the weather deck you are invited to climb the rigging! "Go Aloft" is completely free for kids, however for safety reasons you have to be 10 years old and meet the height restriction to take part. (Adults can climb the rigging too but there is a £10 fee).
The friendly "Go Aloft" team equip you with all the gear you need and walk you through how to climb safely. Once you get to the top of the rigging you also have the option to walk across the mast. Our 10 year old loved it and said it was really exciting. She said the view from the top of the rigging was amazing, unfortunately I wasn't brave enough to find out for myself!
Visit a farm
(David, travelwithlittleone.com)
Our son has always been a huge fan of animals, and has always loved visiting farms to see them up close, and sometimes pet some of the animals. He spent his first two years in the UK, where we took him to several farm parks, especially in his native Wales. Most of them revolve around the main activities of meeting, feeding and petting the animals, with other things to do besides.
The first one we visited was the farm at the National History Museum of Wales in St Fagans, near Cardiff. We took him there as a baby and toddler, and he loved seeing the piglets cuddled together sleeping and seeing the ducks waddle around the farmyard, as he toddled around after them.
He also loved going to the Amelia Trust Farm, a charity farm ten miles out in the countryside in the Vale of Glamorgan. In this farm we took him along to the feeding sessions, and he especially loved seeing the lambs being bottle fed. This farm also had a couple of great woodland walks which he loved to explore.
We also took him to the Foel Farm Park on Anglesey in North Wales, where he loved seeing all the animals, and had a great time riding on the big tractor out in the fields, with a great view across to Caernarfon Castle a few miles across the Menai Strait.
Cycling
(Claire, Tin Box Traveller)
We introduced our girls to cycling adventures and bikes from a young age and they love it. Our first day out on bikes was in Surrey at the beautiful Alice Holt Forest where there is an easy access cycle trail with lots of kids activities along the way. We were also able to hire a tag-along for the girls. In the south west of England one of our favourite places to cycle is the Tamar Trails where you can get a history lesson in Devon copper mining as you explore 25km of trails around old quarries. If you're looking for cycle paths attached to other family-friendly activities then Lanhydrock National Trust estate on Bodmin Moor in Cornwall is a great day out. Our girls loved the pump track and the adventure playground next to the National Trust cafe where we refuelled on coffee, cake and ice cream. The go to place for finding cycle routes for all abilities is the charity Sustrans which maps the National Cycle Network. Happy cycling!
Check out these Peak District cycle routes.
Stay in a haunted castle
(Josie, Where Jo Goes)
If your kids have a taste for adventure, a stay in a haunted castle might just be the perfect trip away. St Briavels Castle (Gloucestershire) was built in the 12th century and is one of Britain's 'most haunted' buildings. In its long history it's been a Royal castle, an armaments store outpost of the Tower of London and a debtors' prison. Graffiti written by the prisoners awaiting execution at the Castle can still be seen in the dorms and it is said to them that haunts its stones. St Briavels is owned by English Heritage and operated by the YHA as a youth hostel. If being haunted isn't exciting enough, there are medieval banquets on some nights with mysteries to solve and also archery. Family rooms start at £69 for a room for 4 people and 6 bed private rooms start at £89. Accommodation is in simple bunk and single beds in historic rooms, some of which have ghoulish secrets to reveal. For unique accommodation at a bargain price, St Briavels is a great adventure into medieval history. Just don't blame me if you see a ghost!
Crash and Splash
(Karen, Mini Travellers)
For adventurous kids aged 5 and up, head to Surf Snowdonia for an over-water obstacle course to test agility, balance and is a crazy amount of fun. Whilst waiting to go on, my friend and I silently decided that none of our kids would be able to manage it, whilst confirming outwardly to them that they would be able to easily. As the first two started I was amazed they were going to be able to do it – yes they fell in but that's the point, yes they were a little scared at points but they were only aged between 5 and 8, and yes they felt a huge sense of achievement when they got to the other end. Cost: from £15 off peak for 1hr including wet suit hire.
Mudlarking
(Danny Newman, Coddiwomp)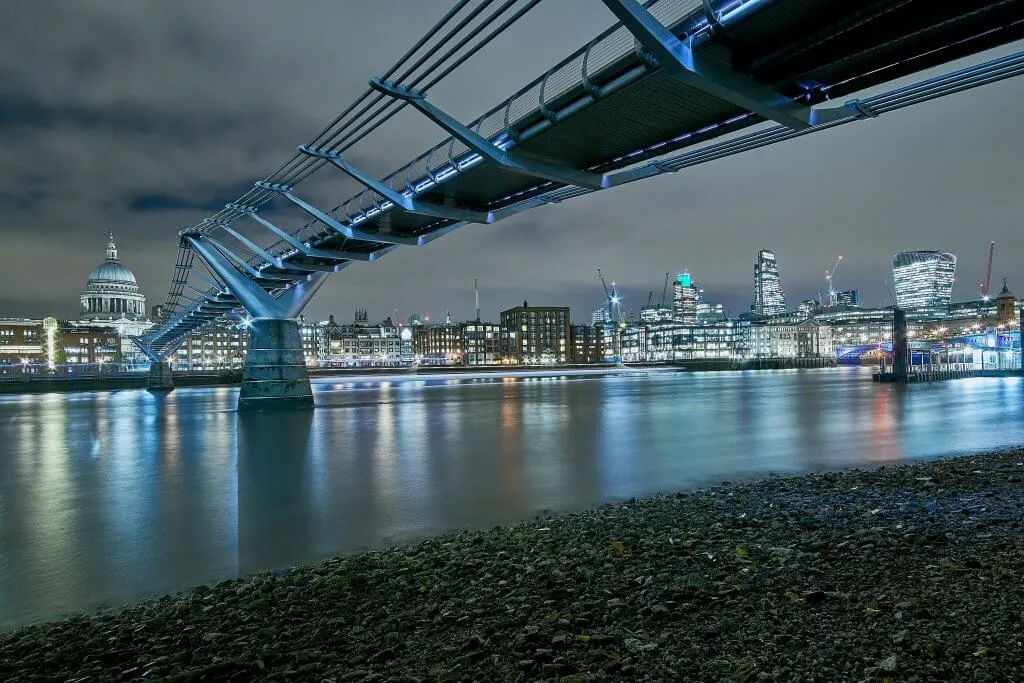 I guess this one might be stretching the bounds of what constitutes an adventure, but the popular activity of mudlarking on the banks of the Thames River, London, is most definitely fun filled and fascinating! I'd argue it's an adventure of sorts!
Mudlarking is the process of searching for historic items in the 'mud' of the Thames' banks at low tide. With water of questionable cleanliness it can be mucky business, so be sure to pack the wet wipes, but it is also remarkable what you can find.
Nestled on the shoreline are all manner of amazing objects to be discovered. From clay pipes, smoked hundreds of years ago, to pieces of coloured glass and pottery from even further back, mudlarking opens a door directly to bygone London times.
To pick up the pieces of history is downright exciting. It's a tangible connection to the past and to the people that walked the streets centuries, and sometimes even millennia before you. The kids will love it and I wholly recommend everyone gives it a go the next time they find themselves in London!
---
You may also like to read:
Short walks for young kids in the Peak District
Top tips for travelling with young kids
A winter weekend with young kids in Ghent, Belgium