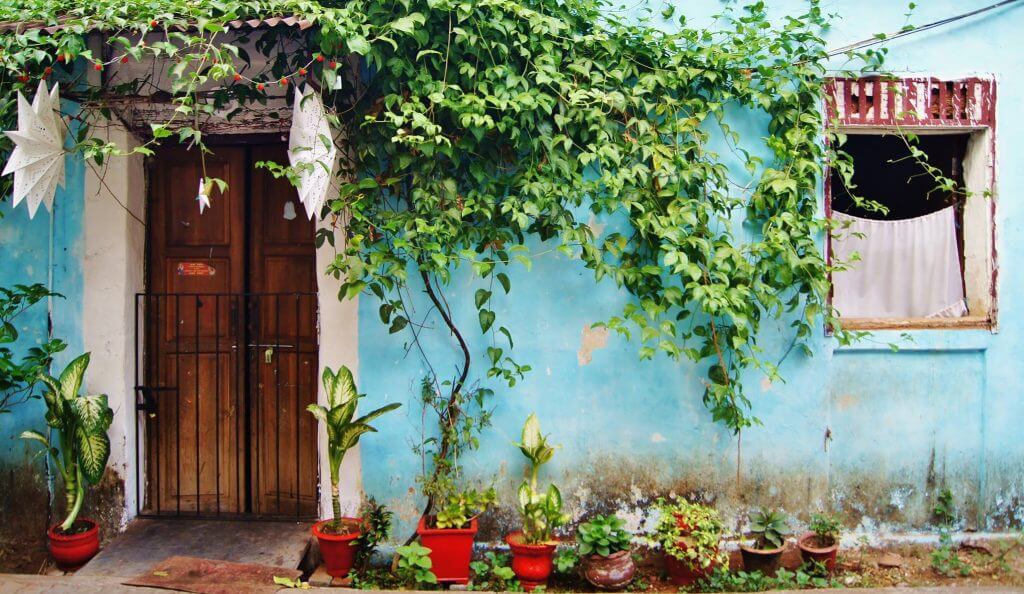 This is us (Jenny and Jay) over a decade ago…
We're in Don Det, Laos, and this photo was taken outside our beloved hut. That hut was just US$1 per night. It may have had a few dead cockroaches under the stained mattress, the shower consisted of a hose at the back and there was no electricity. But for our purpose at that stage of our travelling lives, it was perfect. We were travelling from London to Sydney over land and sea (no planes were allowed) on a minuscule budget and every penny counted. A hut with hammocks and a river view for US$1 made us very happy.
Fast-forward to the present day and our accommodation priorities have drastically changed. We still try to travel on a budget, but we now have our two little boys to consider (Arthur – 3 years and Ezra – 18 months); and we may once in a while stay in an all inclusive beach resort to make life easy.
But in all instances, we now research and book where we are staying in advance, rather than turning up on the day, walking around a few places and then making our choice based almost entirely on price. A lot of thought goes into finding the best family accommodation that suits us. So for every accommodation we book, here is a check-list we go by.
Safety 
This goes without saying, but our number one priority is the safety of our boys. We keep away from dodgy areas, ensure there's no dangerous escape routes from the room (e.g. a climbable balcony with a steep drop the other side) and check that there is no exposed wiring to frazzle themselves on. Tripadvisor reviews are a great source of information on this.
A kettle  
Boiling water means we can heat up milk, even in the middle of the night. Rather than heat a bottle of milk in a container of hot water, we pour the hot water directly into the bottle of milk. Yes it means that the milk is watered down, but it's much quicker. Just ensure you test the temperature before you give it to your hungry monkey.
Fridge (or mini bar) 
Somewhere to store the essential milk and also any other foods. You don't want to be eating out all the time with your little ones. It can be a hassle and the costs will quickly add up. It's good to be able to knock up a lunch from the contents of the fridge.
Ensuite bathroom 
Maybe we're just at that age where we want the convenience. But I don't particularly enjoy the thought of having to walk my toddler down a corridor every time he needs a pee. Or myself for that matter.
Separate place for parents to chill 
Having downtime for parents is vital in maintaining your sanity. As kids (mostly) sleep more than adults, those day naps or early evenings are the time to touch base with one another, reflect on the day's adventures and plan for the travel days ahead over a beer (or three). So whilst the kids sleep, rather than sit quietly in a dark room scrolling through your newsfeed, it's ideal to have a separate space for you to wind down. If you've booked a house, cottage or lodge you will probably have a lounge, garden or rooftop to retreat to (we're big fans of Airbnb). If you're staying in a hotel, maybe look for an apart-hotel (an apartment style room sometimes found in cities) or a room with an outside space (balcony, veranda).
You may also like to check out these most unique places to stay around the world.
Cot 
We're more than happy to have our boys sleeping in the same bed as us. However, whilst we enjoy our downtime away in a separate space, it's nice to know that our youngest is sleeping safely in a cot, where he can't roll or climb out.
Air con or heating 
A comfortable temperature means that everyone should sleep soundly. A good night's sleep nicely prepares everyone for the next day's adventures. Sleep-deprived kids and sleep-deprived parents is never a happy concoction. Also, air conditioners often act as white noise and drown out any outside sounds.
Cleanliness
We check any reviews on Tripadvisor and ensure that the room is a clean and healthy environment. Last thing we want is our boys itching from bed bugs or sampling cockroaches under the mattress.
So we have gone up a  few notches in the luxury barometer since our pre-kids travelling days. But going by this check-list makes travelling with our boys easier, and consequently more enjoyable. There are still many places in this world where we can tick all these boxes for less US$20 per night. Just haven't yet found that place that does it all for US$1 😉
---
You may also like to read:
Surviving jet lag with young kids
Tips for potty training on holiday
27 Websites for Booking Hotels and Alternate Accommodations