Have you tried potty training while travelling? Or maybe you're planning potty training on the road. One of the golden rules of potty training is, 'Do NOT potty train on holiday'. It's just too much hard work and it is a holiday after all! Plus with the change of routine and surroundings, surely it'll take longer for your little one to adjust? So what's the point?
Disclaimer: This post contains affiliate links. If you click to purchase, it is at no additional cost to you, and I receive a small commission.
The thing is though, if you're travelling long term with a toddler or you travel a lot (like us), you're just going to have to take the plunge and potty training while travelling. Unless… you don't travel? Nope. Not an option.
Now potty training on holiday or travelling isn't ideal, but I'm telling you it isn't impossible and actually with a bit of planning and a flexible approach, it could be… dare I say it?… Easier! And just think… don't you look forward to those days where you don't have to source nappies from random locations around the globe? I remember sending Daddy Lynn out for nappies one afternoon in Rishikesh, India. Two hours later he successfully returned after visiting almost every pharmacy in town. What a mission! Then there's the waste of space in your luggage. Many times we have ended up buying a big bag of nappies and strapping them to the side of our backpack.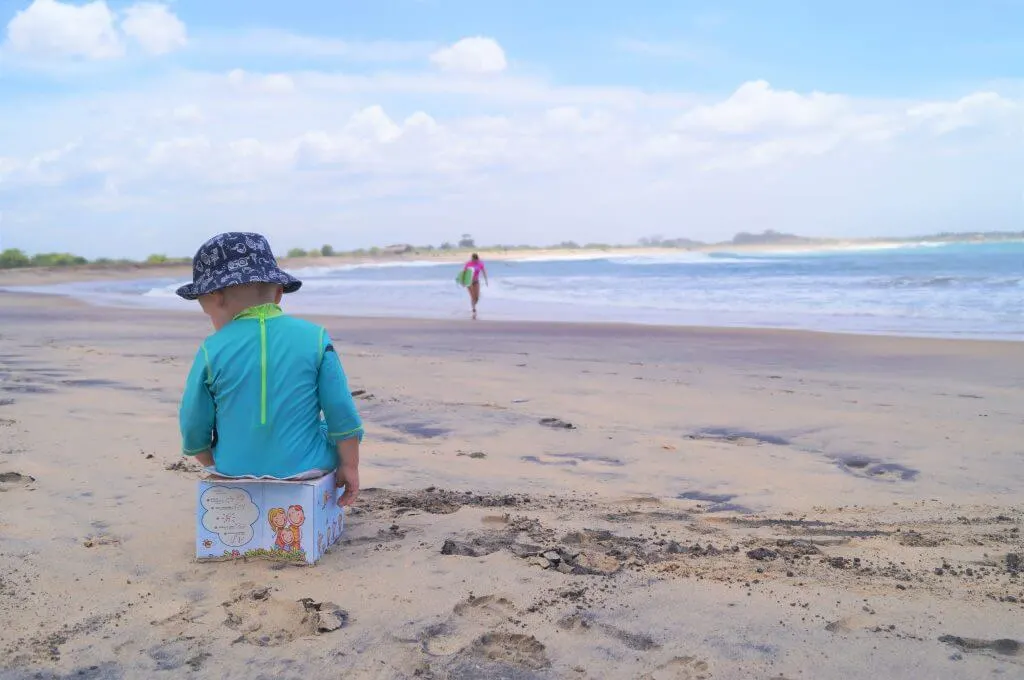 I am by no means an expert. In fact far from it. And guru Gina Ford would be aghast at my laid back, longer term approach. But, I thought it worthwhile to share with you what has worked for us when potty training on holiday:
1. Have the potty out before you start training
Whether you're at home or in a hotel, just leave it in an obvious place so your little one becomes familiar with it. Let them play with it if they want to. Our potty has been used as a dinosaur bath and, frequently, a hat. Also, ensure your little one goes to the toilet with you as much as possible; they learn so much from watching.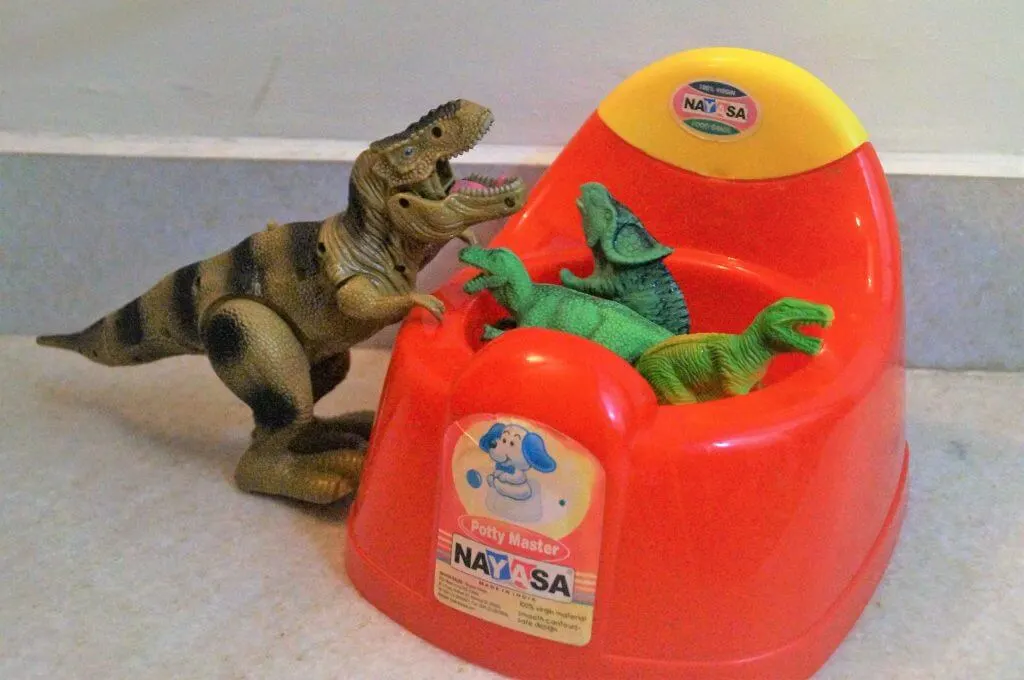 2. Don't force it
The older they are, the easier it'll be; principally because your little one just understands more. The aim is to keep the process as stress-free as possible whilst travelling. We left it until our boys were 2.5 years old. When the time feels right, replace their nappy with underpants for a couple of hours each day, and see how it goes. If it's stressing everyone out too much, try again in a couple of weeks. If it's going well, try a full day!
3. For that first week, arrange to be in the same place
It is true that potty training is harder if you're moving around every other day. Travelling with kids is all about embracing slower travel. So park yourself in one place for a week, ideally in a warm place where layers of clothes aren't required and it's easier to dry clothes, and hang out with the potty. Just don't time potty training with that African safari when you're unable to get out of the vehicle, or that trek in the Himalayas where you will need to peel layers of clothing off before they even get to the potty.
4. Nervous about that long train journey or long flight? Whip on a nappy!
Honestly, no judgement! It will just make life easier and your little one will more than likely pick up on your anxiety otherwise. It honestly won't undo all your hard work so far. Similarly, don't try and keep the nappy off day and night straight away. If you've all mastered the days, then just hold off a while until you attempt the nights (especially if they're having milk before bed or during the night).
5. Get crazy excited when your little one is successful!
Jump, cheer and clap for joy! Make a HUGE fuss! So what if everyone around can hear you – they may join in! Treat your little one to a chocolate pancake on the beach, or if they've had a good day, perhaps a little toy from the markets. And don't get angry with the accidents. It really doesn't matter; even if you are on a flight, or checking in to a hotel (we recently had a no2 accident on a foyer floor with the latter).
6. Ensure you are somewhere where you can clean and dry clothes, or cheaply pick up new ones.
If, like us, you travel very light, you may find that you go through all their clothes in one day. Ensure you have an ensuite bathroom (I love the Asian 'bum gun' for washing clothes!) and a balcony or verandah to dry clothes in the sun (consider packing a no-peg washing line). Or even better, be somewhere where you can get clothes laundered cheaply (places in Thailand and India are great for this!) If you get fed up of washing though, pick up some cheap clothes from the local markets.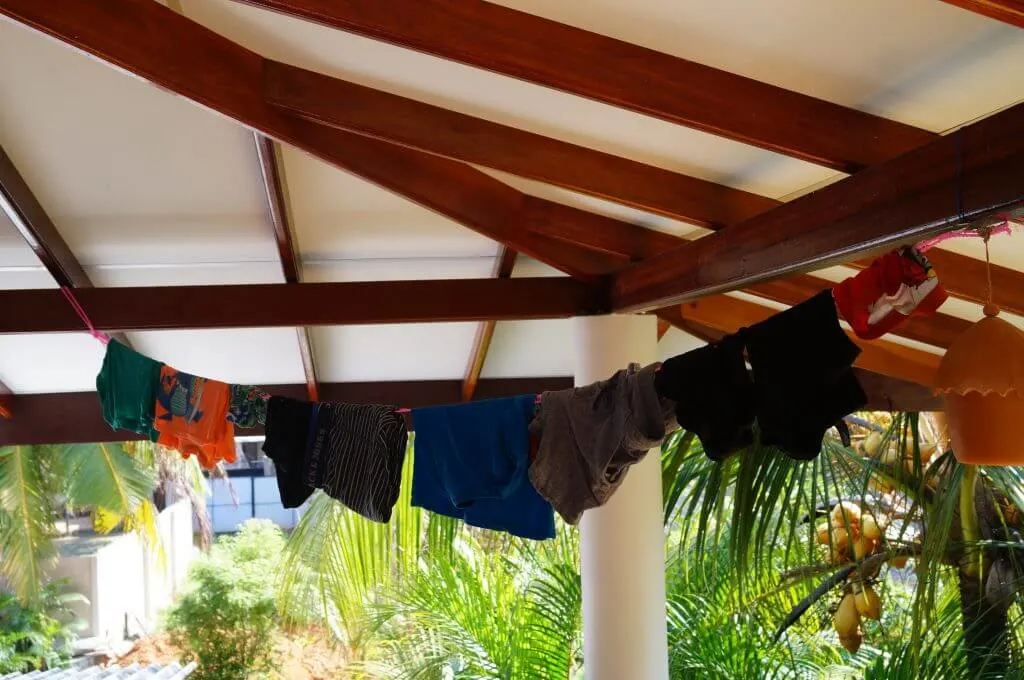 7. Have a potty training bag at the ready
Have a separate bag containing two changes of underpants and shorts, wipes, nappy bags (for soiled/wet clothes), hand sanitiser, sarong (to provide some privacy if you require, but also as a change of clothes for you) and small change (you sometimes have to pay to use public toilets).
And of course, a travel potty! You really don't want to be lugging a big plastic potty around. We love the super-lightweight and compact My Magical Potty (feature photo). Alternatively, some parents like the potette, which although is bulkier, converts into a seat. Boys may enjoy the novelty of this portable urinal.
If you're travelling in a place where you're always going to have easy access to a Western toilet, consider packing a folding travel potty seat.
You may also consider packing a seat protector for car, bus, train journeys, or even flights.
8. If out sight-seeing, stop EVERY time you see a toilet.
You never know when the next one will be and it's easier than getting the travel potty out. The cleanliness of public toilets can often be questionable. I taught my boys to go standing up on the seat (and this can go for girls too if they squat). Although if it's a squat toilet, they they'll have to stand anyway. Have the hand sanitiser at the ready.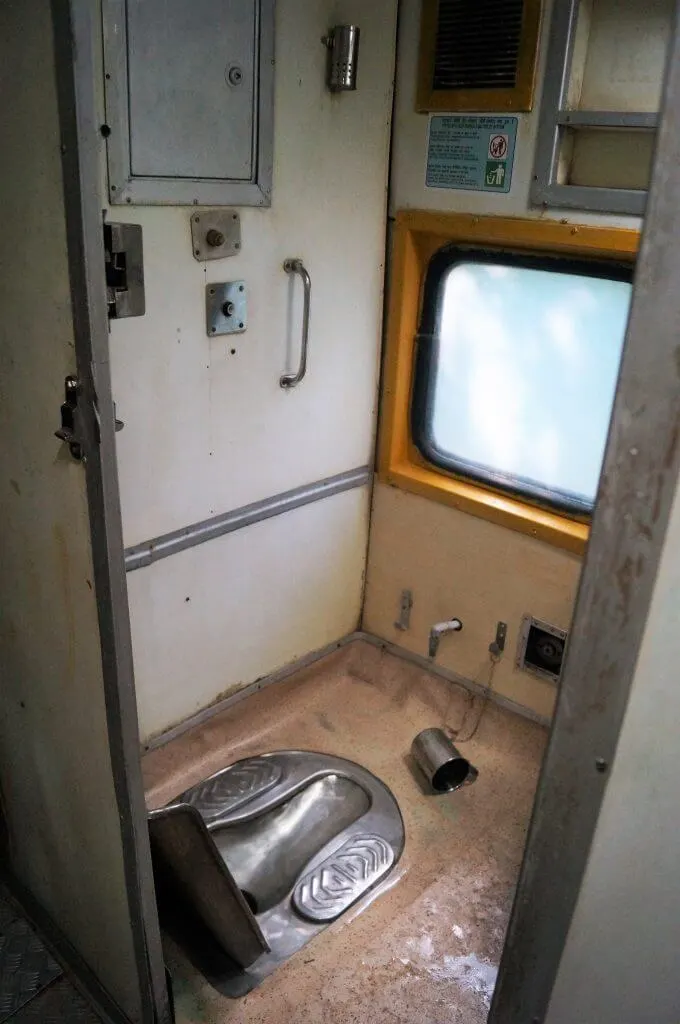 If there's a queue for the toilet, just go to the front and explain. Every parent across the world has had to go through it and will hopefully be sympathetic to your plight. Have your small change (money) ready.
9. Remember you're not alone!
Don't compare yourself to other parents and just stick to what feels right for you as a family. All parents have been through it and many have even attempted potty training on holiday and whilst travelling, and survived! Here are some experiences from fellow family travel bloggers:
The half-hearted approach
"I've been a poor potty trainer in that I get distracted, don't spend enough time at home hunkered down so never "did" potty training which meant that it was half-hearted for a long time…. So we did the same thing when travelling. Had a potty for when he wanted it but resorted to nappies a lot of the time to avoid issues. Even when my kids were much older I would resort to nappies vs having an accident." (Ariana, A World of Travels with Kids)
The trickle on the flight
"Oh…toilet training whilst away – what better time to put your toddler on a plane in front of a movie where they become starry eyed and lose all ability to think of anything else! Our bad! When the movie finished it was mandatory stand and stretch the legs time – but I saw the cross legged and bent over stance – oh no! The toilet in front of us had a queue so I whisked up said toddler into my arms and made a dash (as much as you can dash on a plane) only to feel a warm wetness trickle down my sides – I try not to think about whether any of it dripped onto any of the other passengers I was brushing past – I made no eye contact!! I always, always pack a change of clothes for the kids but never for myself – so for the remainder of the flight I was wet and stinky!!!! The joys!" (Amber, Hill Tribe Travels)
The failed attempt in Antigua
"I tried it when my son was just over two yeas old and it was a huge mistake! I was working full time at the time for a tour operator and the three of us (hubby, son and I) were reviewing three luxury hotels in Antigua. We had discussed it in advance and decided that two weeks off together with our son who would mainly be in swim wear was the perfect time to potty train him… how wrong can you be! We arrived at our first villa suite and it seemed perfect, white tiled floor, so no carpets to get wet etc, located right on the beach so we could nip inside if he needed to go for a number 2:) As soon as we arrived I whipped off his nappy and told him where he was potty was. After a couple of days of constant accidents, peeing all over our villa, slipping on the wet floor and banging his head we gave up! (Six months later he did it in a couple of days whilst at nursery). He just wasn't ready and whilst now I can see why I thought having the two weeks off was the perfect time to potty train him it's only the right thing to do if your child is ready." (Lisa, Travel Loving Family)
The bespoke rock toilet in the Rocky Mountains
"We've potty trained whilst travelling with two of our three so far. I think potty training in general is a nightmare so I figured it couldn't be worse on a trip! Our youngest decided he had to poop in a toilet while we were hiking in Rocky Mountain National Park. My quick thinking husband built him a toilet out of rocks. It amazingly worked! The Middle child has been far harder. We've trained him a few times only to go on the next trip and find it all undone! But fear not – he is in fact (mostly) toilet trained these days. Although we've thrown out quite a few pairs of underwear along the way. Most recently though, in Greece, I could be heard coaching him in a public toilet how I could see his poop coming." (Elizabeth, Dutch Dutch Goose)
Saved by the fold-up potty seat
"We've brought potty training toddlers on holiday twice before, and the second time was much more successful than the first. In both cases the kids had already begun to have some successes at home. The first time we figured we'd just help our son stay balanced on the toilet or let him stand to pee, but as a not-quite-2yo our son just wasn't comfortable and completely refused the toilet. Two years later, our daughter was in a similar stage of potty training and she was able to maintain and build on her progress during our family trip to Ireland. The key to her success? This amazing fold-up potty seat (which fits perfectly in this wet bag for carrying around)! We tried other portable seats and the kids always refused them, but this one is so great that she even used it at home for months after our trip." (Melissa, The Family Voyage)
Have you tried potty training while travelling or on holiday? I would love to hear your tips and experiences!
You may also like to read:
Top 5 tips for travelling with young kids
10 reasons why you should travel with young kids
Surviving jet lag with kids