The humble Mongolian yurt has had a surge in popularity here in the UK, popping up all over the countryside to tempt weekenders with a cosier and quirkier alternative to camping. I first stayed in a yurt (or rather ger) in the Mongolia desert, and would have been rather confused if you'd told me twelve years later I would be staying in a yurt in Lanzarote, and then soon after a yurt in Norfolk, with my kids.
Now we love camping with our boys. We did spend 101 days in Africa camping in a roof tent after all. But when it comes to a short weekend camping in the UK, I find it an utter faff getting the car packed up to go away. Maybe that's down to my lack of organisational skills.
But the advantage of yurt camping is that everything is already set up for you, and you're still experiencing sleeping and living in the great outdoors. Plus, how cool are yurts?! So I've reached out to some top family travel bloggers to find out their recommendations for the best family yurt holidays in England and Wales, and included my own experience of Swallowtails yurts in Norfolk.
I will be adding to this post over time as we are looking to do lots more yurt holidays in the UK!
Long Valley Yurts, Bakewell
(by Jenny, Peak District Kids)
Long Valley Yurts site near Bakewell is a hidden gem and one of the best Peak District glamping sites. Located on the Knotlow Farm campsite, you will find a small peaceful site surrounded by over a hundred acres of farmland and well away from any main roads or traffic.
Long Valley Yurts have four yurts here, two of which come with Scandinavian wood fire hot tubs, great fun for all the family. The yurts themselves come fully equipped with comfortable beds, bedding, everything you need to cook and dine with, twinkling fairy lights as well as a wood burning stove to keep all the family warm and cosy at night. Pet friendly yurts also available.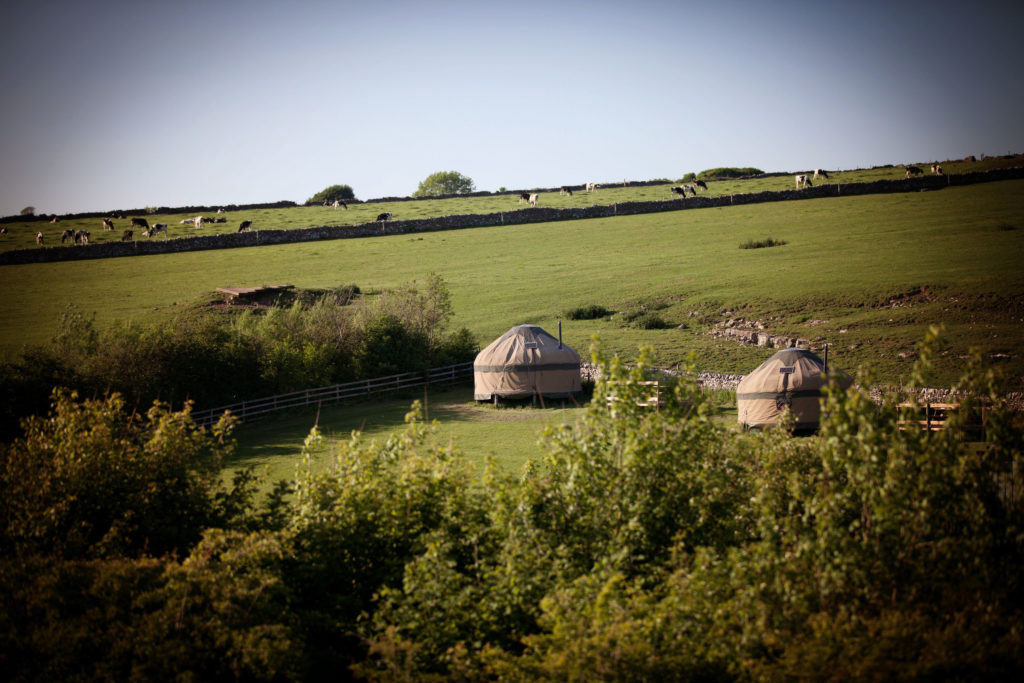 Long Valley Yurts offer short breaks on either a Fri-Mon, Mon-Fri or full week basis Fri-Fri or Mon-Mon.
Weekend prices from £290 or £405 inclusive of the wood fired hot tub. Mid-week rates from £199 or £299 inclusive of the wood fired hot tub. Full week rates from £425 or £595 inclusive of the wood fired hot tub.
Swallowtails, Norfolk
(by Jenny, TraveLynn Family)
Where the Borrowers meet Mongolia in the Norfolk countryside. I love the quirk and colours that have been invested into the glamping yurts and Swallowtails. But above all, it is so cosy inside. We arrived on a Friday evening in the cold and drizzle, but the log burner soon made the insulated yurt extremely toasty.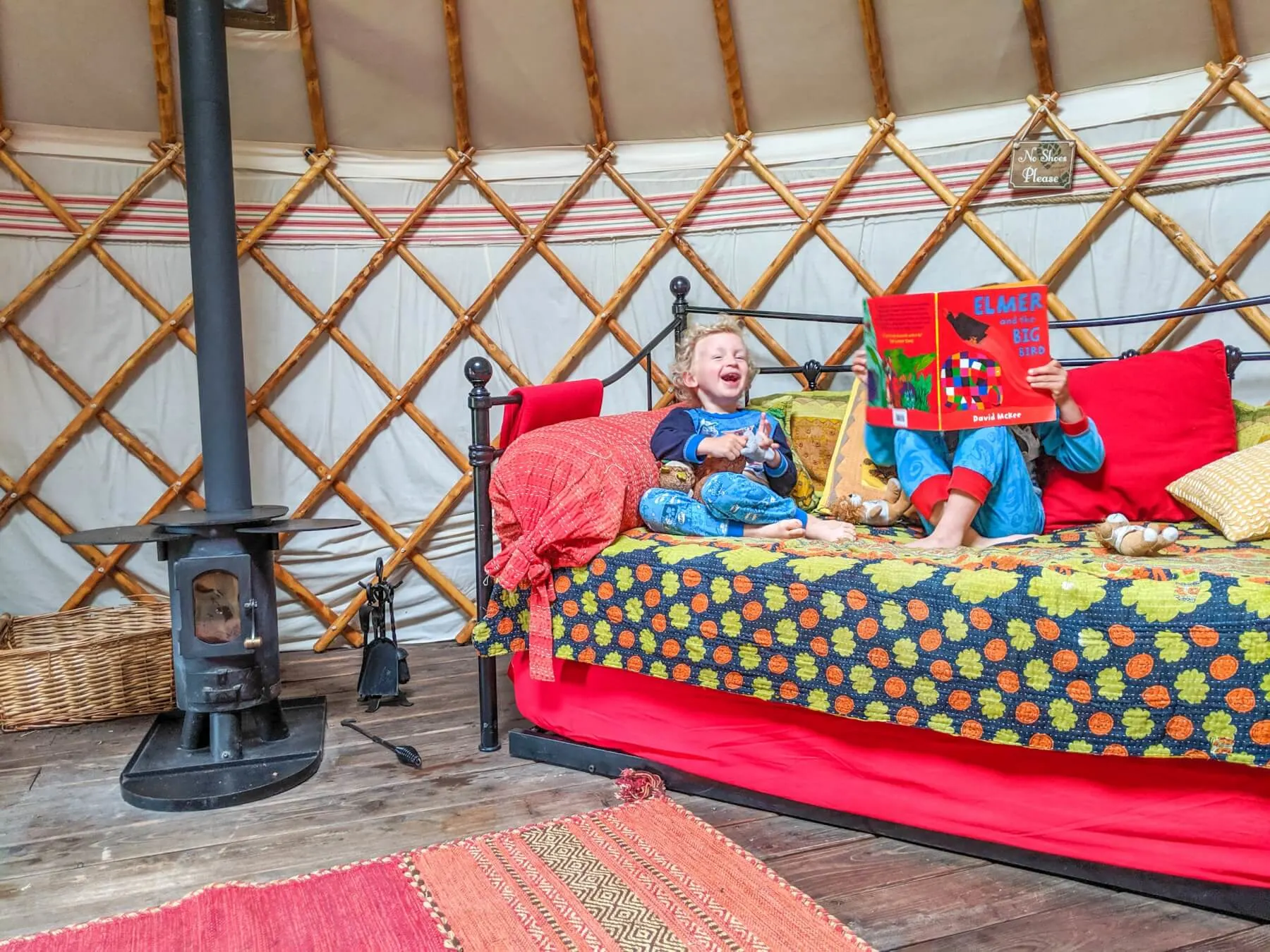 There are six yurts in total and we slept in Periwinkle, which sleeps four. There's a double bed and and a trundle day bed for the kids. The furniture is in keeping with the yurt and you'll find everything you need, including a pull out dining table, a wash basin with jug, cooking utensils, pots and pans, and even a toy box.
My boys spent hours cycling around the big grassy area, and if they weren't on their bikes, you'd find them in the playground. In the holidays there are activities laid on for kids aged 6 and over (nature walks, art and crafts), or perhaps try your hand at pond dipping. Read my full review here.
Westwood Yurts, Gateshead
(by Samantha, North East Family Fun)
The yurts at Westwood Yurts sleep up to 6 and are perfect for a family getaway. With fantastic facilities including outdoor kitchens, undercover dining areas, fire pits and comfortable futons which can be folded away when not in use to provide more space, every little detail has been taken care of.
Although independently operated, the yurts sit on the same site as National Trust Gibside which is one of the best NT sites in the North East. Guests receive free access and can even access the estate after hours.
Gibside offers lots of fun for families from den building to a large strawberry castle play area, walled garden, trails and it's own pub with live music and street food over weekends. Westwood Yurts are well situated for the Metrocentre, the Angel of the North and Newcastle which are all a short drive away.
Hidden Valley Yurts in Monmouthshire, South Wales
(by Nicky, Go Live Young)
Hidden Valley Yurts, set deep within the South Wales countryside, are a beautiful collection of traditional Mongolian yurts. The five yurts are nestled among ancient woodland, next to a stream, with wonderful views of the Welsh countryside.
Each yurt has a brightly coloured door, traditionally hand-painted, and its own private decked area, with BBQ and chiminea. At the heart of each yurt is a log burner which keeps the yurt cosy and warm at all times.
The yurts sleep between five and seven people making them perfect for families. The yurts share a covered kitchen area, which has everything needed for self catering, and shared bathroom facilities.
Hidden Valley Yurts are found on a huge site, complete with meadows and woodland. There is plenty to keep everyone in the family occupied, building dens in the forest areas, playing hide and seek amongst the trees, chickens to feed and eggs to collect, and a large grassy area for games of football or rounders.
Further afield, South Wales can be explored, with its pretty towns and castles. For those that love a bit of adventure, try kayaking on the River Wye, mountain biking in the Forest of Dean or gorge scrambling near Abergavenny. The combination of the beautiful traditional yurts, the welsh countryside and the many nearby activities, make this place a winner for families.
Blackdown Yurts, Devon
(Claire, Tin Box Traveller)
Blackdown Yurts are on the edge of one of Devon's many Areas of Outstanding Natural Beauty. The owners have limited the glamping accommodation here to four Mongolian tents to maintain the quiet character of this special place. Saying that, it's not uncommon for the fields around the yurts to be filled with the voices of kids enjoying the open space and activities like roasting marshmallows and taking part in bat watching expeditions laid on by the owners.
Close by there's the city of Exeter to explore, several National Trust properties and, if your kids enjoy getting filthy dirty (whose don't?), there's the Bear Trail family assault course at Cullompton.
Onsite, guests can use The Barn for cooking and communal dining, and each yurt comes with its own compost toilet. If you have any questions about what to pack and things to do in the area, Blackdown Yurts send you loads of information before your stay.
Caalm Camp, Dorset
(Donna, What The Redhead Said)
Caalm Camp is a collection of six yurts in the Dorset countryside near Shaftesbury. Each yurt has a wood burning stove to heat it as well as a single ring hob for a cup of tea. The yurts had beautiful interiors, hand painted woodwork, soft linen and day beds for the children.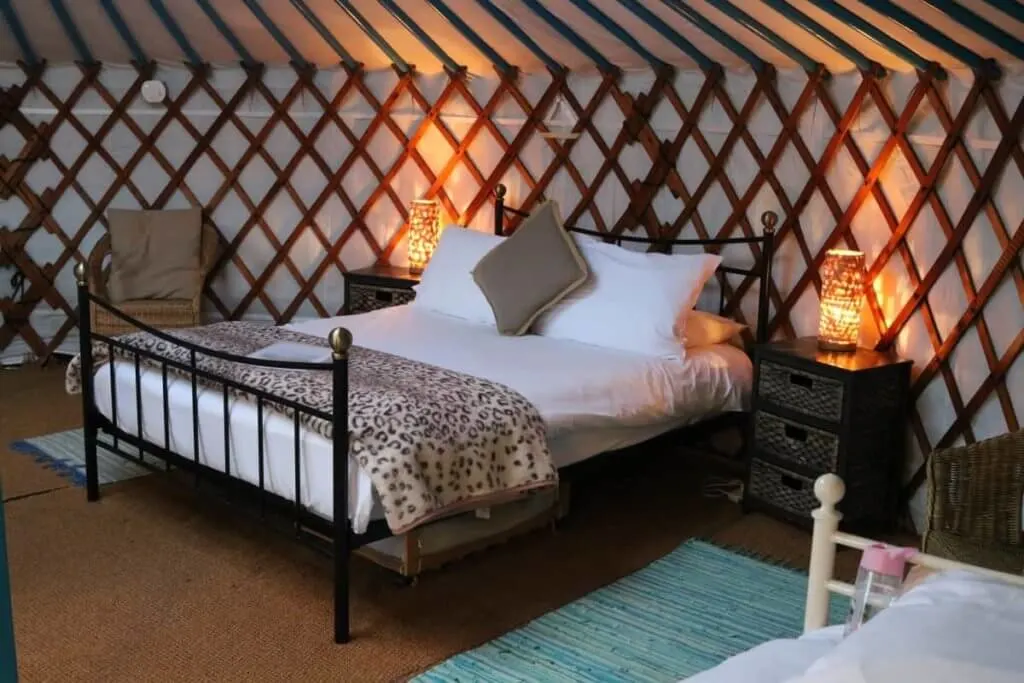 Caalm Camp has a lot of communal facilities with a big kitchen, lounge, dining room and plenty of books, games and toys for children to play with. Each yurt has its own lockable bathroom which is fantastic on a family trip. There are pool and table tennis tables and an adventure playground too which the children loved.
Caalm Camp is a great base for exploring Dorset, going for walks or beach trips and visiting the Jurassic Coast.
Wowo Campsite, East Sussex
(Zoe, Juggling On Rollerskates)
Set in the heart of deepest Sussex, WoWo is a wondrous place for children and adults alike. By far one of the greatest appeals of Wowo of the environment. The campsite is set in a magical, natural playground…with gulleys filled with bluebells, natural see-saws created from collapsed trees, stepping stones in streams and the best hide n' seek territory you could imagine.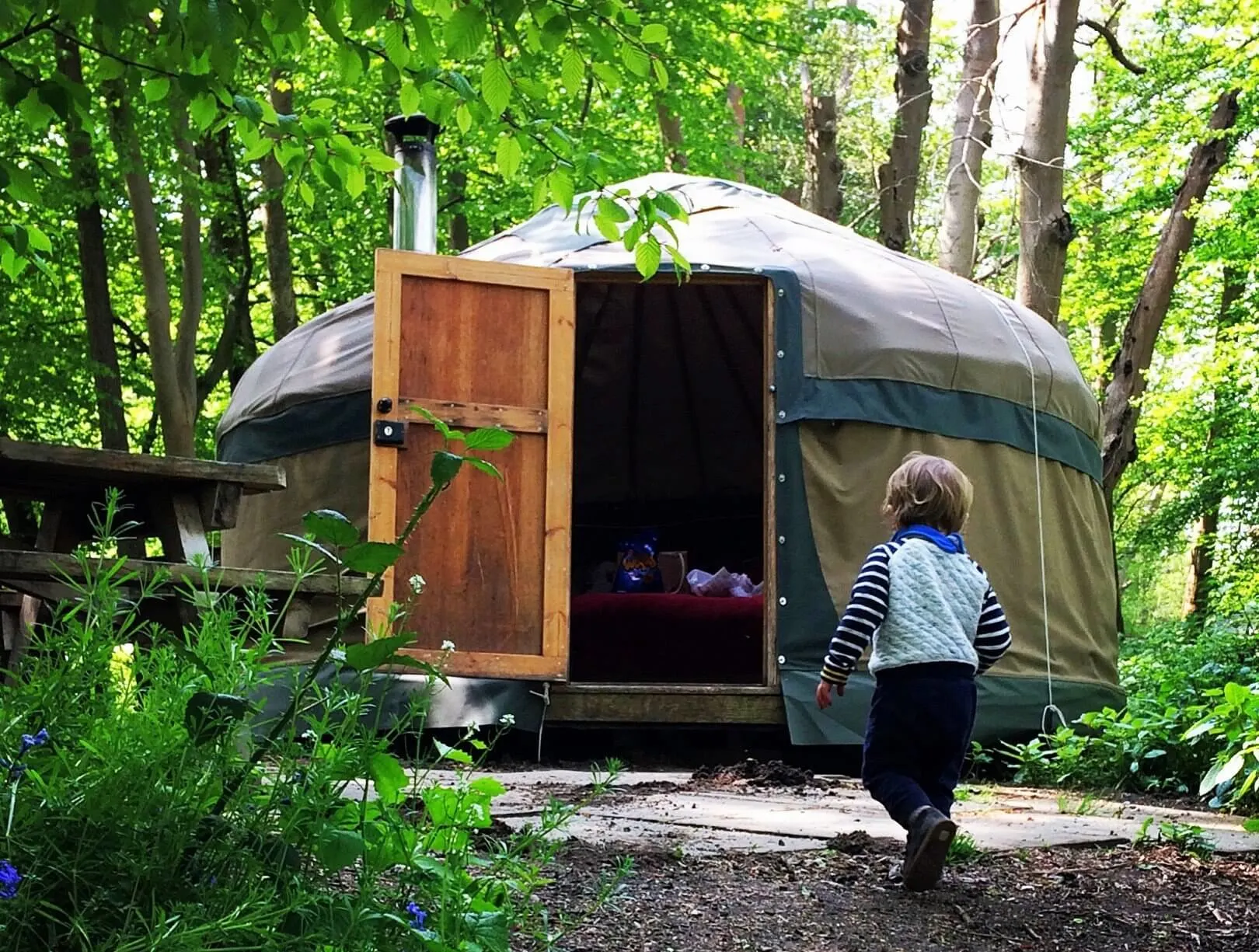 With the Bluebell Railway and National Trust's Sheffield Park both a stone's throw away there's plenty to do come rain or shine!
---
You may also like to read:
Rossendale Holiday Cottages REVIEW: for a big family get together
Short walks in the Peak District with kids
What is the best family air tent?