The Asia Interviews is a series of guest posts where fellow family travel bloggers talk about their best destination in Asia for family travel. TraveLynn Family hasn't been everywhere, and we love hearing about the adventures of other families in Asia and being able to share them with you.
Political situations can change since this interview took place. Please check the GOV.UK Foreign travel advice before venturing to a country.
If you've heard of Chengdu in China, the native panda may come to mind. Indeed a visit to Chengdu isn't complete without a visit to the Giant Panda Breeding Center. But this month on The Asia Interviews, Bron from Smiths Holiday Road shows us how there is so much more to do in Chengdu with kids, as well as sharing a fantastic place on where to stay.
1. Tell us a bit about yourselves. Where are you from and how often do you travel as a family? How old are your children?
We are a family of 5 who live in Melbourne, Australia. Our children are currently 14, 10,7. We like to travel as often as we can which right now is about 3 times a year. We love a mix of budget, backpacking, culture with the odd luxury treat night!
2. How many times have you travelled to Asia and why do you love travelling there?
As a family we have been to Asia A LOT that I may have lost count! We have been to Malaysia, India, Sri Lanka, Laos, Cambodia, Vietnam ,Singapore, China, Mongolia, South Korea, Taiwan and Japan so lets say more than 15 times.
3. Why is Chengdu your favourite destination?
Chengdu in China remains a firm favourite of ours as it was our first introduction to China. We loved the combination of amazing street food, seeing the pandas and seeing how the modern China was being integrated into the culture and history of this city.
4. What were your top 3 thing to do in Chengdu with kids?
We took a couple of small group tours arranged through our accommodation, including a street food and market tour. We got to try new foods and even eat lunch with the members of a local monastery. We also loved seeing the pandas at the local conservation centre and playing at the local parks meeting new friends. Having 3 kids drew lots of attention!
5. Where did you stay in Chengdu and do you recommend it?
The Flip Flop Guesthouse was really fun and great on the budget to start our China Trip. They hosted special nights like hot pot night where we got to learn how to cook and met loads of travellers from around the globe.
6. What did the kids eat?
My kids have varied palates. My eldest will eat anything. My middle daughter is adventurous but the younger one is very limited in what he will try! We found staples like rice, veggies, milk and ice-cream easy to find in local little supermarkets and the local food markets were great for fruit. For the older kids they loved trying many of the veggie and rice dishes along with some spicy hot pots and modern street food.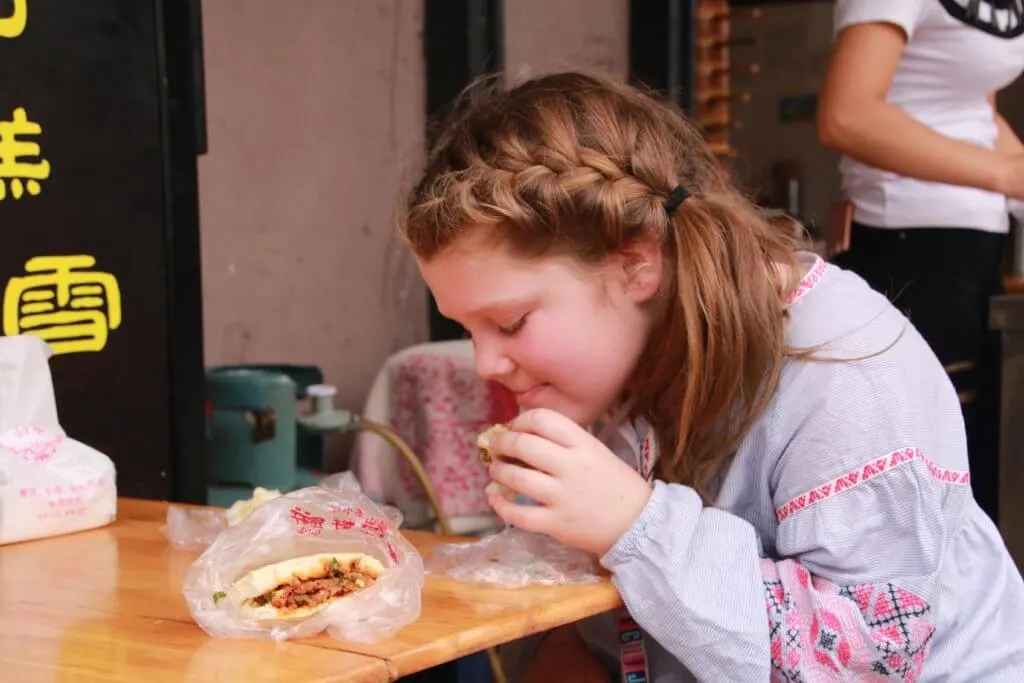 7. How did you get around Chengdu?
We flew into Chengdu from Kuala Lumpur then used trains to get around China. Within Chengdu we used taxis and did lots of walking!
8. What is your top tip for families travelling to Chengdu?
Our top tip would be to head to a local playground/park to balance out visits to temples and cultural sights. It's a great way for kids to meet local kids and see the locals do Tai Chi.
9. What item could you not have done without at Chengdu?
We loved having google translate at the ready to help with some communication!
10. Where are you off to next?
We are heading to Myanmar in July for 3 weeks of exploring! We cant wait to check out the rail network and have a great adventure.
---
Read more about Smiths Holiday Road on their website. You can also follow on Facebook, Instagram and Pinterest.
Need help with a visa? Try https://visaexpress.com/.
You may also like to read:
Thailand with kids travel guide
THE ASIA INTERVIEWS – Yangshou with kids
Visiting Bangkok with kids