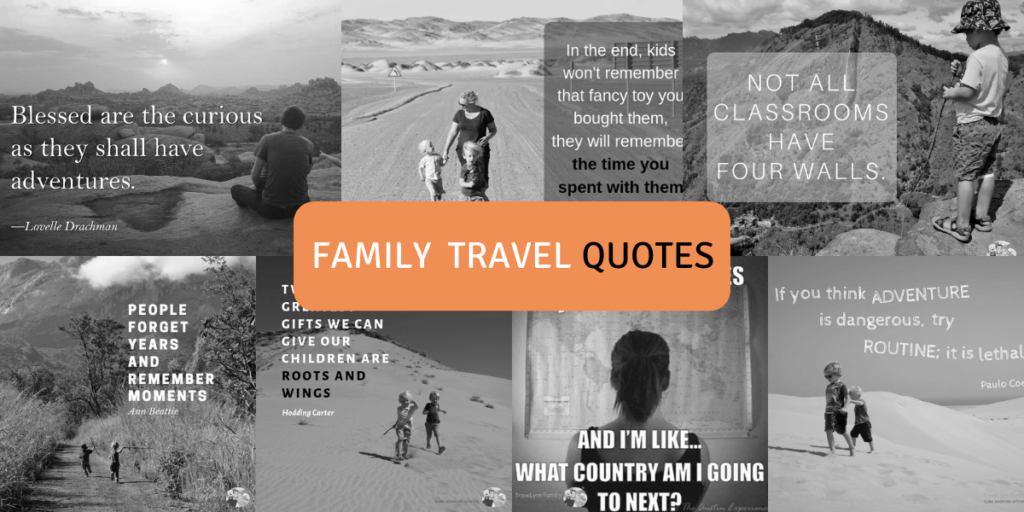 Over the past couple of years, I've been sharing family travel quotes almost every Monday on my Facebook page. Whilst I hope these wanderlust quotes don't come across too corny at times, I like to provide a bit of #MondayInspration for fellow wanderlusting and globetrotting families. For me, they act as a reminder to put life into perspective and support my belief that we can, and should(!), travel with our boys.
In no particular order, here are the top family travel quotes. If you do use any of these images, please credit @travelynnfamily These have be designed using my own imagery from our overlanding Africa adventures, to backpacking Sri Lanka, to trekking Nepal, to living in India, and everything in between.
How do we afford to travel so much as a family? Read this post.  It's a question we get asked A LOT. 
1. Not all classrooms have four walls – It still blows my mind how much our information our boys absorb and how much they grow as individuals on the road. This is one of my favourite family adventure quotes.
2. In the end, kids won't remember that fancy toy you bought them, they will remember the time you spent with them (Kevin Heath) – Travel creates those precious memories together that will last a lifetime, much more than the pile of plastic toys in their bedroom. This is also a good quote about family love.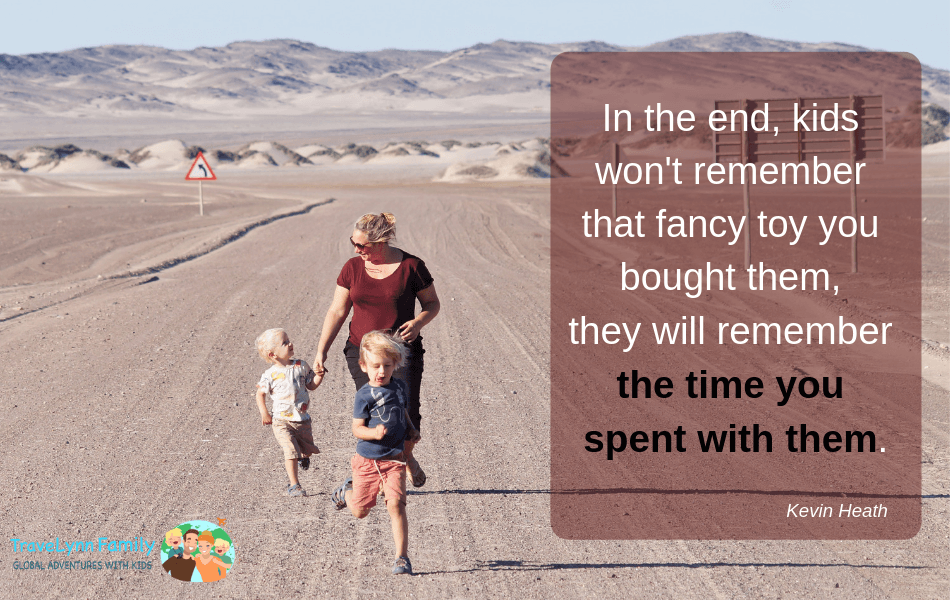 3. I have babies, and I'm like… what country am I going to next? – The original meme of this was doing the rounds and always irritated me. So I changed it.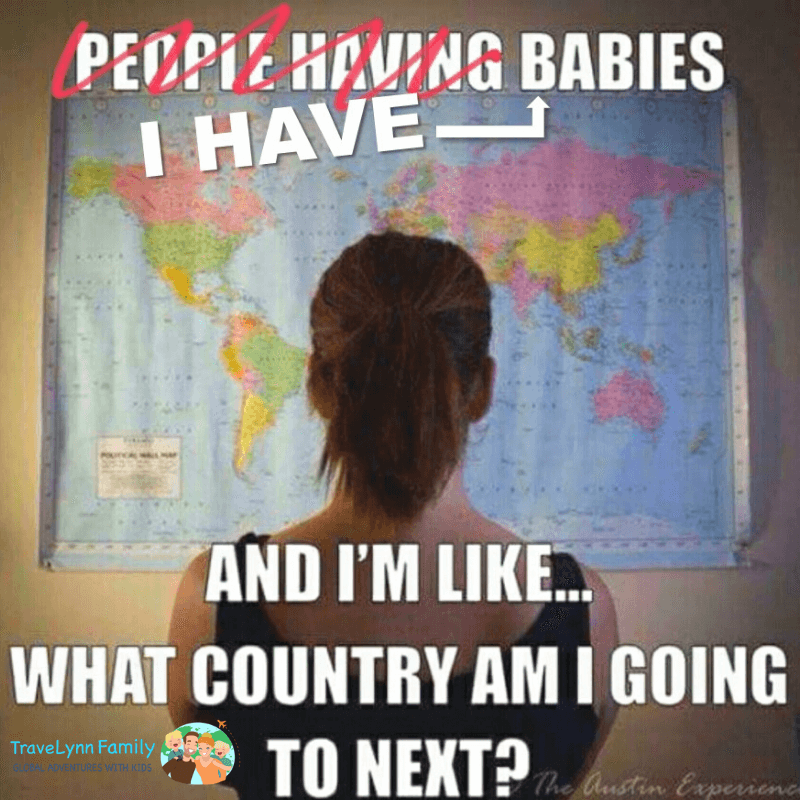 4. When you travel with children you are giving something that can never be taken away… experience, exposure and a way of life. (Pamela T. Chandler) – Hear, hear!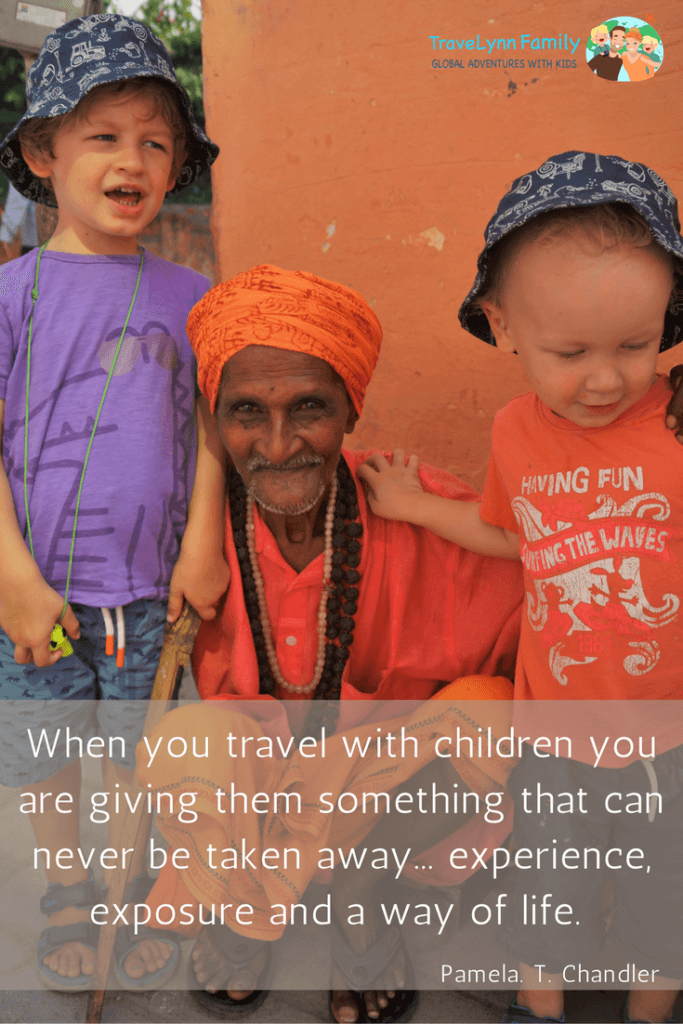 5. Excuses will always be there for you. Opportunity won't.  – So many people believe that you should wait till the kids are older to travel. However, as they get older, the excuses just change; they'll miss their friends, they would rather go to football camp, or you need to convert the loft. Grab the opportunity to travel with your kids from a young age; it'll certainly be cheaper before they start school! Check out my post – What is the best age to travel with kids?
6. Once the travel bug bites there is no known antidote, and I know that I shall be happily infected until the end of my life (Michael Palin) – So let's start them young! And if you do start them young, those adventures certainly get easier as they get older.
7.  The world is your playground  – Jump in rivers, collect sticks, skip along pavements and search for fairies and dragons. Both cities and countryside provide a wonderful opportunity for play.
8.  People forget the years and remember moments – Those early years especially can whizz by in a sleep-deprived blur. Do something amazing and create those memories to cherish for a lifetime. Perhaps one of the best family holiday quotes.
9. If you think adventure is dangerous, try routine; it is lethal (Paulo Coelho) – So make the most of those school half terms and holidays! It's amazing how just doing something different, refocuses your energies.
10. Blessed are the curious as they shall have adventures (Lovelle Drachman) – What better way to feed and grow their minds than to travel.
11. Let curiosity lead the way  – and watch them grow in confidence a they become explorers.
12. Two of the greatest gifts we can give our children and roots and wings (Hodding Carter) – And what better way to do that, than through travel? Travel helps you appreciate home, but also gives you the experience to try new things and explore new places.
13. And at the end of the day, your feet should be dirty, your hair messy and your eyes sparkling (Shanti) – This is certainly the sign of a day well spent in my books.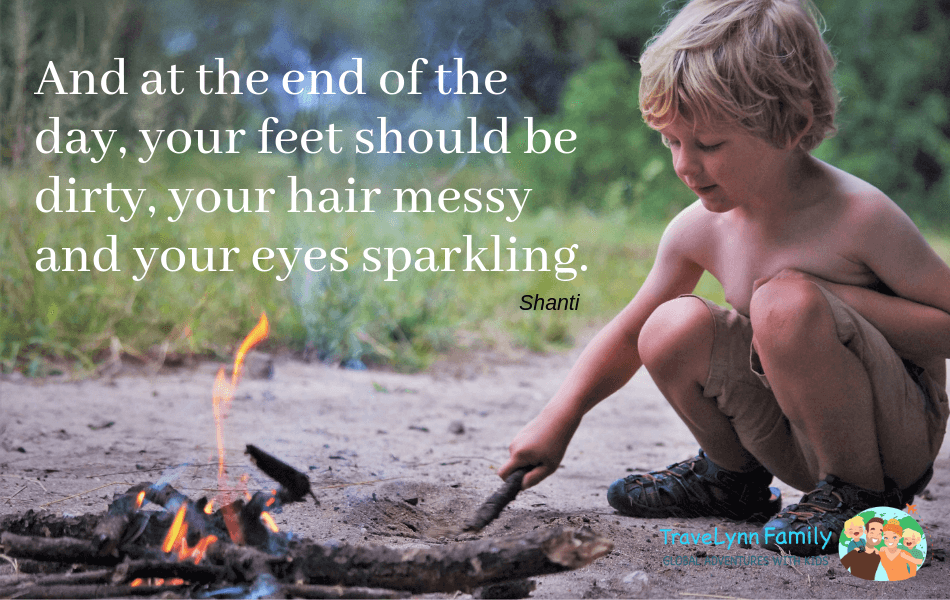 14. The greatest legacy we can leave our children is happy memories (Og Mandino) – And that's what travel with kids is all about, right?
15. As soon as I saw you, I knew an adventure was going to happen (A. A. Milne) – In my head, I believe my eldest said this to his brother when he first met them. Travel has created a tight bond between my boys and I hope it continues.
16. Of all the paths in life you take, make sure a few of them are dirt (John Muir) – The best fun happens in dirt right? Something about grounding ourselves with the earth and being free on inhibitions.
17. Kids won't remember their best day of television – And even though people will tell you young kids don't remember their travels, well they do if it's worth remembering.
18. Travelling the company of those we love is home in motion. (Leigh Hunt) – An inspiring one for those families looking to sell their house and set off on full time travel.
19. Don't count the days; make the days count. (Muhammad Ali) – Make the most of those precious holiday days and do something different!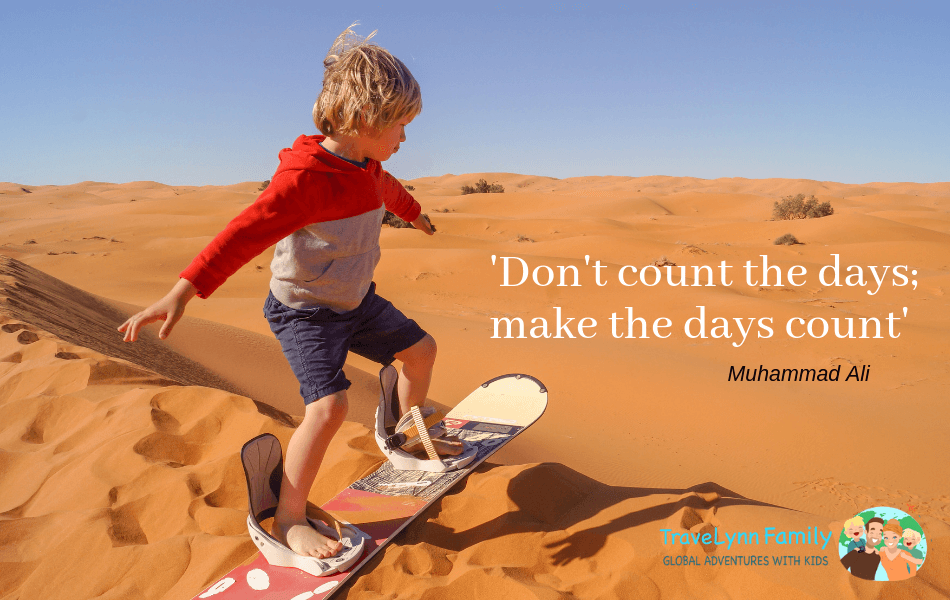 20. "What's your favourite place?" "I don't have a favourite place, I have my favourite people. And, whenever I'm with my favourite people, it becomes by favourite place." (Late Night Tales, Nivaz Ahemad) It's not necessarily about the destination, it's about the people you spend that time with.
I hope you enjoyed these. Do let me know if you have any favourite family travel quotes or family road trip quotes that I've missed!
---
You may also like to read:
How we afford to travel with kids
Self drive Africa overland with kids: everything you need to know
The BEST holiday destinations in Asia for family travel