The Asia Interviews is a series of guest posts where fellow family travel bloggers talk about their best destination in Asia for family travel. TraveLynn Family hasn't been everywhere, and I love hearing about the adventures of other families in Asia and being able to share them with you.
With it's incredible transport system, epic scenery, and quirky capital, I'm surprised that it's been this long until Taiwan has appeared on The Asia Interviews as a top family travel destination in Asia. But Elaine and Dave from Show Them the Globe are here to tell us why Taiwan should be on your family travel bucket list. Anyone else have kids who would go crazy over a toilet-themed restaurant…?
1. Tell us a bit about yourselves. Where are you from and how often do you travel as a family? How old are your children?
Hi! We're Elaine and Dave from Show Them the Globe and we have two kids, a two year old and an almost one year old. We travel regularly as a family and have visited over 20 countries with our kids. Our best family trips to date include road trips through Turkey and Georgia and a month long Mexico adventure.

We've recently been focusing on slower travel and taking longer trips. Since having kids we've done some 3 month trips travelling through Asia, the Middle East and the USA.
2. How many times have you travelled to Asia and why do you love travelling there?
I first visited Asia as a young and care free college student! Dave and I returned when we spent our honeymoon on a year long sabbatical and travelled the traditional South East Asia backpacking route through Cambodia, Vietnam, Myanmar and Thailand. Since then we've spent a lot of time in Bangkok and we often consider the idea of setting up a base there while the kids are young!
Our most recent Asia trip was when J, our eldest, was 10 months old and we made it to Japan, Taiwan and South Korea, all of which were awesome!
3. Why is Taiwan your favourite destination?
With its chaotic cities, beautiful beaches and incredible scenic areas, Taiwan has everything we look for in a destination. We loved the energy and craziness of Taipei, watching the sun rise over Alishan, the vibrancy of Taichung, the coloful Rainbow Village and the natural beauty of Taroko Gorge. Taiwan has so much natural beauty and parts of it are breath taking.
Our Taiwan with kids itinerary was packed full of amazing sights, great hikes and fun family time. The food was amazing and we still dream about the things we ate at the night markets!
4. What were your top 3 things to do in Taiwan with kids?
The themed restaurants in Taiwan are so much fun – our kids favorite has to be the toilet themed Modern Toilet in Taipei where we sat on toilets, ate toilet humour themed food and drank out of bedpans. It's the perfect mix of funny and unique, albeit a little gross! We also loved Alice is Coming, an Alice in Wonderland themed café and Central Park, a tribute to the tv series Friends.
Taichung was a highlight for all of us. There are some great things to do in Taichung with kids including the colourful Rainbow Village, a really fun flower market, Animation Alley with its cartoon street art and an ice cream store with an ice cream ball pit! It's also close to Sun Moon Lake, a turquoise lake surrounded by temples and pagodas.
While not especially child oriented, Alishan is still one of the best stops with kids in Taiwan. The Alishan Scenic Area is a natural wonder and its sunrises are renowned. It's a lot of fun hiking in the forest and riding the Scenic Railway.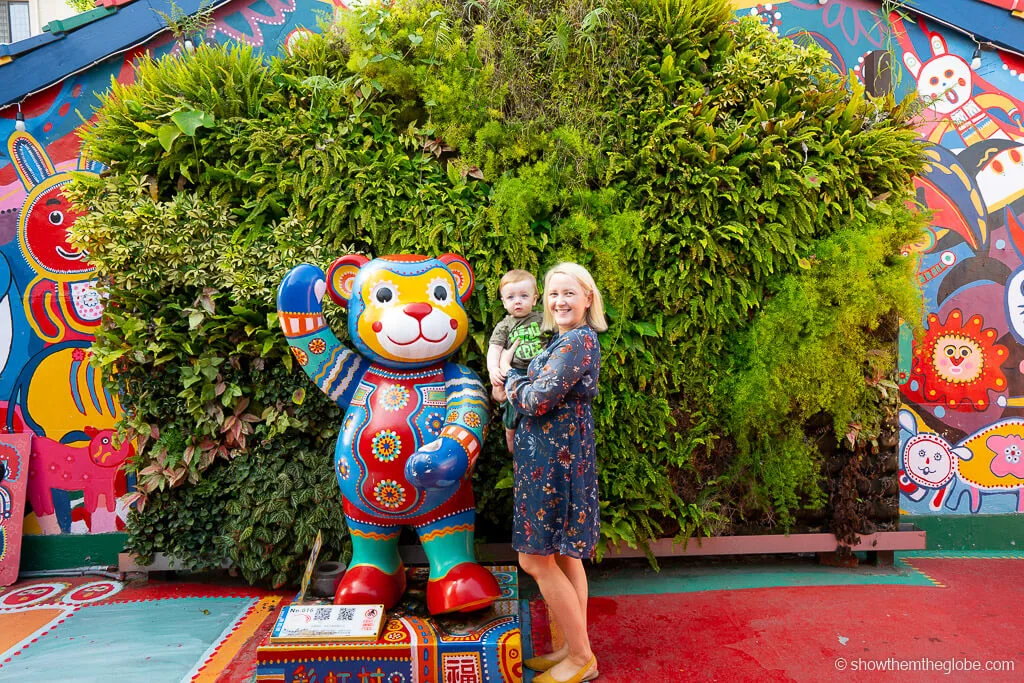 5. Where did you stay and do you recommend it?
We stayed in some great hotels across Taiwan. One of our favourites was the Amanda Kenting, a Moroccan themed boutique hotel with flamingo swimming floats and costumes to dress up in. Silks Place Taroko was another highlight -there were movie nights on the roof deck, a children's play centre and a swimming pool full to the brim with rubber ducks!
6. What did the kids eat in Taiwan?
Our 10 month old was still getting to grips with eating solids so there was a lot of rice, vegetables and fruit consumed! On the flip side, we ate everything! Taiwan has a lot of great dishes including beef noodle soup, scallion pancakes, soup dumplings and fried chicken. These were accompanied by pineapple cake for desert and endless amounts of Bubble Tea!
7. How did you get around Taiwan?
In Taipei we used the metro to travel around. It's a really great system and is clean and efficient.
We rented a car after we finished in Taipei and, from there, we drove around the country. Renting a car in Taiwan is relatively easy but, if you prefer not to drive, it's still possible to visit much of the country through a mix of trains and buses.
8. What is your top tip for families travelling to Taiwan?
Explore as much of the country as you can! Taipei is a fantastic introduction to Taiwan but the rest of the country is also amazing to see. We were in awe of the beautiful sights we saw across Taiwan and there were some magical moments during our trip.
9. What item could you not have done without in Taiwan?
We have three things that come with us on every trip – an incredibly compact Lotus Guava travel crib which we picked up in the US, our cabin friendly Babyzen Yoyo stroller which the two kids share and an Ergobaby 360 baby carrier because often it is a lot easier to navigate some cities and sights stroller free.
10. Where are you off to next?
Our next stop is Peppa Pig World and Thomas The Tank Engine Land, both in the UK, because… two year olds!! We have just returned from a three month US road trip where we drove from Seattle to Miami so we're taking it easy at the moment and letting the kids enjoy a regular routine. Our next longer trip is likely to be Machu Pichu and the rest of Peru or an Africa Adventure.
---
You can follow Show Them the Globe and their adventures on their website.
You may also like to read:
Visiting Yangshou with kids
Best family travel destinations in Asia
Visiting Thailand with young kids