The church bells chimed eight times which meant the club music had been playing non-stop for ten hours. The noise echoed across the valley, keeping time with the snoring from the tent next door. Luckily the fiesta organisers had run out of fireworks sometime around 4am. Our boys had amazingly slept through this soundtrack for four nights running, but it wasn't quite the peaceful Pyrenees family camping retreat I'd been hoping for…
Disclaimer: This post contains affiliate links. If you click to purchase, it is at no additional cost to you, and I receive a small commission.
The bar had been set high from our previous campsites on this summer road trip (Camping le Haras and Camping Vaubarlet), and the picturesque entrance to Camping Gavín was extremely promising on arrival. However, first impressions unfortunately don't always last.
We were visiting at the height of summer and our stay coincided with a major Spanish public holiday. To call it busy would be an understatement. Every available inch of space was being used, and tents and campers were pitched on top of each other as if it were Glastonbury.
It was bad timing on our part, and I couldn't help but wonder what this site must be like at quieter times. The surrounding views are absolutely stunning, and the onsite facilities are excellent. But August is not the time to visit Camping Gavin if you want a peaceful night and spacious pitch.
Check out our Vilanova Park review; this is a Spanish campsite, just south of Barcelona that we stayed at in December 2021 as part of a Northern Spain road trip.
Our camping pitch
By a total stroke of luck, not that we realised it at the time, we ended up with one of the best pitches on the site. Except it wasn't the pitch we had been assigned. In fact, they couldn't even find our booking on arrival! It wasn't the best of starts, especially when the site was fully booked.
After half an hour of flailing arms (our Spanish is embarrassingly non-existent and no English is spoken on site), they found us a stony pitch on the edge of the campsite, where our Vango air tent only just fitted. The people pitched behind us had to squeeze alongside our tent to get in and out, but we were grateful of the shady spot in the harsh sun. Although a nice bonus of being on the edge was that we had a mountain view.
The campsite is built on a hillside so the pitches are situated along a series of terraces connected by a tarred road (perfect for scootering). The pitches are narrow and small, and the ground is hard and often stony. Bear in mind that if you have a pitch at the bottom of the terraces, it's a steep walk up to the main facilities (swimming pool, restaurant etc.). But in quieter months, I can see it's quite an idyllic setting.
Onsite facilities
The facilities on site are excellent. Ablution blocks and wash facilities are situated in alpine stone buildings, and considering how busy the campsite was, I was impressed at how clean and well maintained they were.
The swimming pool is a good size, and there is an adjacent baby pool that's very shallow. We advise visiting the swimming pool during the main siesta time of 1pm – 3pm as you will pretty much have the pool to yourselves, which is rather impressive when the campsite is overbooked in August. The mountain back drop with blue skies make it a lovely place to spend an afternoon.
Our boys totally rated the playground and the views here are superb. There's even a tennis court and table tennis. For cold, rainy days there is also a small indoor play area. This is accessible in summer, just ask reception for the key.
Finally, there is a good sized supermarket on site. Here you can pick up breads, wine, beer, ice, and some basic food items. You can even find basic camping equipment (such as pegs, power plugs, and gas). However, if you want to do a larger shop of food items, head to Mercadona in Sabiñánigo.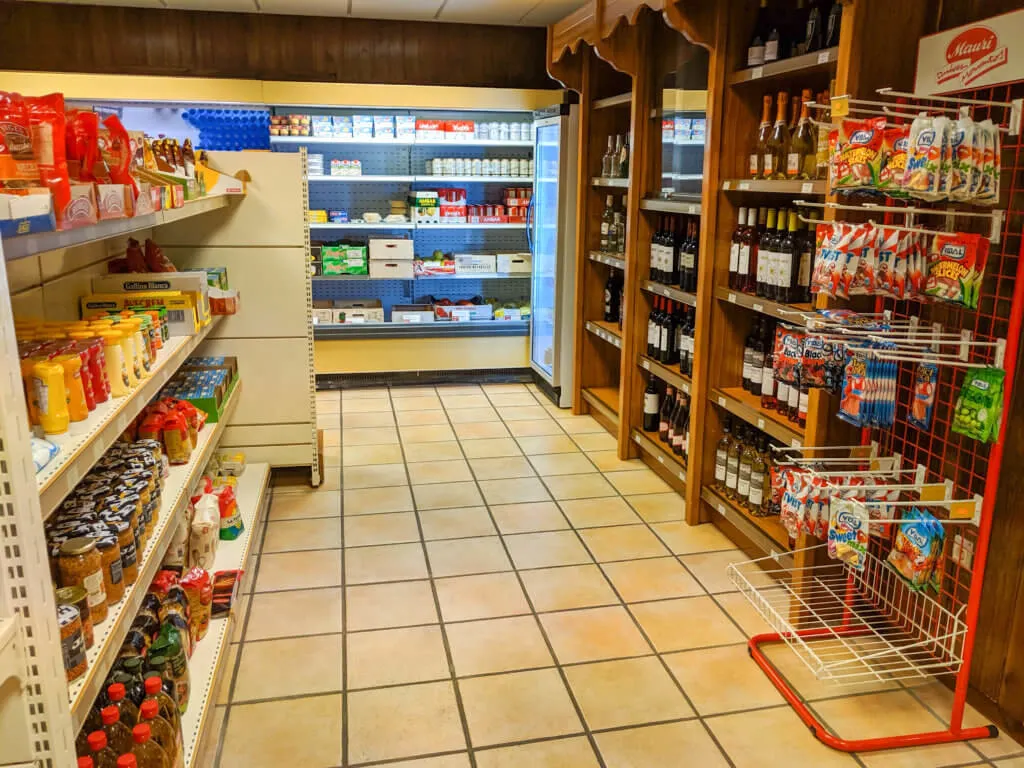 Camping Gavín restaurant
The restaurant is situated at reception and although the outside overlooks the barriers and car park, I loved the rustic alpine interior. No English is spoken by staff and if your Spanish is as bad as ours, then Google Translate is your friend.
Dishes are heavily meat based and vegetarians will struggle to get more than a salad and potatoes (typical in rural Spain). But portions are good and it's also good value.
Do note that cards are not accepted. Although when I explained that we didn't have enough cash and all we had was card, a card machine appeared.
WiFi at Camping Gavín
The free WiFi on site is excellent and there was 4G+ signal on our phones.
What to do in the region
The surrounding area is what makes this campsite special. The Pyrenees are absolutely stunning and an absolute must for all visitors is to ride the cable car from Panticosa. It's just a 15 minute drive away from Camping Gavín and a family ticket (including a meal in the mountain restaurant) cost €74 at the time of our visit. Do note that in the summer months this cable car is only open for July and August.
There are a range of walking trails at the top of the cable car to suit all levels. We very much enjoyed the two hour return hike to Ibón de Sabocos.
Our boys also had a super-fun couple of hours at the high ropes at Biescas Aventura. Minimum age is four. You can also rent kayaks etc on Lanuza Reservoir, or perhaps visit the Lacuiacha animal part at Piedrafietta.
Also, do remember this is the Pyrenees and if you visit during winter there are lots of opportunities for skiing! Check out our guide to skiing in La Molina, in the Spanish Pyrenees.
---
You may also like to read:
Unique France road trip itinerary for a summer camping with kids
Glamping in Lanzarote: A review of our stay at Finca de Arrieta
Camping le Haras REVIEW: family camping in Languedoc-Roussillon, France