"I'm never getting off this bike Mummy, this is the fastest bike in the worrrrrrrrrrrrrrrrld!" exclaimed four year old Ez as he raced off along the Monsal Trail. FINALLY he was able to keep up with his big brother, and he kicked his legs off the pedals and into the air to celebrate.
Disclaimer: Ezra was gifted the Frog 48 in Union Jack from Frog Bikes. In return, his Mum has written this honest review and requests that Ezra pose nicely for photos to promote Frog Bikes on social media.
Two months before his fourth birthday, Ezra pleaded for me to take the stabilisers off his bike, justifying that he was now 'a big boy'. His bike at the time was a toddler Paw Patrol bike, which he'd outgrown, so I decided to give him his big brother's bike to learn on. This resulted in us parents buying big brother Arthur (who is 18 months older) a new bike, and Ezra got the hand-me-down. The woes of being the second child.
Within an hour, Ezra had got the hang of riding a bike without stabilisers and I was extremely excited about doing family bike rides in the Peak District.
Except, Arthur now had a Frog Bike 52 (his new bike with gears) and Ezra was on the hand-me-down that we purchased a year ago from a popular high-street retailer. Ezra started getting frustrated as he couldn't keep up with Arthur, and as the bike was just a little bit too big for him, he was unable to get going and stop on his own. I would have to set him off, jump on my own bike to catch up, and then when he wanted to get off, I would speed ahead and jump off my own bike just in time to catch him.
This was quite a palaver, but thankfully this didn't diminish Ezra's love of cycling and he was able to keep going for 10km bike rides along the Monsal Trail at home in the Peak District, with bribes persuasions of snacks and ice-cream along the way. But I always felt nervous cycling behind him when walkers and dogs didn't get out of the way, and when we needed to overtake people. He wasn't 100% stable on this bike, but I figured he would grow into it in a few months.
But when Frog Bikes offered to gift Ezra the Frog 48, in return for this honest review and social media coverage, we jumped at the chance. Seeing what difference it had made to Athur's confidence in cycling, I knew it would do the same for Ezra.
Why we love the Frog 48
This is a first level pedal bike from Frog Bikes, aimed at 4 to 5 year olds (although this will depend on their inside leg length). It has a wheel size of 16 inches.
The mistake we had made with giving Ezra his brother's old bike, is that we thought he would grow into it. But as he couldn't touch the floor comfortably, he was unable to set off and stop independently. The Frog 48 is the perfect size for him.
But even though it's a slightly smaller than the hand-me-down bike, he can actually go faster on it and is so much more confident. This is because the Frog Bikes are extremely lightweight. I was astounded at the weight difference carrying his old bike in one arm and his new Frog 48 in the other to compare. It also makes getting up hills that much easier for him, and again helps in building his confidence.
Plus, the Frog 48 is really sturdy, meaning that he has much better control with it. This is helped by the Tekto brake (small, easy to reach brake levers) and Frog cranks (for easier pedalling). What the Frog 48 is missing from the next bike up is gears. But at this age, it isn't really necessary as the changing of gears would distract his concentration.
The Frog 48 is available in Green, Orange, Pink, Red, Spotty, Union Jack and USA. Ezra selected the Union Jack. It also comes with reflectors, mudguard, and bell, and has a free five year warranty on frame and forks.
Check out the TECHINCAL SPECS on the Frog Bikes website for further info.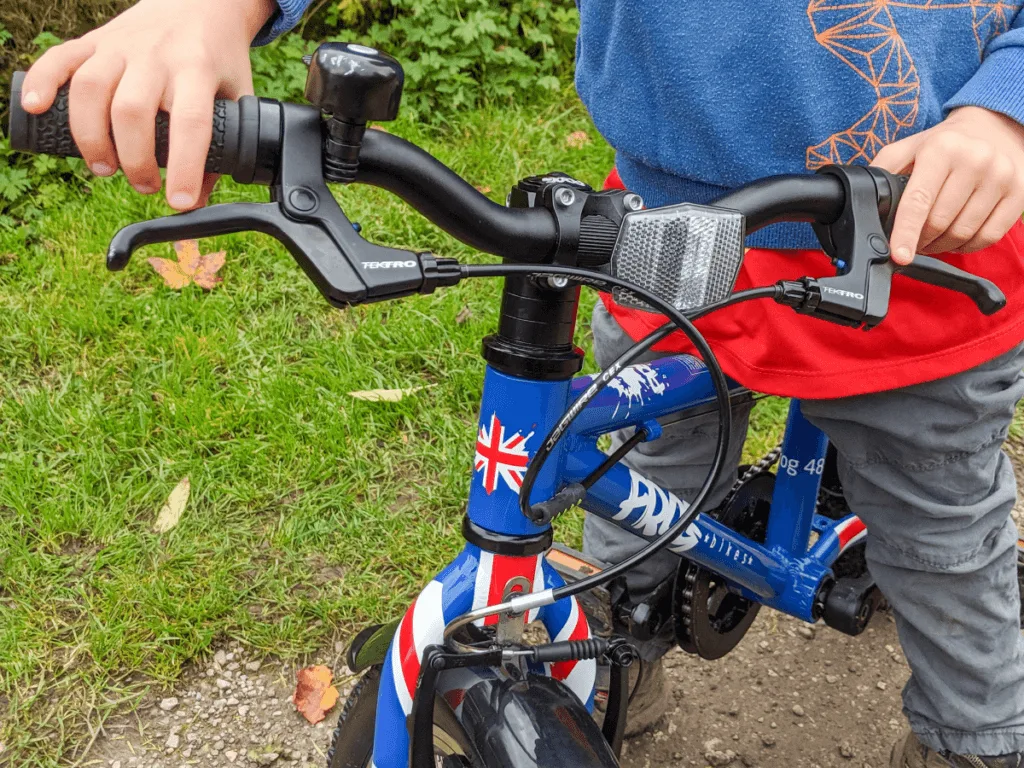 Where to buy a Frog Bike
First you need to work out which Frog Bike is suitable for your child. This is not calculated on age, but rather their inner leg length. Check out their online fitting guide.
You can then find a local store to try the bike out, and even check the right size using their instore FrogFit App, where arm length, inside leg measurement and a rider's confidence level together inform the model recommendation.
Building the bike
When you purchase the bike online, it is not delivered in one piece, and requires some assembling. Frog Bikes always recommend purchasing from your local Frog Stockist. The bike shop mechanics there will be able to build your bike quickly and ensure it's safe to ride.
When we bought Arthur's Frog Bike online, mechanically-minded Gramps put it all together. I'll be honest, us parents would have been at a complete loss.
But in Ezra's case, the very lovely people at Peakland Cycles, which is just down the road from us in Bakewell Derbyshire, built the bike for him. They did leave the chain guard off though as they explained that in the rare instance the chain comes off, it can be a faff to put the chain back on with the guard in place. They were also able to fit the seat to the correct level for him. It was actually lower than where I would have thought put it, but they're the experts and from what I've seen of his biking since, it was just right.
Frog Bikes can get you in touch with your nearest bike store to arrange delivery and build of your Frog Bike.
They look expensive? Won't my child outgrow it quickly?
Yes, the Frog Bikes are perhaps more expensive than what your average parent expects to spend on their kid's bike. But the old saying, 'you get what you pay for', stands very firm here. The Frog Bikes have transformed my boys' cycling abilities, both with confidence and the distances they can cover. Plus, the bikes have long seat posts, so the saddle can be raised a long way as the rider grows.
And I'm not the only parent to be raving about these bikes:
We have two! My other half is a bike fan so when our girls got to a point where they were ready to move from a balance bike to a peddle bike he did the research and found Frog Bikes were some of the top on the market for kids. They are so light, making it super easy for the girls to handle and concentrate on their own balance rather than the bike.

Claire from Tin Box Traveller
Both of my children have Frog Bikes. We first bought one for my eldest for her 5th birthday. When we saw how much better she got on with it than the children's bike she'd been on before, we bought one for my youngest as well. She was only three at the time and couldn't ride a bike. She learnt to ride it within half an hour and never had stabilisers. Now, both of them bomb round adult mountain bike courses on their Frog Bikes and they've both completed triathlons on them too. We couldn't be happier with the bikes and have since bought the next size up for the eldest and passed her old bike on to her sister.

Natalie from Plutonium Socks
Riding a Frog Bike was a total game changer for our daughter. She'd never show much interest in cycling and had always been quite nervous about riding without stabilisers. But the first day we tried her on a Frog – at a cycling centre near Bristol – she was able to pedal on her own within an hour! After that, we invested in a Frog Bike for her straight away and haven't looked back. I love that they're so light, brightly-coloured and manageable for little kids, we'll definitely stick with Frog Bikes from now on!

Angharad from This Bristol Brood
If you're thinking of buying a bike for your little one for Christmas, I wholeheartedly recommend Frog bikes. They really are worth the money and are fantastic for building your kid's biking ability and confidence.
If you have purchased a Frog bike for your kids, I'd love to hear what you think in the comments below.
---
You may also like to read:
The best childrens walking boots
Is it worth getting a GoPro for family travel adventures?
Family adventure travel ideas for 2020