The Asia Interviews is a series of guest posts where fellow family travel bloggers talk about their best destination in Asia for family travel. TraveLynn Family hasn't been everywhere, and I love hearing about the adventures of other families in Asia and being able to share them with you.
Japan is becoming a popular destination for travelling families and rightfully so; it's a very safe country, has excellent public transport, and loads of kid-friendly activities. Tokyo and Kyoto are the most popular cities to visit, and as we've already had an interview with Wandermust Family about Tokyo with kids, I was delighted when Emily from Kids and Compass voted Kyoto as their best holiday destination in Asia for family travel .
1. Tell us a bit about yourselves. Where are you from and how often do you travel as a family? How old are your children?
I'm Emily, blogger at Kids and Compass. My husband is Derek and we have two kids, our daughter aged 5 and our son aged 3. We're from the UK, and we travel as often as we can in the school holidays.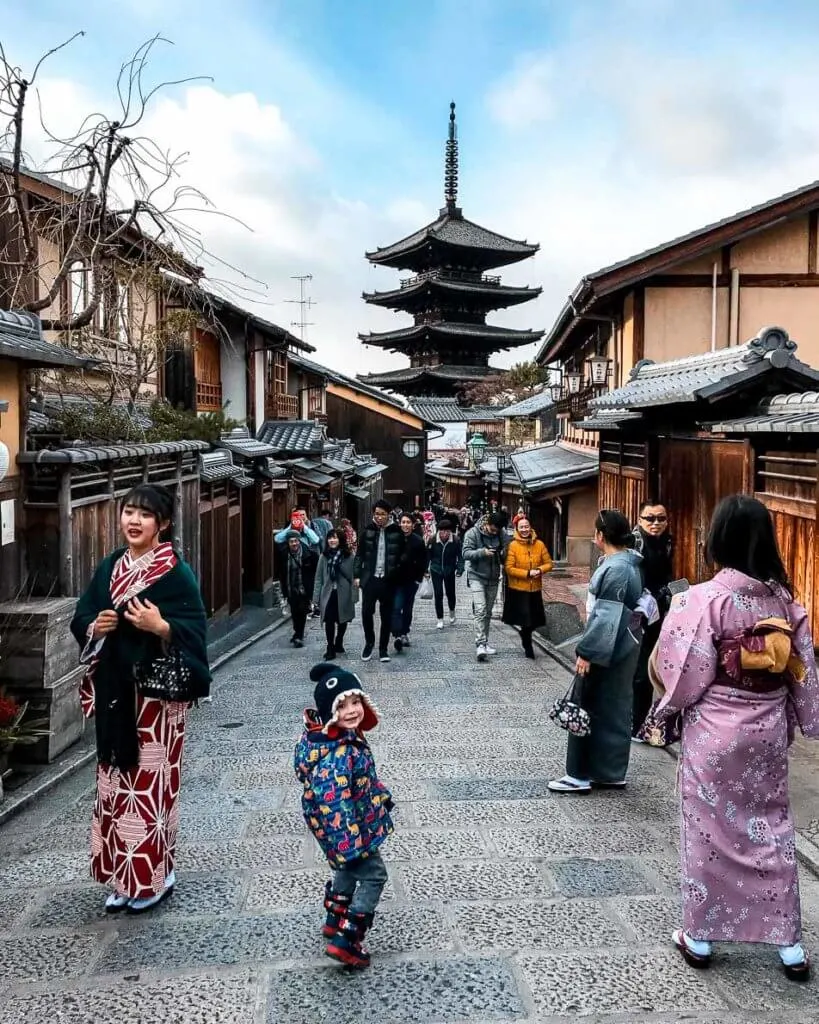 2. How many times have you travelled to Asia and why do you love travelling there?
I've been to Asia multiple times in the years before I had the kids – I love the variety in culture and scenery. Plus, it's usually nice and warm!
The kids have been to Asia twice – to Jordan and Japan. Japan is our favourite family destination – everyone loved it.
3. Why is Kyoto your favourite destination?
Kyoto is such a beautiful part of Japan and one of the best cities to visit in Japan. It used to be the capital of Japan and so it's got a huge amount of history. Some of its streets haven't changed in hundreds of years. If you want to see real geisha, then Kyoto is one of the few places that they still work in. There are also lots of lovely calm temple gardens and shrines to explore so you can feel like you're out in the countryside even though you're in the middle of the city.
4. What were your top 3 things to do Kyoto with kids?
The kids loved the Fushimi Inari Shrine – they loved running through the tunnels made by the red tori gates and even got all the way to the top of the mountain – I was impressed!
They also thought the bamboo grove at Arashiyama was fantastic. There's something almost magical about the tall stems clattering about high above you! The kids had never seen bamboo before and they were enchanted. There's plenty more things to do down in Arashiyama – you can climb another mountain to see a monkey park, or watch boats down by the river.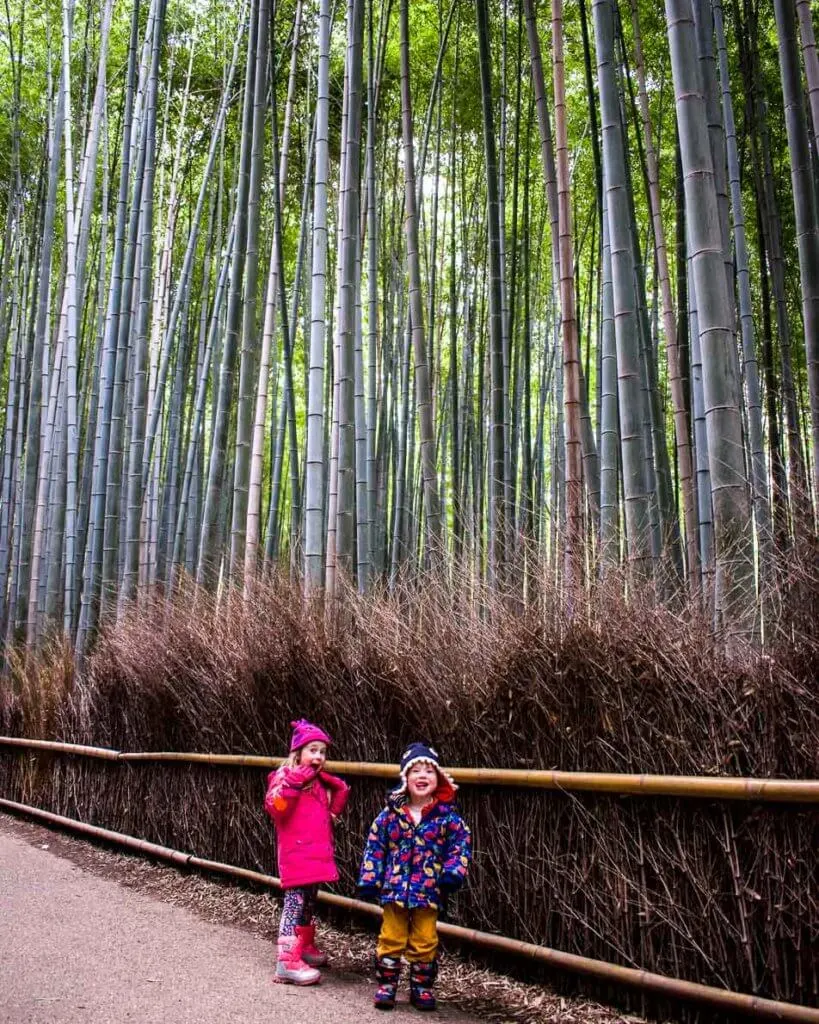 We also had a lot of fun exploring Higashiyama, the old district around the famous Kiyomizudera temple complex. These are the old, wooden streets that you think of when you imagine Kyoto. They're full of beautiful souvenir shops, tea shops and tiny temples. Although the streets are crowded there's a lovely atmosphere!
5. Where did you stay and do you recommend it?
We stayed in a lovely homestay in the north of Kyoto, near to the Golden Pavilion, called Guesthouse HANA Nishijin. We had a large comfy room in a Japanese style with futon beds and our host was fantastic. It was in a very un-touristy district, so we felt like we were really in Japan rather than a generic city.
I do recommend it as a wonderful place to stay but the issue with it was the distance from Kyoto train station. Kyoto's sights are quite spread out and the 45 minute bus journey to get to the station and back was just too much for the kids, especially after a long day. It meant that we couldn't get to places like Fushimi Inari early enough to beat the crowds.
6. What did the kids eat?
My kids are very fussy eaters and they are also vegetarians, so I was a bit concerned about finding food for them! However we managed well by picking up picnic lunches from convenience stores like 711 and Lawson. My daughter loved the rice onigiri and there were a couple of vegetarian options. My son went wild for Japanese street food, especially mochi balls covered in a sweet soy sauce (mitarashi dango). For our evening meals we googled vegetarian friendly restaurants and didn't have any trouble finding food.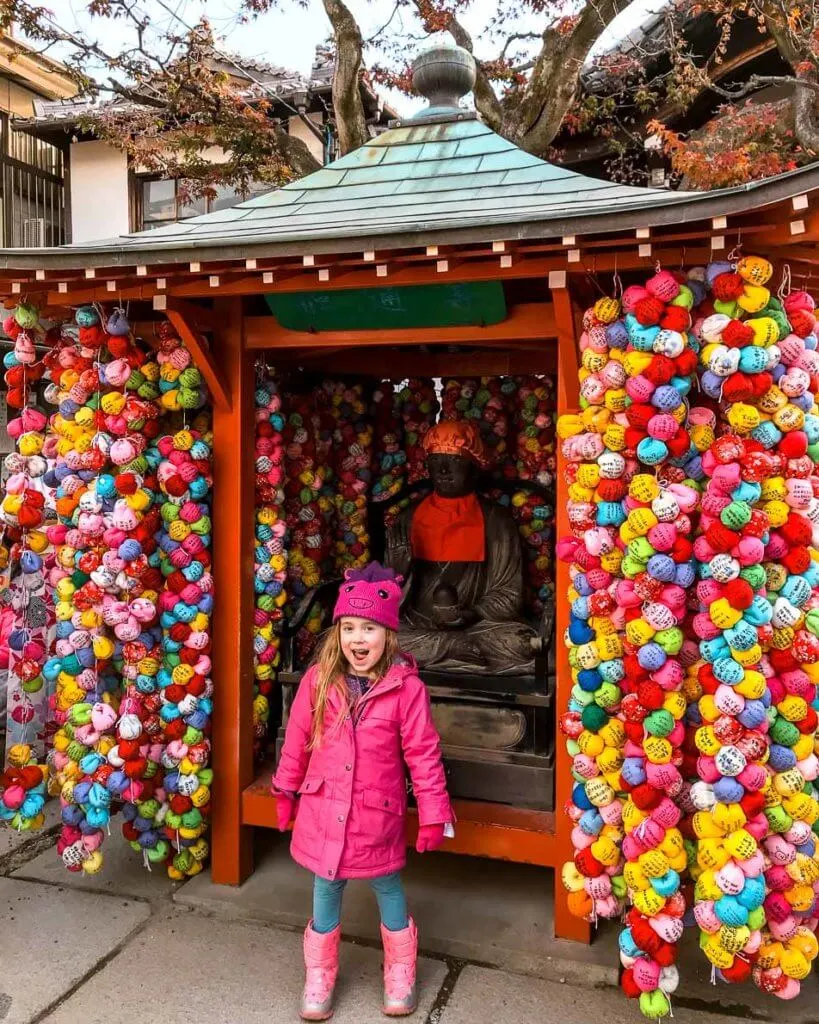 7. How did you get around Kyoto?
Unlike Tokyo and Osaka, Kyoto doesn't have much of a metro system and most people get around using the local bus network. This does make the going quite slow and the buses are often very busy, so you definitely need to factor in travel time when planning your itinerary (and this is why I'd recommend staying as close to Kyoto station as you can).
8. What is your top tip for families travelling to Kyoto?
Stay near the train station! Otherwise, make sure you factor in enough time in Kyoto; it's a really beautiful city and there's so much to see and do. I recommend at least 3 days but you could easily stretch this to 5. You can also do what we did and use Kyoto as a base to see other nearby cities like Osaka and Nara which saves you moving around as much.
9. What item could you not have done without at Kyoto?
This is more of a generic tip for Japan – a pocket wifi or a Japanese sim card. You'll need the wifi to navigate your way around the city and to plan your journeys on the trains. Use the Hyperdia app to do this – it's invaluable! It made navigating Japan really easy.
10. Where are you off to next?
We are off to Portugal at Easter to explore Lisbon, Sintra and Porto. Then later this year we hope to visit Sweden, Denmark and Scotland. We are considering Sri Lanka or Kerala for our next Asian adventure!
---
You can find out more about Kids and Compass and their adventures on their website. You can also follow them on Facebook, Twitter, and Instagram.
You may also like to read:
Nepal with kids: 16 day itinerary
Best beaches in Thailand for kids
The Asia Interviews – Bhutan with kids