Taking the worldschooling plunge? Read on for our tips from worldschooling to ensure success!
So you've done your research on worldschooling to find out what it entails, carefully considered the benefits and disadvantages of worldschooling, and now you're ready to take the plunge!
Worldschooling can be a hugely rewarding experience for the entire family, but it can also feel very scary stepping away from the norm, and local friends and family may be asking questions and planting seeds of doubt.
So that you feel as best prepared as possible for your journey, here are our 28 tips for worldschooling from our personal experience.
Disclaimer: This post contains affiliate links. If you click to purchase, it is at no additional cost to you, and I receive a small commission.
1. Take the slow road
Immersing yourself in a country and its culture is the best way to learn and the best way to achieve that is by slow travel. Try to stay in one place for several weeks if possible, not only will you develop more of a routine, you'll get to know the place that much better.
2. Plan your destination wisely
Whilst you can learn something unique from any country, some work better for worldschooling than others. If possible, try to choose somewhere which is home to worldschooling hubs, places where like-minded families live for a period of time to school their children.
If you're planning to stay for an extended period, consider places which are easier on the budget (we love Southeast Asia for this) and offer cheaper long-term accommodation (you often get free weeks on Airbnb when booking for a month). Also look for somewhere which has its own natural outdoor classroom, for example Borneo or Namibia, as worldschooling is always best outdoors in nature!
3. Embrace flexibility
This is the time to free yourself from a timetable and curriculum. If you decide lessons are going well, extend your 'term-time' by another week. If everyone's enthusiasm is waning, ditch classes for a few days and head to the beach.
You might notice your kids prefer a certain subject, or learn better in the early evening before dinner. The key is that you decide what works best for your family and aren't always guided by Monday-Friday, 9am to 3:30pm.
4. Budget wisely
Moving from place to place can impact your budget, especially if you're travelling in expensive parts of the world. Your worldschooling costs might be low, but the overall cost of travelling for extended periods can soon add up.
Before you leave home, undertake a full service on your finances and work out how much you can spend each day or week. Keep an eye on spending as you go, making sure you're staying on track (we love the Trabee Pocket app for this).
5. Travel light
You won't be able to carry all the learning resources you need anyway, so don't try and overpack. As you'll be moving from place to place quite frequently, keep the baggage to a minimum to make travel days easier.
Remember that you'll be able to pick up all the books, pens, pencils, etc that you'll need on the road, usually at a cheaper price than back home. And trust us, those school workbooks are not at all worth their weight.
Check out our packing light for family travel tips and our Southeast Asia packing list.
6. Don't travel without insurance
Accidents happen and if you're travelling for weeks or months at a time, the law of averages states something will happen at some point.
Make sure your travel insurance covers you for all eventualities (including repatriation) and includes activities like climbing or winter-sports if you intend to add that into your curriculum.
Keep in mind that some single-trip policies stipulate a maximum number of days per trip, so ensure you don't go over the limit.
7. Learn basic phrases
Get the kids used to local life with a few key phrases they can fall back on when interacting with people. It's amazing how far a simple 'Hello', 'Thanks' and 'Goodbye' in the local language goes, especially when it comes from the kids.
If they're already learning the local language at school, use this as a chance to super-charge their learning as being immersed in a country is the best way to become fluent.
8. Understand religious sensitivities
Travelling and worldschooling is a great opportunity to visit temples, mosques and synagogues to be able to understand different religions. Living in a country will provide the opportunity to observe religious festivals, or hear the call to prayer several times a day.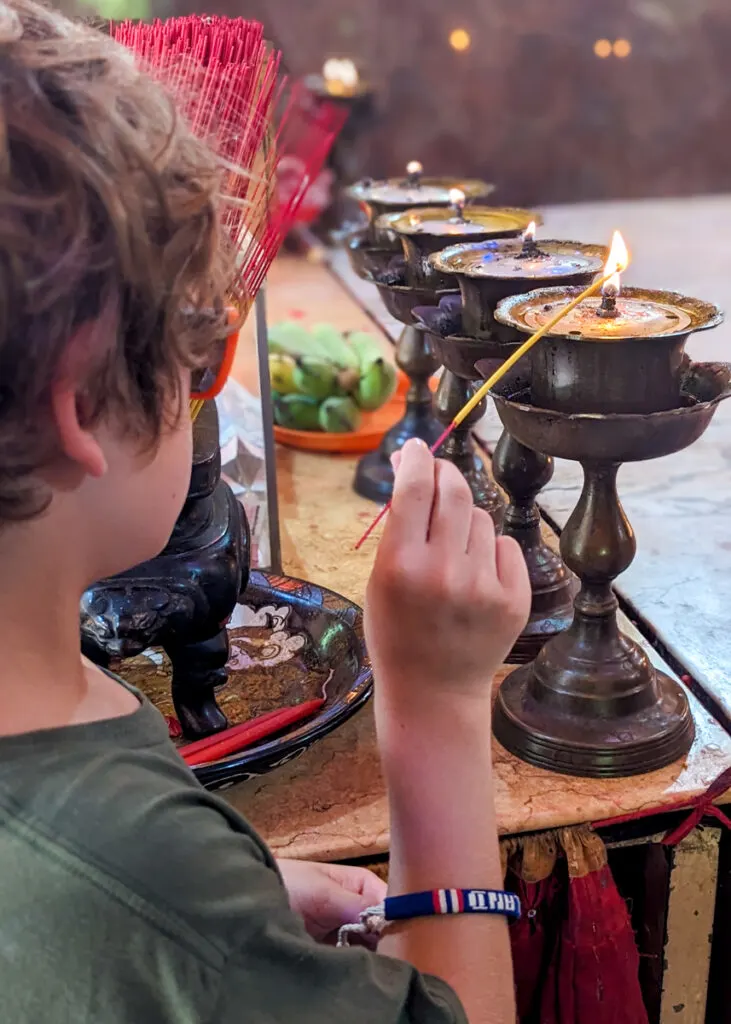 9. Immerse in local culture
In today's inter-connected world, one of the most important (and overlooked) lessons is understanding other people and cultures. Worldschooling, with its nomadic nature, provides a perfect opportunity to spend an extended time in a country, getting to know everything which makes it tick.
10. Keep a journal
Journaling is a brilliant activity for people of all ages but especially for kids, when so many new things are happening to them each day. There are practical advantages too, including handwriting practice when everything else seems to be online via smartphones.
Attach stickers or souvenirs from the trip, it's amazing how much more special a physical journal is compared to something online.
Check out our guide to Kids Travel Journals.
11. Visit historical sites, museums and galleries
Worldschooling is the ultimate school field-trip, with museums, galleries, temples and natural wonders, often right on your doorstop.
If you're staying for a few weeks, invest in a city pass or annual ticket which will save you money and give you an excuse to return for a second (or third) lesson.
12. Get out in nature
Depending where you live, outdoor lessons and activities aren't always possible or scheduled. If you find yourself worldschooling in a beautiful location, take the maths class down to the beach.
If the science class is going well, head out on a hike through the rainforest and find some natural examples of the plants you were just studying in the textbook.
13. Check out the local music scene
Luggage restrictions might limit the amount of musical instruments you can bring from home, and you might miss out on structured weekly piano lessons, but use worldschooling as an opportunity to expand your child's musical repertoire.
The buskers in the main square might need someone else on drums, or there could be a local guitar teacher who offers lessons for a few weeks. Look hard enough and you'll be sure to find local instruments you've never heard of, perhaps you might unlock a hidden talent for the Oud!
14. Volunteer
There are many volunteering opportunities around the world, often for a several weeks at a time. However, be warned that they're often quite pricey as they are considered a tourist experience. But they are a very worthwhile experience.
Be mindful of signing up to low-level volunteer work (such as building or decorating structures) as you may be taking paid work away from local people.
15. Take photos
Photography enables you to see the world through a lens, to consider your surroundings, and look for interesting objects and light. It's can heighten your experience and creativity and is a great way for kids to explore a new destination.
We all have cameras on our smartphones now but consider buying your kids a cheap digital camera to carry around.
Just remember the best experience is through your own eyes, don't let the camera to take over.
16. Embrace technology
Technology is perhaps the biggest changes to modern life and it has completely revolutionised worldschooling and the options open to you.
Where once you'd be limited to textbooks and encyclopaedias, you now have the sum total of human knowledge at your fingertips. Online resources are everywhere, such as textbooks, coding clubs and maths games, not to mention e-learning and online tuition which provide bespoke, one-on-one lessons.
18. Use local libraries and bookstores
E-books are fantastic, but there's still something special about holding and reading a physical book in your hands.
Local libraries and bookstores are a great place to go for this, just be mindful of taking up too much time in a small independent bookstore if you don't intend to buy; it's always a good idea to make a small purchase if possible after trying out their stuff.
Many libraries have agreements in place which allow visitors temporary access to read books and magazines. They often also have toys and board games you can use during your visit.
19. Online classes
With a stable (and relatively fast) internet connection, online classes are the perfect worldschooling companion.
We've had a fantastic experience with TuitionUp, the amazing Amy has tailored learning for our two boys during our trips to Morocco and Southeast Asia.
The great advantage of this approach is the flexibility with the teaching and subjects, allowing the online tutor to modify and update the lessons as needed. The one-on-one approach really suits our boys, and lets us continue their education wherever there's a decent internet connection.
20. Meet other worldschoolers
Worldschooling hubs are an ideal way to meet fellow families taking the same schooling journey. Some cities have formalised hubs with a professional approach, others are more ad-hoc, based around whoever happens to be around at the time. Many families find this setup works well, particularly with the increased opportunity for social interactions (for kids and parents alike).
You'll also often find other worldschooling families during your travels, often recognisable by their laptops and headsets at restaurants and hostels. Facebook groups and other social media sites also provide an easy way to find families in your next destination.
20. Visit local markets and take a cooking course
Are you tired of the same old school-dinners at home? With worldschooling, there's always a chance to shop in a local market, letting the kids choose their own lunch. The ingredients are always fresh and great value, and it gives you all the opportunity to experience new types of food.
In many places, a cooking course is a common option, often including a trip to the market to buy the ingredients. As well as a cooking course, it's also fun to spend time with local people (often the cool older ladies who are otherwise difficult to get time with).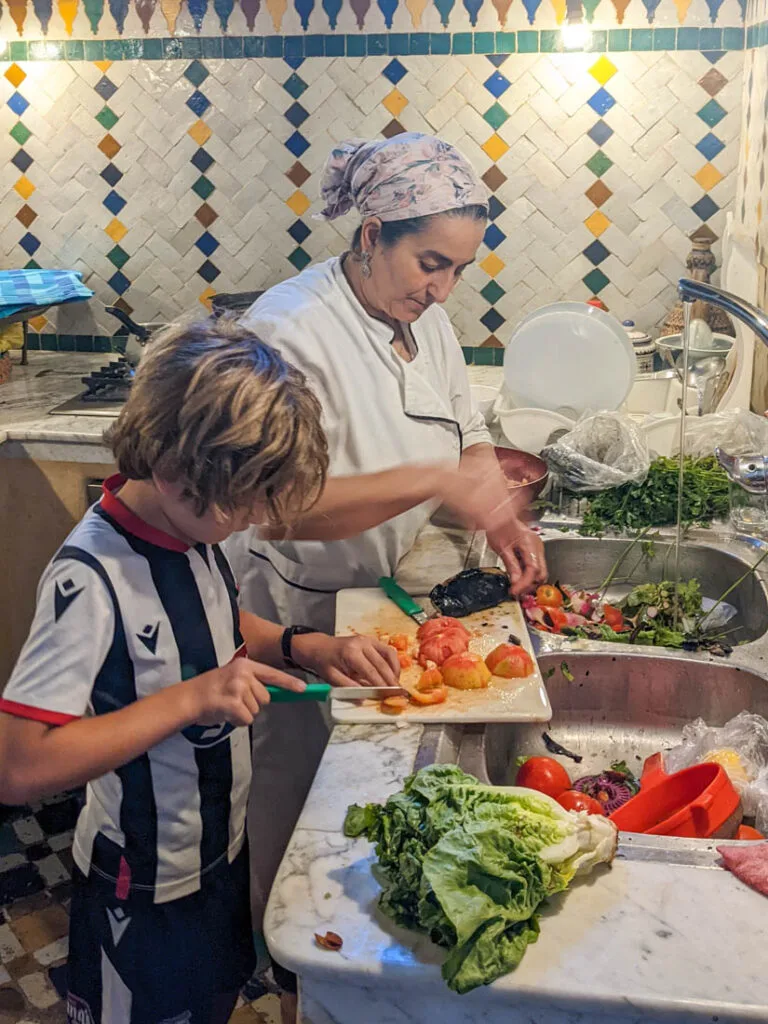 21. Stay informed about the countries you plan to visit
Countries change and places you thought were safe suddenly become off-limits. This isn't just down to conflict, sometimes an election brings in a new government who bring instant change.
Keep an eye on visa changes too, and make sure you plan ahead if you need to get the visa in advance. In most cases, you'll be fine on a tourist visa if you're not working, but check the small print.
Keep an eye on the UK Government travel advice pages.
22. Involve your kids in the travel planning
It's never too early to get the kids involved in the trip planning, and poring over a map is a great Geography lesson.
Not only will it get them learning about the world, it'll also get them invested in the upcoming trip, especially if you allow them some input into where you're going and what you plan to see.
23. Keep some sort of routine
Kids are still kids, and they'll always need some sort of routine, however relaxed it might be compared to the one back home. It might be as simple as keeping weekends free from schooling, or taking every third week off for travel.
And some kids just love routine! The beauty of worldschooling is that you can do what works for your family.
24. Always have the journal, notepad and pens handy
You never know when inspiration might strike, a stunning waterfall suddenly appearing on a hike, or an idea for a short story. Try to keep journals, notepad, pens, pencils, etc with you in your day bag in case you decide on an impromptu worldschooling lesson.
25. Seek out quiet spots for focused work
It might be tempting to setup a worldschooling session in a bar overlooking the ocean, a shopping mall or a cute local restaurant, but remember these places can get loud and busy.
Sometimes you'll be left with no choice if the only available internet is in these places but, on other occasions, try to find a quiet spot on the beach away from the noise, or retreat back to the hotel room.
Sometimes kids need to be fully focused and have quiet time with their books; it can be challenging to find this when you have less control over your immediate environment, but it's worth the effort.
26. Buy resources along the way
Don't panic if you've forgotten some essential learning resources, like pens or books; you'll be able to pick up most of these items on the way.
When you set off from home, don't attempt to bring a four-month supply of equipment, it'll be cheaper and more convenient to seek out local shops and pick them up; we've found exercise books, pens, crayons, trigonometry sets, etc are ubiquitous.
27. Take the opportunity to learn a new skill
By all means, follow a curriculum and focus on core skills and knowledge, but also take this chance to learn new skills you'd be unable to otherwise. Perhaps you'll unlock a passion for athletics, or realise your kids are keen environmentalists.
There might be a national sport in the country you're visiting they've never tried before, or perhaps they're a fantastic cook. Now's the time to find out.
28. Enjoy the journey
Worldschooling should be seen as a compliment to your trip, a chance to continue your child's education under your own terms. But don't forget that you're all still here to enjoy yourselves so take some time to step back and appreciate the journey.
Worldschooling provides so many learning avenues to explore, you're sure to find it a fulfilling family experience. Hopefully your kids will continue to learn and thrive, discovering the joy of learning whilst also seeing the world.
---
You may also like to read:
What is worldschooling?
Advantages and disadvantages of worldschooling
Family travel on a budget: how to travel cheap with kids in tow