Want to do something different to see in the new year? Check out these family getaways for New Year's Eve.
New Year's Eve celebrations with young kids can be a challenge. Whilst the days of dancing around handbags with your mates to Prince, clutching an Archers and lemonade (or was it a Bacardi and coke?) are a thing of the past, you still want New Year's Eve to be special.
I have to admit though, when the boys were very tiny we did have a couple of New Years watching Jules Holland on TV, curled up in our PJs on the sofa. We were running on such a ridiculous sleep deficit, but were determined to see those fireworks explode behind the London Eye.
But then in 2017 when the boys were 2 and 4 years old (and sleeping better), we looked into some family getaways for New Year's Eve. As we were living in India at the time, we decided to visit Goa.
We had the BEST time that New Year's Eve! The beaches were in party mode as soon as the sun set, and it was a novelty to be swimming in the warm Arabian sea whilst fireworks were going off on the beach. The boys lasted until 9 pm before needing to be tucked up in bed. But us parents felt all warm and fuzzy knowing that we had partied together to celebrate the end of the year, and were still able to see some fireworks sitting on our veranda as the boys snored away.
Family getaways for New Year's Eve
NYE celebrations always seem so focused on the impending clock striking midnight, and it's not always possible for little ones to stay up that late, or to even keep them from being bored. But if you are looking for family getaways for New Year's Eve, there are quite a few destinations around the world that have early evening entertainment and are a great option for a New Year's Eve break with children.
So I've reached out to some fellow bloggers for their suggestions of family friendly New Year's Eve vacations and the best places to spend New Year's Eve with kids. Let me know if you've any to add!
Aruba
(Rai from A Rai of Light)
Who wants to spend the beginning of a new year in the cold? Not me. And neither do the kids. We want amazing weather and perfect beaches. Throughout the year, the tropical climate and summer breeze guarantee great weather and sunshine in Aruba.
The time leading up to the New Year is our favourite time to visit this island. Arubans take the holiday very seriously.
A traditional ritual that happens on the days leading up to New Year is the lighting of firecrackers or pagara all over the streets of Oranjestad with the smoke believed to ward off evil spirits.
There is also a huge New Year's Eve celebration with music and a night of endless fireworks. Fortunately, this starts early in the evening. The best place to watch the display are at the lighthouse or along any of the beaches, my favourite being Aruba Flamingo beach.
Large groups of "Dande" musicians travel around the island bestowing blessings and best wishes for the New Year through song and dance, adding to the already joyous festive atmosphere, which is always a huge hit with the kids.
Appenzell Ausserrhoden, Switzerland
(Augusta from Mini Me Explorer)
You may be surprised to learn that there are a few places in Switzerland where the New Year is celebrated twice, on different dates, and the celebrations start at 5 AM, not at midnight – actually midnight marks the end of them. One of these places is called Urnäsch (population 2270) and it is in Appenzell Ausserrhoden, where the famous Appenzell cheese comes from.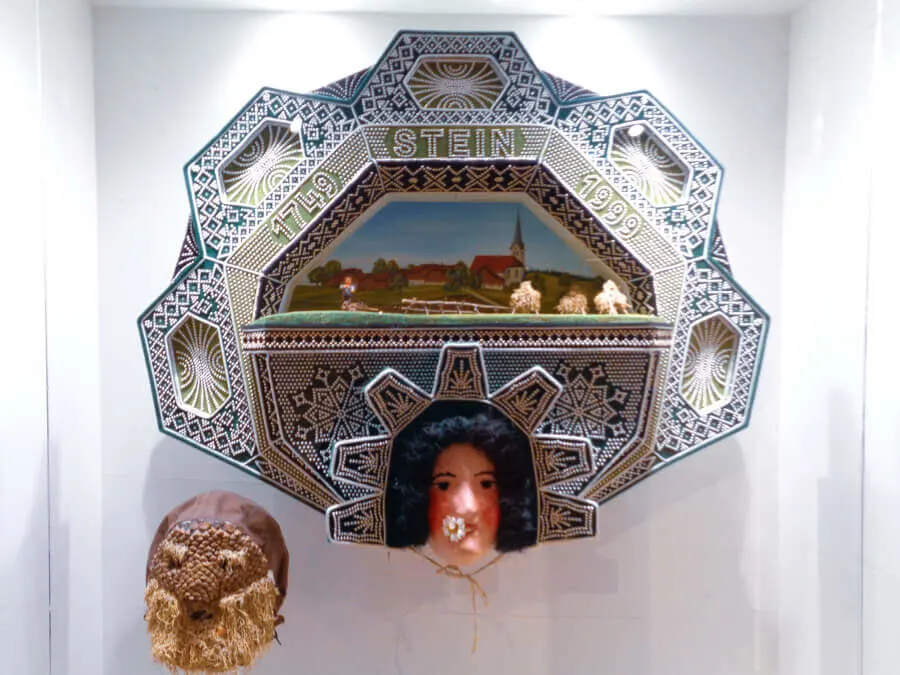 The celebrations are called Silvesterchläusen and take place on 31 December and 13 January: they are loud, folkloristic, colourful… and kids are welcome to follow the Chläusen, the protagonists of the celebrations, as they go from home to home.
Who are the Chläusen? What do they do? The Chläusen are groups of 6 men and children (rarely women) who spend the day going from house to house, or farm to farm, announcing their arrival at the sound of ringing bells. Once they reach a doorstep, the Chläusen arrange themselves in a circle and sing three times a Zäuerli, a yodel without words, then wish the landlord a Happy New Year and move on to the next house.
What is most impressive, and what kids love, is the amazing costumes. There are three types of Chläusen: the beautiful who are dressed as women, the ugly who wear terrifying rags and masks, and my son's favourites. the beautiful/ugly ones, who are dressed as trees, with real leaves, branches, bark and moss.
As it runs all day long, you can turn up and join in the celebrations whenever you want, which is very handy if you've got young kids who can't stay up late. We've never stayed up to midnight on the two occasions we have visited with our kids.
Lakes Entrance (Victoria), Australia
(Bec from Travels In Gippsland)
Lakes Entrance in Gippsland Australia is a sleepy seaside town with a population of around 7000 people. It has the magnificent 90 mile beach being it's draw card in the summer months where it's population can swell to around 40,000 people from November all the way though to February.
With miles of picturesque sandy beach, wildlife to catch a glimpse of and a system of Lakes that are perfect for boating and skiing it is a hot family destination for some serious fun in the sun.
As so many families holiday and live in the area a true family night out is organised for New Year's Eve by the local shire. After a big day of swimming at the patrolled beach, make your way to the Esplanade (the main street in Lakes Entrance). There is a carnival on the foreshore and the main street is shut down to traffic to make the 9.00 pm kids fireworks completely safe for families. For the older kids there are fireworks at midnight as well to see in the New Year.
You can have a BBQ on the grassed area with the free shire BBQ, you can bring a picnic, or you can eat from the stalls that are set up during the night as well. Some businesses stay open and getting an ice cream from the ice creamery is an absolute must when you are there.
Edinburgh, UK
(Vanessa, Wanderlust Crew)
Edinburgh is one of the most exciting places to spend New Year's Eve! In Scotland, they call New Year's Eve the Gaelic "Hogmanay." It is the most important holiday in Scotland and has become one of the largest New Year's celebrations in Europe, and even in the world! The world-famous New Year's Eve song, Auld Lang Syne, was even penned by a Scotsman, Robert Burns.
The Hogmanay celebrations go on for several days and include a special torchlight procession, live music, family events specifically for kids, street parties, traditional dancing, fireworks, and a costumed parade ending with an ice-cold plunge in the river!
While the street parties are not really kid-friendly, children are welcome to participate in the Torchlight Procession, and there is even a Bairns Afore where families are invited to enjoy an outdoor concert followed by fireworks.
The National Museum of Scotland also hosts some fun and free activities for families through the day of December 31. Families can also attend a Candlelit concert at the 14th Century St. Giles Cathedral.
Cuenca, Ecuador
(Ayngelina from BaconisMagic.ca)
Cuenca, Ecuador, is a colonial city and considered to be one of the prettiest in the country. It is safe to walk around and everything is quite close. Additionally it has a hop on hop off bus to explore the outskirts for only a few dollars.
But New Year's Eve in Cuenca is also very special because there are so many traditions. Some have been influenced by Spanish colonialisation, such as eating 12 grapes. Others are more quirky, such as choosing a specific colour of underwear to bring good luck, either red for love or yellow for money.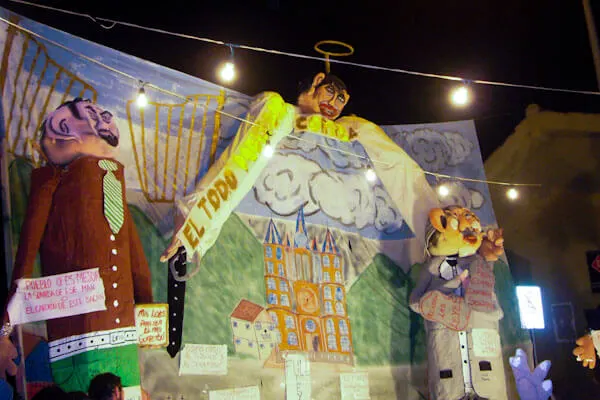 Older children may enjoy some of the more adult activities such as jumping over a small fire 12 times, or throwing rice into the fire for abundance of food in the year coming ahead or a few coins for financial success.
People also sell masks and create effigies of things that they wish to leave in the previous year. It's often humorous and can be scandals or jokes that people no longer want to hear. Effigies are often stuffed with fireworks and set on fire.
New Year's Eve is really a family affair in Cuenca and people of all ages celebrate in the streets. Staying at the Casa Cuencana is a great idea. While it may be considered a hostel, it is really more of a small hotel with private rooms and a full communal kitchen. This is especially wise over the holidays as this Catholic-based city often shuts down so finding a good restaurant can be challenging.
Honolulu, Hawaii
(Noel from This Hawaii Life)
There's nothing like celebrating New Year's Eve in Honolulu. There are so many cool kid-friendly venues and activities to see and participate in Honolulu, along with the typical New Years celebrations, great parties, fireworks and even just walking on the beach and see all the amazing firework displays or firing off some yourself.
There are wonderful family activities from beach, snorkelling fun, going to the aquarium and zoo, along with easy adventure experiences like sailing and hiking, to just enjoying a nice day on the beach or exploring around the city and various attractions. Check out my post on the best things to do in Honolulu for more inspiration.
New Years celebrations happen at all the hotels and resorts around the city and some cater for family friendly fun and you can just check Hawaii tourism site to find out about the latest in NYE celebrations in Honolulu.
Disneyland Paris, France
(Shel from Skylar Arias Adventures)
Ring in the New Year at the 'happiest place on earth' at Disneyland, Paris! This special ticketed event at Disneyland Paris has a special New Year's Eve parade with all the Disney characters, as well as an amazing countdown to midnight fireworks show.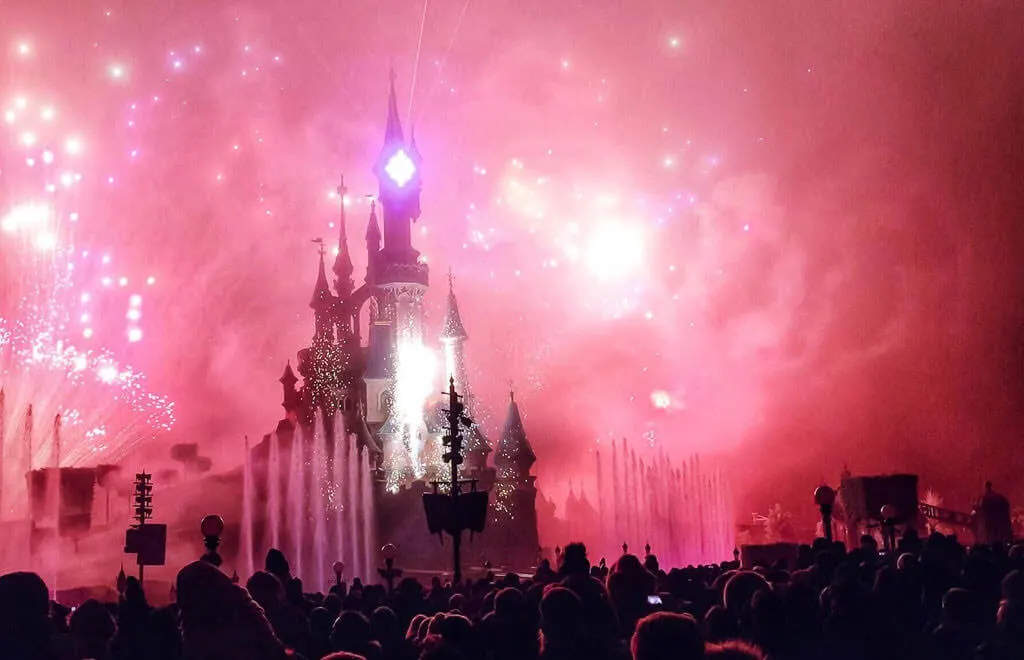 If the kiddos can't stay up till midnight, you can still catch the regular evening fireworks show, it's just as amazing! Rides stay open till midnight, so you have the opportunity to get on all your favourite attractions.
Make sure to reserve tickets online, and dress warm as the weather can be very cold during the winter in Paris.
Also make sure to reserve hotel rooms in advance as well. It was so crowded during our visit and most hotels were sold out. We stayed at the Explorers Hotel, which is a Disney partner hotel with free shuttles to the parks and train station.
Disney World, USA
(Kris from Nomad By Trade)
New Year's Eve at Disney World is the ultimate celebration for kids. What kid wouldn't want to party with Mickey and friends? All four theme parks stay open until midnight or later, with the major rides and shows open as well as dance parties throughout the evening, and special fireworks at midnight (Animal Kingdom will have a special projection show instead of fireworks).
Epcot and the Magic Kingdom also do special early performances of their fireworks for those who can't make it until midnight, and Hollywood Studios offers Fantasmic earlier in the evening.
The Magic Kingdom has the most family-friendly celebrations as alcohol is only served in the table service restaurants, but it's also the most crowded, typically closing for capacity well before lunchtime.
After several trips, our favourite has been Epcot for New Year's Eve because of the parties at the different World Showcase pavilions and great dining options for a special NYE dinner.
Whichever park you choose to celebrate at, I'd highly recommend staying at a Disney World hotel that night so you can take advantage of their free transportation. It took us more than an hour just to leave Epcot's lot after NYE one year, and we very much would rather have been on a bus to our hotel even if the line for it was long. These hotels do book up quickly though, so make your reservation as far in advance as possible.
Wisla, Poland
(Bec from Wyld Family Travel)
Having a white Christmas knee deep in snow is a bucket list travel item for many Aussies. It is such a contrast from what we are used to and celebrated in such a different way but I can tell you New Year's Eve knee deep in snow with your own set of fireworks should definitely be number two.
We celebrated our first every snow covered New Year's Eve in Wisla Poland. We had spent the day getting stocks of the most delicious Polish food and vodka before going home to cook it up for a very lavish dinner. We had to stop on the way home at numerous fireworks stalls on the side of the road which was an eye opener in itself as this is completely illegal in most of Australia.
We spent the afternoon sledding and snowball throwing just out the front of our friends' ski chalet, and as the sun went down we sat down to a beautiful traditional dinner made for us by our friends. As there are ski runs near their house, the mountains were lit up but that all changed just before 12.00.
The lights went off and the countdown began in the houses around us. 5,4,3,2,1….the ridge where the ski runs started became alight with every little house, resort letting off their fireworks. The next was the valley below us and then there were ours as well. The sky was alight with so many colourful explosions it was one of the most beautiful things I have seen in my life. It was a layers of colour. We stayed outside right to the end, had one more quick snowball fight to start the year and then back inside for a hot drink and bedtime!
London, UK
(Karen from Travel Mad Mum)
Since becoming a parent, it has felt like NYE is a thing of the past. We live in a part of London that has a slightly elevated view so we can just about see some fireworks below. I mean we can barely see them, but it's something right?
Well this year is going to be a lot more fun since there seems to be a few day time parties on for our younger kids. I mean, I'm pretty sure I struggled to stay up until midnight last year, never mind the kiddos managing past 8pm.
Seriously, where have the days gone when I had the stamina to pull all nighters?Talking of which, I use to love a good rave in my day. Myself and hubby love that kind of music and funnily enough so do the kids. We've been to a couple of day time family friendly raves in London with kids.
We were so happy to realise there are a couple taking place on New Years Eve around the city, and guess what? They are in the afternoon / evening so everyone can enjoy it without having to miss bedtime!
So whether your looking for a family friendly getaways for NYE in London or happen to be a local, this could be a really cool and festive activity for you. There are a few companies doing these parties. Check out Rave Tot events here.
I bet you're wondering what to expect? Well imagine epic tunes, balloons. glitter, games, face painting, foam and good vibes, your kids will have such a great time and so will you!
Dubai, UAE
(Yukti from Travel With Me 24 x 7)
Celebrating New Year's Eve in Dubai is a very unique experience for all ages as the whole city glitters with special light shows and fireworks. The world's tallest building, Burj Khalifa, welcomes the New Year with spellbound fireworks, unique Laser show and special LED shows.
When the countdown begins to say goodbye to the present year, Dubai excitedly welcomes new year with all lavish and pompous celebrations at many places all over the city. Many families prefer to visit the family public beaches of Dubai with beautiful fireworks views over the famous buildings. But if you to avoid the crowded places to celebrate and watch fireworks, books in to one of the many hotels of Dubai that have a view of Burj Khalifa.
You can also do a day trip Desert Safari to witness the last sunset of the year, complete with Arabic performances.
Throughout the day on New Year's Eve there are many events held inside the malls, at the beaches, and at many attractions across the city. Many people book theme parks on this day as they have special surprise events.
Sydney, Australia
(Evie, Mumpack Travel)
Sydney is one of the most iconic places in the world to see in the New Year, and a once in a lifetime experience for many. Sipping champagne on the edge of Sydney Harbour surrounded by the Harbour Bridge, the Opera House and sparkling ferries and yachts as the incredible fireworks display explodes into life in front of your eyes.
Sydney City Council puts on two huge fireworks shows on New Year's Eve – one at 9 pm for the kids and another at midnight to welcome to the new year.
If you have the funds you can buy tickets to some of the best parties of the year at the Sydney Opera House, the Opera Bar, Mrs Macquarie's Chair, Shark Island and the restaurants that dot Circular Quay.
If you have the stamina you can arrive early and claim space at one of the free viewing areas around the city. But note that some are alcohol free, and most close as soon as they reach capacity.
Also consider booking a hotel room in the city, either with a good vantage point to watch the show or to save yourself the time to back out of the city. Train is the best way to get in and out of the city on New Year's Eve but be patient as the crowds will be big and you will most likely have to queue.
Sometimes the best place to watch the fireworks is live on TV surrounded by your best friends and family. Both the 9pm and the midnight event are broadcast live with the soundtrack. Happy New Year!
Cape Town, South Africa
(Lydia from Africa Wanderlust)
Looking forward to having an African Christmas this year! Cape Town is the perfect destination for the family during the festive seasons, as there are lots of cool family activities happening.
One of the best family destinations in Cape Town is V&A Waterfront. Expect lots of delicious food, pop-up performances, and fun characters. There are a lot of activities to keep your kids occupied, such as the family-friendly dance party in the Constantia valley, a perfect way to spend New Year's Eve.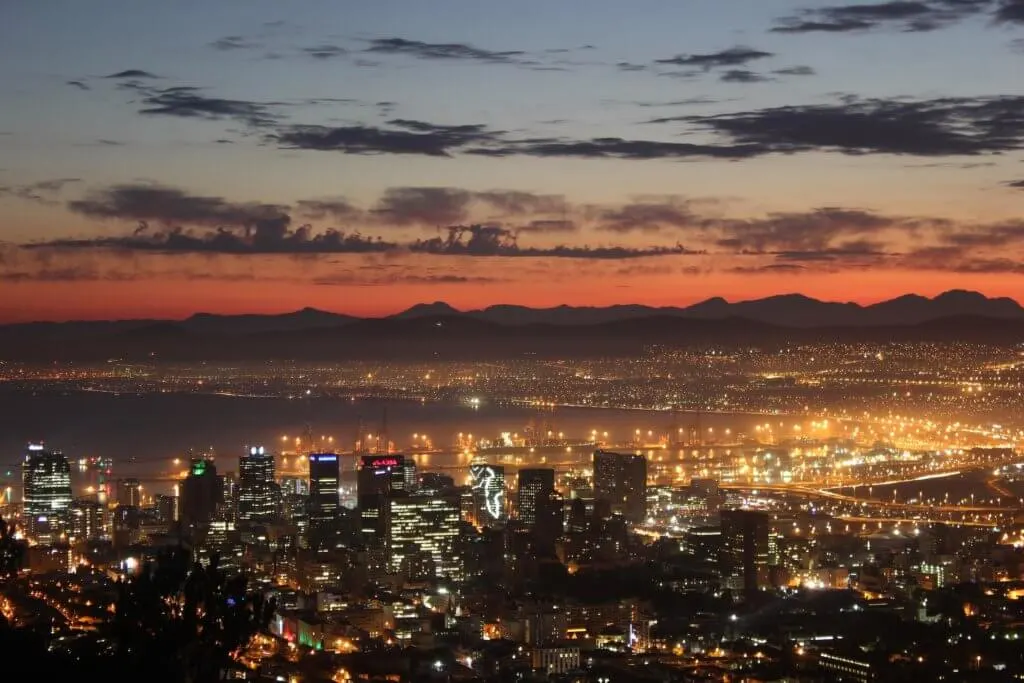 Another fantastic thing to do for NYE is to relax at the Range, a flourishing venue located in Constantia valley countryside. Here, you can dance to classics and old favorites during New Year's Eve. Drinks are also available in the fully stocked bar, and most importantly, there are activities for kids below 12 years, such as jumping castles and arts and crafts.
MannaBay, Taj Cape Town, and Cape Grace are some of the best hotels within close vicinity. So you can be merry and celebrate New Year's Eve the African way with your family in Cape Town.
Bangkok, Thailand
(Lisa from Flip Flop Globetrotters)
Some New Year's Eves you'll never ever forget. New Year's Eve in Bangkok with our toddler definitely falls in that category. It was one of the highlights of our year travelling around South East Asia.
The question of whether or not to wake the kids is obviously a non-issue if you're spending New Year's Eve somewhere in such a special location. Since our little one was still so young, we decided to let him sleep for a bit before heading out, which worked out well.
We stayed at Erawan House on Soi Rambuttri, which worked well since we brought our own toddler travel bed. Next time we'd probably choose Rambuttri Village Plaza as it has more amenities (and a swimming pool!). We love staying in this part of Bangkok. It was magical to see the area around the Democracy Monument decorated with thousands of little lights. With all the trees near the King's Palace lit up as well it looked like a fairy tale. The vibe on the street was really good and we enjoyed simply wandering around. Our toddler was happily watching everything from the back carrier. The annual fireworks show over the Chao Phraya river near Wat Po was amazing and well worth the crowd and the wait!
San Diego, USA
(Chelsea, Explore With Me)
New Year's Eve is one of the most magical times in San Diego, California. One of the most fun events to attend occurs at the Hotel Del Coronado. This event is perfect for both the adults and the kids!
First off, the Hotel Del is a beautiful beachfront hotel which is popular to the San Diego residents. The oceanfront ballroom is transformed into a night time dance floor for the adults. The best part is that the kids get to have a party of their own as well! From 7 pm to 12:30 am there is dinner, ice skating, games, and s'mores for the kids.
If you have a teenage child they can even go hang in their own lounge and mingle with other teenagers. Tickets to this event are required. Please go here to purchase your ticket.
If you are looking for a more relaxed event then you grab a seat on Coronado beach and watch the movie Aladdin under the stars. There will be a bonfire with smore's as well. After the movie is over you can watch the infamous New Year's Eve Times Square ball drop at 9 pm followed by fireworks. This is a great family friendly event. Head to the beach early as the seats are on a first come basis and go quickly. The event officially starts at 6pm.
New York, USA
(Sally from our3kidsvtheworld)
New York has to be on any list as top places to spend New Year's Eve. However, spending New Year's Eve in New York City with kids is very challenging. Firstly its freezing, its was -12 degrees with a chill factor of -20 degrees when we were there in 2017/2018. Most of the restaurants are closed for private prepaid parties and mostly don't welcome kids.
Times Square is a nightmare and once you are in, you are unable to leave and there are no public toilets provided. We considered doing this and having spoken to others over there, we were advised its not very kid friendly and to steer clear of it at all costs. Many people were arriving at lunchtime and staying all day to get the best viewing spot.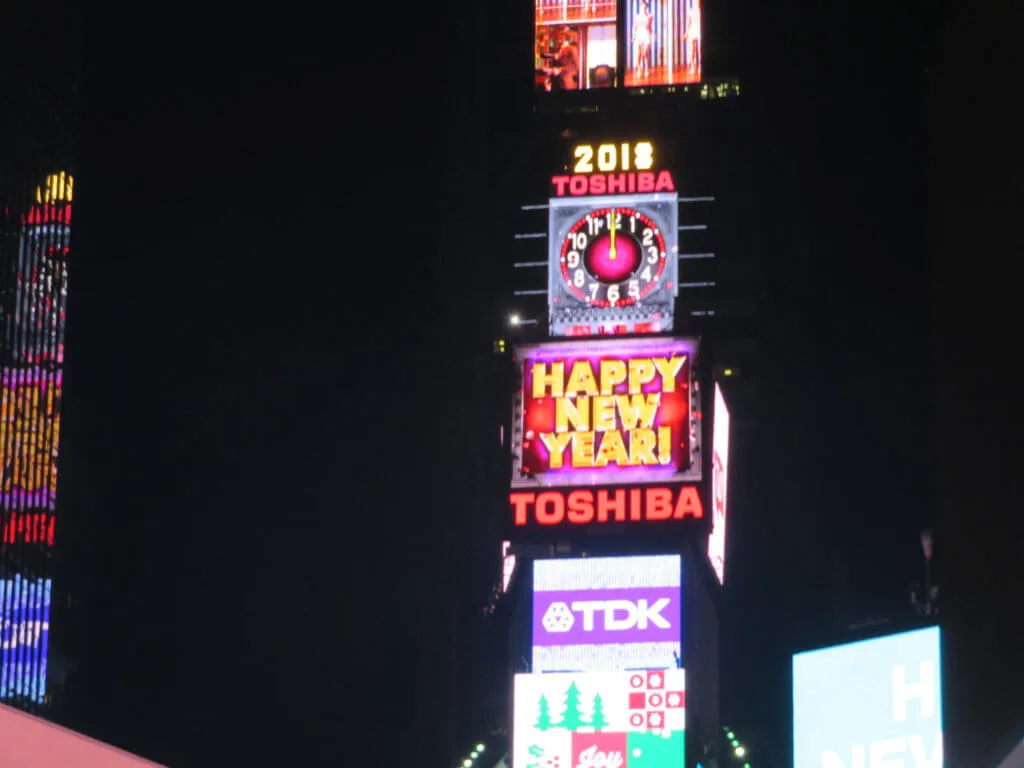 So what did we do? We stayed in our hotel, then at 11.30pm we headed down to Central Park for the midnight fireworks. We had a great spot where we were able to look straight down 5th Ave and we could see the 2018 Ball Drop in the distance and we had the fireworks right behind us. Was it perfect? No. Would I do it again? In a heartbeat.
We went to Times Square on the evening of December 30, set up was underway for the next night festivities and just as we were standing there, they had a practice of the Ball Drop, so technically we did actually see the ball drop! The atmosphere was electric though and a big change from our NYE's here in Australia on the beach.
---
You may also want to read:
Family adventure travel ideas for 2020
Is it worth getting a GoPro for family travel adventures?
How do we afford