What to do and where to stay around Lago Maggiore with kids. Please note that this article mainly focusses on the Italian side of Lago Maggiore.
Visiting Lago Maggiore with kids, is often overlooked by the better known Italian sisters, Lake Como and Lake Garda. But nestled in the foothills of the Alps straddling the Swiss border just northwest of Milan, lies the glistening waters of Lago Maggiore (or rather Lake Maggiore in English), framed by colourful villages and snow capped mountains.
This post was originally published in 2019 after a three night, mums only, press trip to Lago Maggiore with Bookings for You, staying at Golfo Gabella Lake Resort, who offered complimentary accommodation in return for an honest review and social media coverage. As I love the region so much, I returned with my family in October 2022. This recent trip was entirely self-funded. This post also contains affiliate links. Should you click to purchase, it is at no additional cost to you, but I receive a small commission.
Jay and I used to live by Lago Maggiore in our early 20s. We lived in the tiny village of Ispra on the southeastern shore of the lake, and it was our first home together after getting married. So it's a very special place to us, and a place we've wanted to return to with the boys for a long time.
For October half term 2022, we gave the boys the choice of where we travelled, within reason (needed to be in Europe with cheap Ryanair flights). Ezra picked Billund, and Arthur said that he wanted to see 'a big football match and eat pizza'. The San Siro in Milan came to mind, and we thought this would be a good opportunity to return to Lago Maggiore, which is reasonably accessible from Milan. In fact, accommodation prices are so high in Milan, especially for families, we considered it a much better option to base ourselves around Lago Maggiore. So we finally got to revisit and take a trip down memory lane.
Lago Maggiore is off the radar for many tourists, but extremely accessible from the UK due to regular cheap flights in to Milan. It would also make for a fantastic destination on a European road trip through Germany, Switzerland, and Italy (maybe one day in our Mazda Bongo?)
Spend your days swimming in the clear waters, hiking up in the mountains (with the help of a cable car), or if you want to slow the place, find a spot at one of the many lakeside trattoria's and sit back with a local vino as the kids paddle in the ripples of water. And if you need a city fix, Milan is only an hour away and worthy of a day trip (indeed we have a guide to visiting Milan with kids). Or you may want to explore the smaller Italian lakes nearby such at Lake Orta or Lake Varese.
Here we cover the top things to do around Lago Maggiore with kids and focus more on the Italian side of the lake. Scroll a bit further down for tips on getting around, where to stay, and the best time to visit.
Things to do with kids in and around Lago Maggiore
From our time living in the region, a blogger press trip in 2019, and a more recent family holiday in 2022, I have compiled here the best things to do in Lago Maggiore for families. From swimming to hiking, paddling kayaks to riding buckets, we've got you covered.
1. Ride the Buckets at Laveno
Click here for opening times and prices
Click here for car park and entrance
An absolute must do if visiting Lago Maggiore with kids is the bucket ride in Laveno. This is a cable car that takes you up to Sasso del Ferro (altitude approx. 1,100 m) from Laveno in what looks like a big green bucket. The 10 minute journey isn't for the faint hearted, as it's quite steep in places. However, you can opt for a closed 'bucket' if you feel this will make for a less hairy ride.
The views from the top on a clear day are breathtaking, and even in October you can expect to see snow capped mountains on the opposite side of Lago Maggiore.
At the top there is a restaurant and snack bar (the snack bar has the better views), as well as a small children's play area. You may even spot paragliders launching themselves from the top; it's amazing to witness!
If you want to venture even higher, there is a signposted walking track to the summit, as well as other walking trails in the area. Sturdy footwear is advised.
2. Ride the ferry across Lago Maggiore
There are a number of ferries that crisscross the lake to connect the various towns. Lago Maggiore is actually the second largest lake in Italy (yes, it's pretty big), so a 25 minute ferry ride can save you 1.5 hours of driving.
The easiest and most regular ferry (every 30minutes during the day) is the one connecting Laveno and Intra. So once you've been up on the bucket ride, drive down to the huge free car park next to the ferry terminal (click here for location) and purchase a ticket to Intra. You can take the car if you wish to explore more of that side of the lake, but Intra is a very walkable town and worth the trip on its own.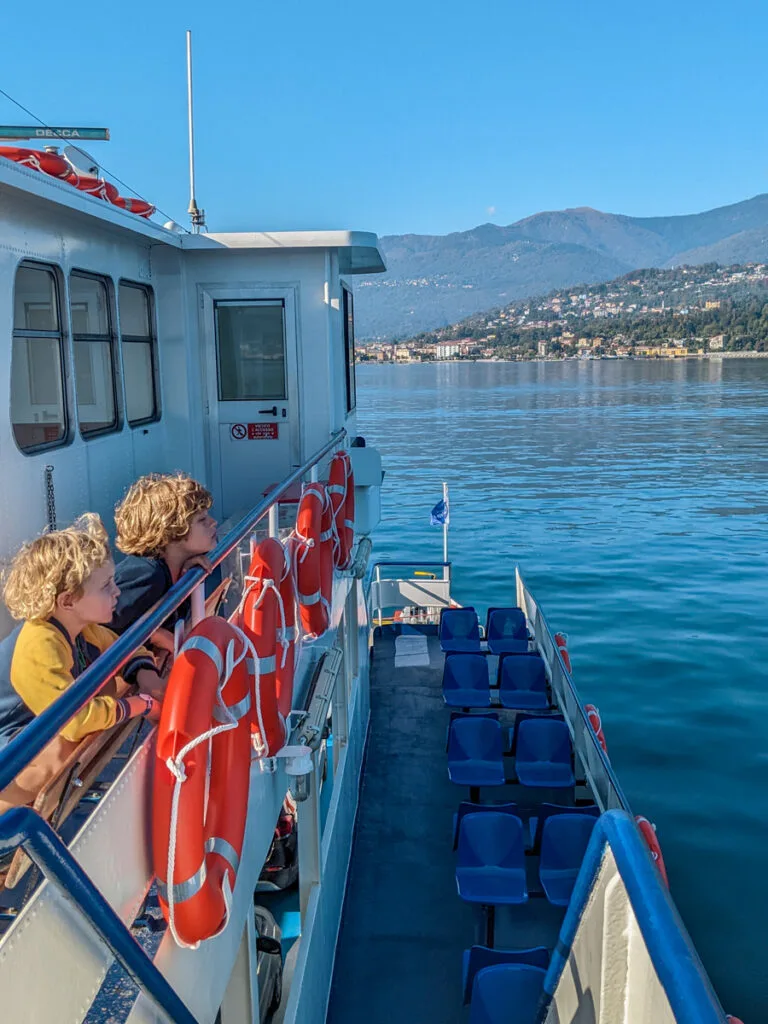 On disembarking the from the ferry in Intra, turn right towards the old town and wander up to the impressive Basilica di San Vittore before finding a spot for lunch, or enjoying at gelato at Ciocolà. It's also a lovely stroll along the lakeside.
3. Follow the hiking trails around Forcora
The drive up to Forcora on the eastern side of Lago Maggiore, close to the Swiss border, is a narrow, winding road and only for confident drivers. But at the top (click here for the car park) you are rewarded with stunning views and a series of signposted walking trails. Plan for there to be no facilities enroute, so pack enough water and snacks to keep everyone going.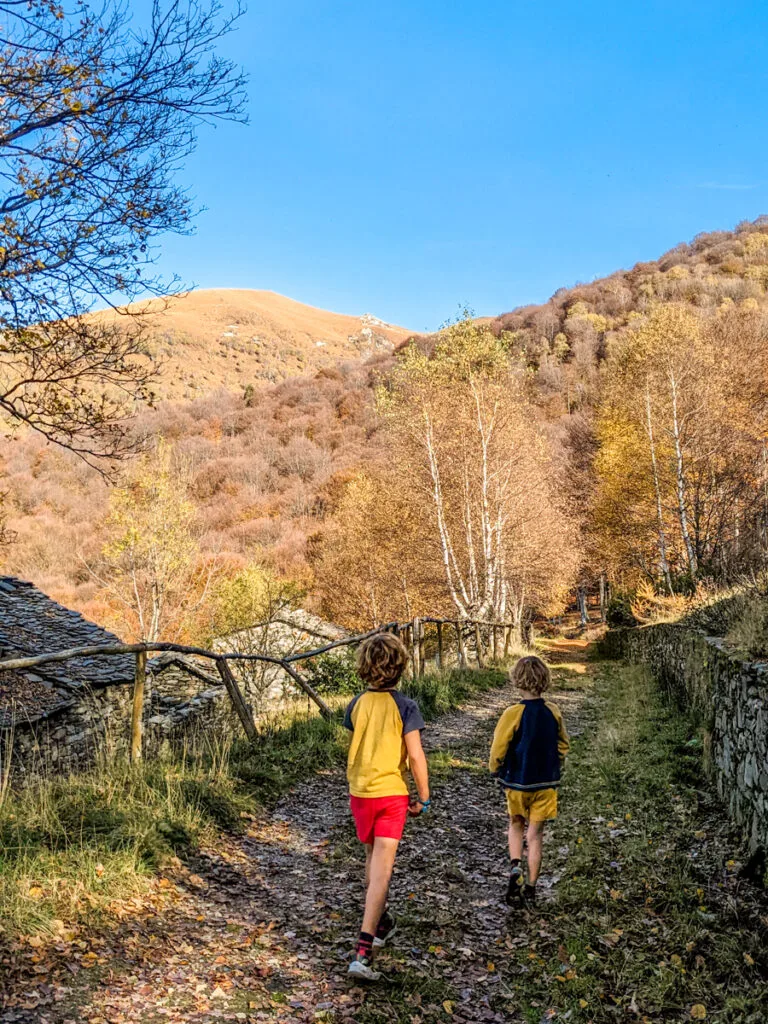 Pre or post hike, it's worth stopping at La Locanda della Forcora for a lunch with a view (the reviews here are excellent, but it was closed when we visited). Or drive down to Gallo Phorcello, opposite the road to Lago D'Elio, for a cheese and meat selection washed down with a local beer. There's a fantastic alpine feel to both these restaurants and a definite Swiss vibe with the menus.
4. Meet the stick men at Musignano
On the way down from Forcora, make sure you stop at Musignano, one of the quirkiest villages I've ever experienced. Here, locals craftspeople have created stick men in little scenes all around the village.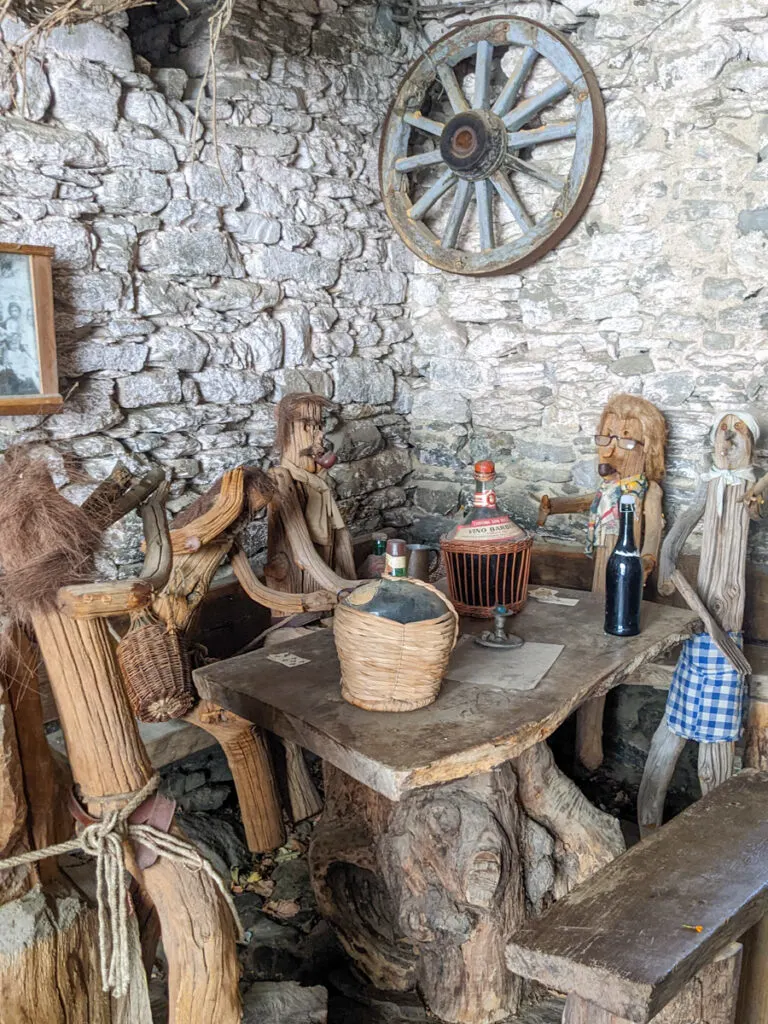 Our visit was just before Halloween, and so our boys thought that they were Halloween decorations. Yes, they are a little creepy, but these stick men are actually a permanent feature in the tiny village of Musignano.
Surprisingly there isn't anywhere to eat at this village (the locals are missing a trick there!), so it really is just a place to park up and have a short 15 minute stroll on your way back down to the lake.
5. Cycle around Lake Maggiore's shores
Connecting roads and cycle paths, it is possible to cycle all around Lago Maggiore, and as it's mostly flat, it's easy going. But, and this is a big but, I would not take my kids cycling on the roads around the lake; Italian drivers are far from patient and drive very close to one another. It's just too stressful and more suited to very confident teenagers who have had considerable road cycling experience.
Some towns on the lake shore have footpaths / cycle paths, but you can't really cycle very far without having to hop onto the road. So this suggestion is more for those with older kids.
If your older kids are confident cycling on roads, this site has details of good cycle routes in the region.
If you need to hire bikes during your stay, there are a number of cycle hire shops dotted around the lake. These can be found in Germignaga, Arona, Stresa, and Ghiffa. The latter also offers scooter and boat rentals. Do call/email ahead to check availability of child bikes.
6. Go crazy at Adventure Park
Click here for opening times and prices.
Do note that Aquadventure closes over the winter months.
Let your little thrill-seekers loose at Lago Maggiore's very own Aquadventure Park in Baveno, on the western shore. This is fantastic family day out with water slides, climbing wall, high ropes, trampolines, plus a beach and swimming pools, all with the stunning setting of Lago Maggiore as your backdrop. Just check opening times for your visit, as they close over the winter months.
7. Fly down a zipwire
Click here for opening times and prices.
Fly down a 1.85 km zipwire at speeds of up to 75mph in 90 seconds at Lago Maggiore ZIPline in Aurano, on the westerns side of the lake. There isn't a minimum age, rather a minimum height of 120 cm.
8. Swim or paddle in the lake
The lake is crystal clear and perfect for a dip (how far you go in will depend on the season). There are some lovely beaches along the lake shore that make for good swimming spots and a base for a summer afternoon. However, they can sometimes be tricky to find as many private properties sit on the lake shore.
Macagno Beach offers lots of shade, a playground, beach bar and toilet facilities. Alternatively head to the beach at Cannobio where you will find two large inflatable aqua parks in the lake during the summer months.
There are, however, lots of tiny beaches dotted all the way round the lake. You can often enjoy the whole beach to yourself if you get the right spot! If it's a warm summer's day, I highly recommend an evening dip in the lake when everyone has gone home.
9. Get out on the water
One of the best place to hire watersports equipment is at La Darsena in Pino, near the Swiss border. They offer waterskiing, tubing (when a boat pulls you along on a large cushion and you have to try and stay on!!!), kayaking, paddle boarding, windsurfing etc. They can offer lessons for beginners and have special boards for really young children. There is a beach area for anyone not wanting to take part, as well as a café serving snacks and light lunches, and a restaurant serving larger meals. Great place and great value for money.
Another place is this company in Stresa (which actually has a good website and is easier to book).
10. Take a day trip to Milan
Milan is very doable as a day trip from Lago Maggiore, especially if you are staying on the eastern side of the lake. If you have your own wheels, park at Lampugnano; a huge carpark off the motorway and on the M1 metro line into the city (parking is €2.50 for the day). Alternatively, there are direct trains from Laveno.
Do check our our guide to visiting Milan with kids. But in summary, a visit to the Duomo is a must for any visit to Italy's northern capital, although kids will love Milan's Science Museum, and football fans should try an catch a match at the San Siro.
11. Pop over the border to Switzerland
Another stamp in your passport is always quite exciting!
In this Lago Maggiore with kids post, we have focussed mainly on the Italian portion of the lake. But a large section also sits in Switzerland. If you have your own wheels and passport handy, it's very easy to pop over to Switzerland for the day (for hire cars, do check if you're permitted to leave Italy).
Head to the impressive Verzasca Dam, which was featured in the 1995 James Bond movie, GoldenEye, before continuing towards Locarno (stunning drive past waterfalls and chocolate box villages). Locarno is lovely for a lunch and afternoon stroll along the marina. But for families, a visit to to Locarno Lido boasting swimming pools, waterslides, and a sandy beach is an absolute must.
Where to stay around Lake Maggiore with kids
For campers and vanlifers, there are a handful of lovely campsites dotted all around Lake Maggiore from simple grassy pitches, to holiday parks with kids clubs and water slides.
But if you're looking for something that offers a bit more comfort after your active days exploring, a self-catered appartment or villa is a good idea for families.
In 2019 I stayed at Golfo Gabella Lake Resort, which sits almost directly on the eastern shoreline, not far from the Swiss border.
More recently in 2022 we stayed as a family at this AirBnb. It's rather basic inside, but the views from the two balconies, plus the rooftop, is incredible.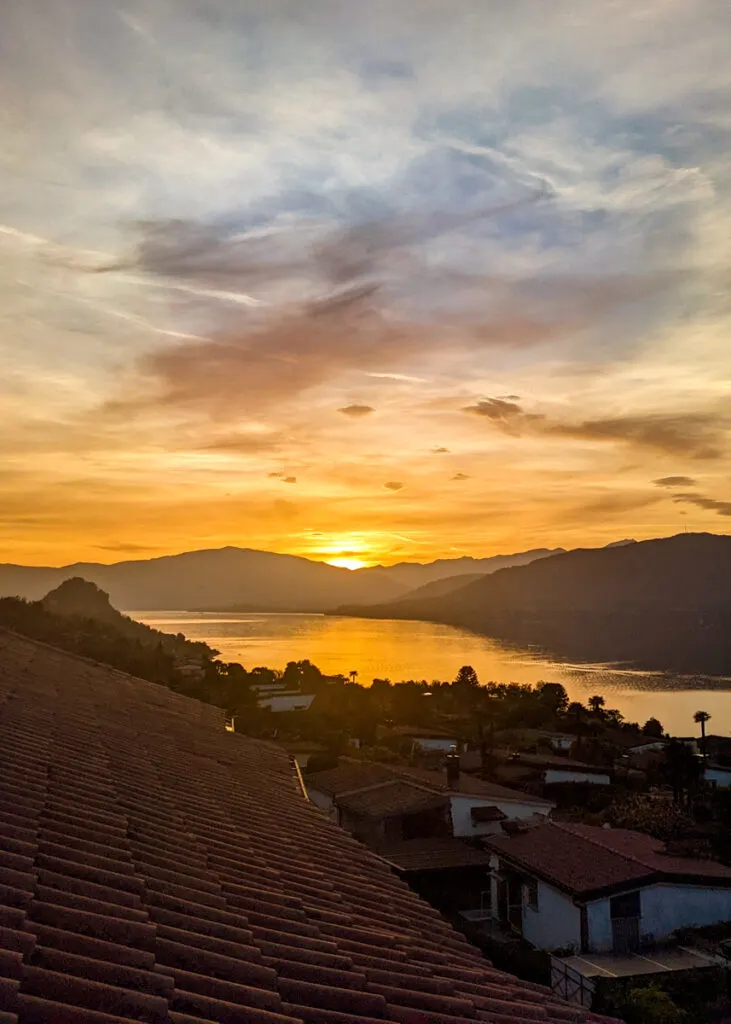 It's worthwhile checking out the list of apartments and villas from Bookings for You. These guys are absolute specialists in the region and if you tell them the type of place you're looking for and budget, they will find your perfect holiday home for the exact same price you would pay if you booked directly. They also have a fantastic personal knowledge of the area, and can tell you exactly where to go and suggest some secret gems.
How to get around Lago Maggiore with kids
Whilst there is public transport around the lake which includes a train line and bus service, hiring a car really does make travelling around Lago Maggiore with kids much easier. Check out these best car rentals in Italy.
If you do hire a car, we urge you to hire the smallest car possible (this is a top Italy travel tip wherever you go) as roads are narrow and parking spaces tiny.
However, driving in Italy isn't only for confident drivers; roads are narrow, and Italian drivers don't adhere to speed limits or allow for distance between cars. If you don't want to avoid driving, perhaps base yourselves in Laveno where you can get a train to Milan and other lakeside towns, walk to the 'Bucket ride' and also take the ferry across to Intra.
Best time to visit Lake Maggiore
If you are looking for an outdoor family holiday to Lake Maggiore and planning some of the activities mentioned in this post, the best time to visit is between May and October, although do note that many places close in October, so check websites for opening times.
Do take into account that this is a mountainous region and there will be the odd rainy day, so pack accordingly. The months of July and August can get very busy, so book ahead. Winters are cold and snow is not uncommon, but prices drop, it's much quieter, and you could incorporate some skiing in to your trip (Passe Forcora is nearby, or if you crave some longer runs, Pila Ski Resort is just a two hour drive away).
Our most recent visit was in October, and that felt pretty perfect; the days were warm enough to be in a T-shirt, the summer crowds had dispersed, and snow capped mountains were in view. Although, many restaurants and attractions were closed or had reduced opening hours.
Final thoughts on visiting Lago Maggiore with kids
With the Alpine backdrop and colourful towns dotted around the waters edge, Lago Maggiore is a stunning destination for families, and can be nicely combined with a day trip to Milan. It offers a laid back style of family holiday, taking in views and wandering little villages. But if you visit in the summer months, kids will love the water activities and adventure parks.
Rather than doing the obvious Italian city breaks of Rome or Venice, Lago Maggiore with kids really should be on your family bucket list for Italy. It's definitely a place we will return to.
---
You may also like to read:
The BEST 5 things to do in Milan with kids
Lanzarote with kids: off the beaten track
35 ALTERNATIVE European city breaks with kids